Our 5 Year Anniversary Is Almost Here And We're Ready To Celebrate With All Of You!!!
Happy 5 Year Anniversary, Pinot's Palette, Tustin!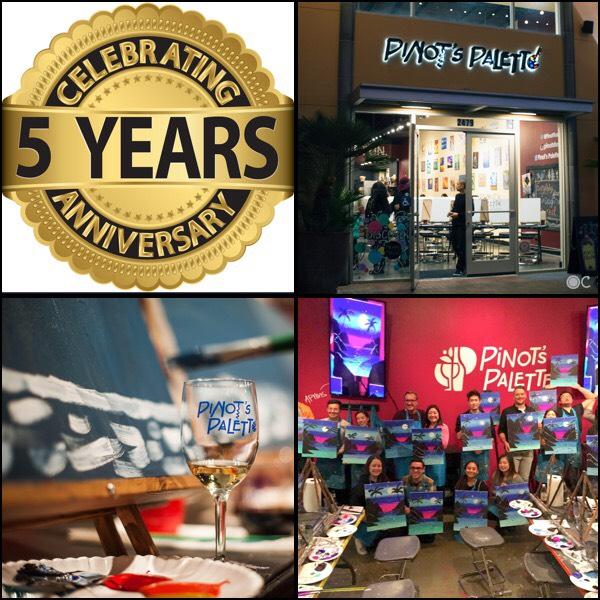 We are SO honored to be celebrating our 5 year mark, here at Pinot's Palette in Tustin!!!
We've been calling, 'The District', our home for over 5 years (ever since we leased and began to cultivate the space as our own, months before our March opening). We have loved every single minute of being a part of this business. The countless people we've met… The incredible artwork we've seen leave the studio… and all of the themed events we've had have been a huge part of our happiness! (And sampling all of the delicious wine isn't too bad either…). :)
To have the privilege of working with people who (the majority of them) haven't painted since they were kids, and to see them find their inner artists in just a 2-3 hour session is so amazing! We hear so many people say "I wont' be able to paint that" as they walk through the door and see the example painting on display, AND THEN, to see them leave with a stunning masterpiece in their hands and a smile on their face is one of the best feelings in the world!
We've had a lot of people come in for the first time, continue to come back, and are now regulars who we see a few times a month! Some of them have even begun to paint some at home, practicing what they learned in class and experimenting on their own!
From holidays to seasons and for "just because" reasons, we LOVE a good theme-night! Black light paintings during Halloween, winter-themed artwork with lights strung through them for Christmas time, and many more days, we try to provide an extra layer of fun and excitement for our customers! Be sure to check out our calendar and see all of the excellent classes we offer that coincide with upcoming events, and other classes where we paint on something other than a canvas! Join us as we paint on wine glasses, wooden pallets, and even for some DIY chunky blankets with us. Celebrate our paintings (which is where we started) and all of the other incredible artwork we've added into our classes throughout the past 5 years and make some wonderful art to treasure forever!
Our owners, Scott and Cherisse have put their blood, sweat, and tears into this business and it has paid off in so many ways!
Their hard work and constantly above-average level of customer service is such a monumental part of what makes our studio the success that it's been and we're so honored to have them as our guiding lights.
We have been so proud to accept several awards throughout the past 5 years, such as:
** 'The Franchise Times ZOR Award'
https://www....ranchisetimes
** The 'Golden Brush Award' (the number one studio in the franchise for those that have a single room with a bar)
https://www....tetustinisno1
** The 'Outstanding Small Business' award, presented to the top business in the city of Tustin!
https://www....s-of-the-year
*(In addition to some other honors)
In addition to our fabulous owners, we have our incredible staff!
Our team of painting instructors, assistant artists, and bar tenders are constantly going out of their way to make sure that everyone enjoys themselves and has a truly wonderful experience! With knowledge about everything from the types of wine to recommend and the artwork we create, our staff is made up of a strongly-bonded group of individuals who have been working together for years. Our helpful team members will talk about the various wines when you come to the bar, recommending one for you to try, and always keeping your glass full!
Our talented and helpful instructors will walk you through the painting for the class, step-by-step, encouraging you the entire time and making sure you're getting through the process, easily. We typically have an assistant or two, walking around the tables, as the instructors goes through the steps, providing additional one-on-one help to anyone who may need it!
We've been working together, so well, for so many years and have our job duties, down to a science by now! We're here to help you, our fabulous customers, and to take lots of photos for you along the way!
AND LASTLY.....
We can't talk about our milestone anniversary without mentioning you, our loyal customers! You are the reason that we're celebrating this 5 year mark and we appreciate you all so very much. Selecting our studio for your local fun activity, or the place to host a birthday party, a corporate event, a fundraising event, your date night, girls' night out, a holiday celebration, and so much more means so much to us. That you choose to come back and see us, making more artwork, time and time again, is the best feeling in the world and we want to show you how much we appreciate your loyalty, kindness, and support!
***Throughout the month of March, we're offering a special deal for you!
It's buy one, get one 50% off on your upcoming reservation when you apply a special code at checkout!
Use the code: 5YEARS to receive your discount.
Along with this month-long special, we're offering an extra special surprise at our official 5 year anniversary, on March 15th!
Sign up for the class on Friday, 3/15 with the painting titled, 'Some Beach' and come in to paint one of our most popular (and most colorful) works of art! Bring friends and family in to celebrate our anniversary, this painting, and a special surprise with you as you all spend time together, making art and some wonderful memories!
*Sign up for our Anniversary Class here:
https://www..../event/304288
Thank you all once again, for believing in us, being there with us from our opening day, 5 years ago, through our celebration this March! Your loyalty and support have meant EVERYTHING to us and appreciate you all so much. We'd be nowhere if it weren't for you and our fantastic staff, so we thank you all and can't wait to celebrate with you SOON!
CHEERS!