Pinot's Makes a Fun Valentine's Date!
Valentine's Day is less than a month away! What better way to spend time with your love than a night out at Pinot's Palette in Tustin!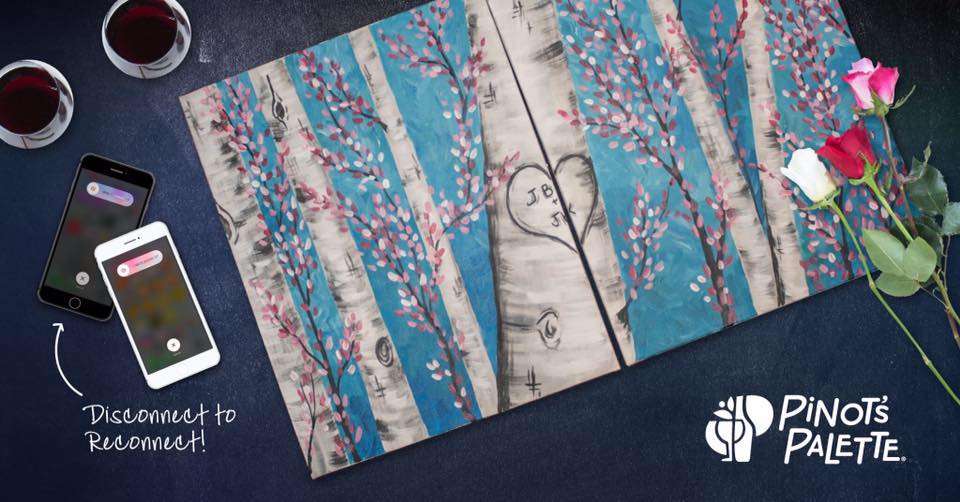 We have A LOT of lovey-dovey paintings coming up for Valentine's weekend! You can join us during any of our fun classes and have a great and unique night out. We offer some Valentines/Love themed paintings for you and your friends (or you and your love bug) to come paint with us, while you enjoy a glass of wine (or two).
Try one of our 3 date night paintings that weekend (which is a REAL TREAT since we usually only do 1 date night painting a month)!!! You paint half of the canvas, while your other half paints...well...the other half!!!
*Don't worry if you want to come to a date night class and have the canvas all to yourself without splitting it with another person- that's jsut fine! We'd love to see you!!.
Also- for the first time ever, we are offering a Valentine's themed wine glass painting class! We will provide you with the glasses and special glass paint so you can combine two of your favorite things even more: wine and painting! This is a great way to create art you will actually use when you drink wine at home!
Check out of February calendar and see what you like! There's sure to be something for everyone...and no matter which class you choose, you're sure to have a great time!