Van Gogh Style Paintings---Paint A Series!
Attention van Gogh-loving art enthusiasts! We've got some of our most popular paintings on the calendar during the next month! Sign up for one (or all) of them now!!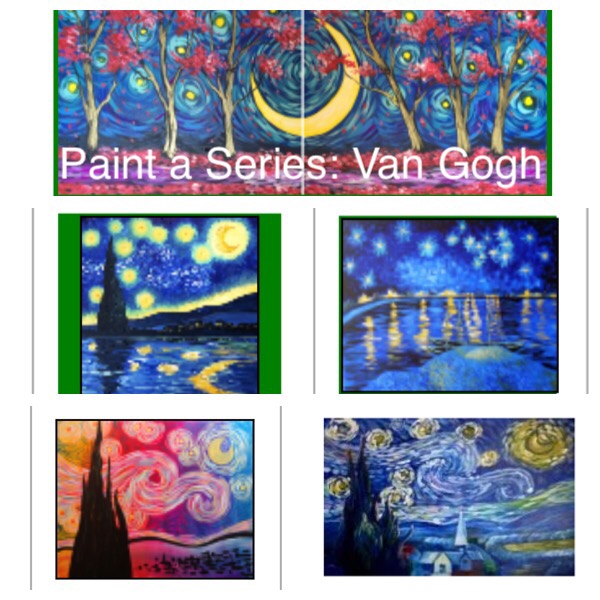 If we know one thing- it's that people love their van Gogh paintings! Anytime we have a starry night replication painting on the calendar, or one of our many other paintings in that iconic, messy brushstroke style, it's a hit! Those impressionistic and very recognizable artwork is something that a lot of our customers love, and let's be honest...they're fun and easy to create!
Be on the lookout for the following paintings:
6/16 (7-10pm) - "Starry Night: Relections Edition"
6/23 (7-10pm) - "Van Gogh's Starry Night Over the Rhone"
6/28 (6:30-8:30pm) - "Psychedelic Starry Night"
6/30 (7-10pm) - "Moonlight Promenade" (**Date Night painting)
*You can check out all of the paintings and sign up online, by clicking the link below!
** We also have a brand new, date night painting coming up and the link for that is below,as well!
Date night paintings are always a hit and a fun way to spend the night out with your significant other, roomie, or BFF...
Want to come alone and create the masterpiece on one canvas instead of two? Come on in- people do it all the time!
These impressionistic-style paintings make a GREAT series painting set. Come in and paint 2 or more and display them together for some super fun and trendy wall art!
So get Gogh-ing and sign up for a class while seats remain! See you there!!!
Share Check out all of our popular, impressionistic paintings HERE! | Sign up for the date night painting HERE!