It's Child's Play!
Between the corks from all that wine we serve, our artist-example canvases, and brushes that have seen better days, we have A LOT of extra supplies that need a home!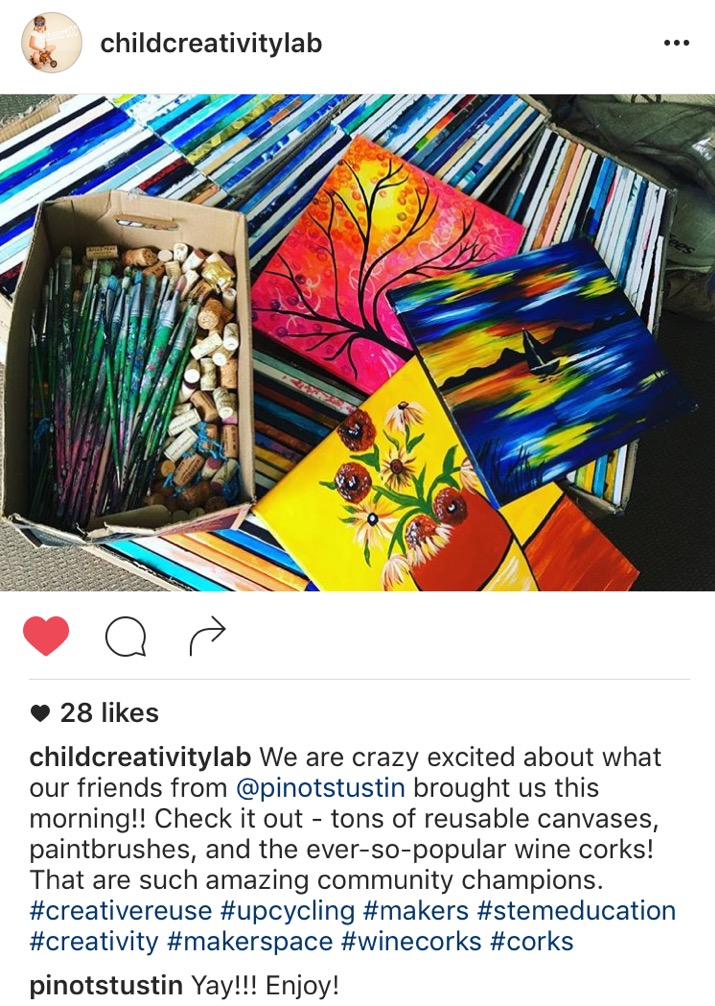 Pinot's Palette, Tustin, is so grateful to all of our OC friends who always support us, we try to give back to the community through various outlets. One of the places we love to donate is to the Child Creativity Lab in Santa Ana! We love to see our customers have fun, getting creative in our classes and we want our younger artists to be able to create as well!!
The Child Creativity Lab's mission is to nurture the creative mindset of our children in the headwinds of the busy lifestyles of working parents, the consuming technology culture of our youth, and standardized testing for purposes of enhancing problem solving, critical thinking, divergent thinking, and ability to innovate.
The Child Creativity Lab (CCL) offers educational programs that focus on creativity-enhancing stimulation and inspiration in alignment and in support of overarching California State Department of Education initiatives for pre-Kindergarten through 8th graders. These STEM-based programs are facilitated at the Child Creativity Lab Depot for Creative Reuse and directly on-site at schools, after-school programs, libraries, community events, faith-based organizations, and more via the Child Creativity Lab Museum-on-Wheels initiative.