Pinot Lingo: An Easy Guide to Basic Art Terms
If you've been to one of our classes, you may have heard a few, basic art terms, thrown around by the instructor, during the lesson. You probably know the definition of things like canvas, easel, and palette (words we use all of the time in our classes...). While many of them are terms you may have heard from time to time, you might not be 100% sure of all their definitions.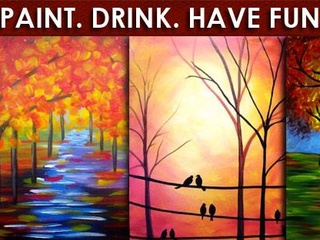 We want to provide a little more insight into the terms and meanings of each, in case you're wondering what we're talking about in a class. Perhaps you've been attending a lot of our classes, and are really getting into the whole concept of painting! You'll want to be familiar with a few of these terms if you're looking to learn more about the art of painting. We're here to help!
Some basic, simple, and beginner words for you to know, include:
*Acrylic paint:
A plastic, water soluble pigment used for painting.
*Blending:
The technique of painting colors so that there is a gentle and gradual transition from one to the other.
*Canvas:
Coarse cloth or heavy fabric that must be stretched and primed to use for painting, particularly for oil paintings.
*Composition:
The arrangement of the parts of a work of art.
*Horizon line:
The horizontal line that distinguishes the sky from the earth, or the ground from the wall. This is a word we always use in our landscape classes, and it's easy to remember since it's just a horizontal line (horizon line=horizontal line)
*Medium:
The process or material used in a work of art. (Paint, charcoal, pastels, and more!)
*Palette:
The surface used to dispense and mix paint on.
*Stippling: to apply (something, such as paint) by repeated small touches; this creates a textured look.
*Texture:
The quality of a surface; the way something feels or looks like it feels
*Value:
The range of lightness or darkness in a color. A gray scale shows the range of values in photography.
**Here is a larger list of Basic Art Terms, and Their Definitions:
http://artta...initions.html
___________________________________________________________________________________________________
We hope you'll join us for a class soon, and put these terms to good use! Impress your friends and the instructor by knowing them and how to apply them to your artwork! You'll be able to follow along well, too, should the teacher slip any of them into the directions or descriptions!
The painting and wine style of art classes we offer at 'Pinot's Palette', is truly an 'anybody can do it' activity! We'd love for you to come in and try it out, even with no prior experience!! You'll be amazed at how well you did at the end of the class! The more you come to paint, the more you'll learn! We have a few regulars, who have been coming to our classes since we opened our doors, over 3 years ago. They have fallen in love with this hobby and turned it into a craft that they practice and enjoy all of the time! They bring their own brushes and aprons, and proudly, show us photos of things they've been working on at home, too!
It's a really wonderful thing, to get in touch with the creative side you never knew you had. Starting small and slow, with one of our classes, and continuing to attend more and more of them, can lead to great things! You may find yourself, enrolling in a fine art course at the local, community college, to discover even more artistic talents, you never thought you had! Who knows?! If nothing else, a painting and wine class, serves as a relaxing end to a long and stressful day, a way to unwind with friends, and take home a beautiful souvenir in the end. This experience makes a great date night idea or girls' night out event for anyone in and around the Orange County area, whether you live here or are just visiting!
Come in to Pinot's Platte, Tustin, and see what we're all about!
We have 3 additional words/phrases for you to remember, that we ALWAYS use at Pinot's Palette:
*Paint.
*Drink.
*Have Fun.
**Since you already know what those mean, use that as a starting point for our classes!
That's really what our classes are all about, anyways... So, join us and do just that: Paint. Drink. Have Fun!
CHEERS!!!