Tips & Tricks For Displaying Artwork In Your Home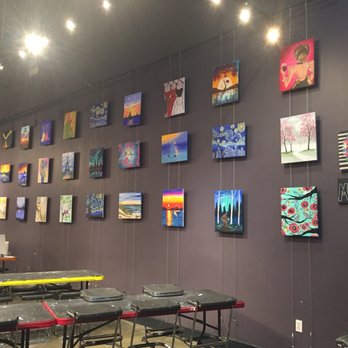 You don't have to hire a decorator to make your walls look like a masterpiece! Displaying art, photos, and other wall decor is easy when you follow just a few simple rules!
We're in the business of helping others to make their own art! Whether you consider yourself an artist or not, and whether you paint often or haven't touched a brush since the 5th grade, we're here for you! Our classes are meant for the first-time painters and the ones who come in so sure that they won't even be able to paint a line on the canvas; Watching those same newcomers, leave the class with their masterpiece in hand, proud of what they created, is the best part about our studio! We invite you to come in and create some handmade masterpieces to display in your home, or give to a loved one.
Art is very personal. Whether you're the artist who is pouring their heart and soul into the piece, or the buyer who is finding a connection in a work of art that you're eager to add to your home, you want to make sure you're putting it in the best spot to show it off and tie the room together.
We've got some tips and tricks for hanging art, and where to best display it!
Check them out:
***— THE BEST HEIGHT FOR YOUR ART —***
A good rule of thumb is to hang your artwork at an eye level. Think about the center area of the piece, being level with your eye-line. The phrase, "57" on center", refers to the perfect height for most artwork. It means that the center of your art should measure 57" high, from the ground.
While this is a wonderful, general guideline to follow, you have to think about what art you're hanging and where it is in relation to everything else in your home. In a museum, they hang artwork about 4ft. 9in. (Distance from the middle of the painting to the ground), but in our homes, we have furniture, doors, windows, and smaller walls.
You should try your best to hang things at eye-level (in the middle of the art is where your eye should fall when standing), especially when it's on a blank wall, over a console table or sofa (or other lower furniture); There are, however, many instances where the "57inches on center" guide isn't the best (read on for examples).
If you're confident in your artistic-ability, use your eye to judge what looks right. Hang art in relation to what's already in the room. Just make sure it's at a comfortable eye level for you.
(*Tips on hanging artwork correctly):
https://www....he-floor-6174
***— WHERE TO HANG YOUR ART —***
Connect artwork with your room's elements. Some basic guidelines include the following:
*Over the sofa- The artwork or grouping should be 2/3 of the width of the sofa
*Over the mantel - The artwork of grouping should be at least 2/3 of the width of the fireplace
*Dining room- Consider having art a little lower than usual to factor in your seated viewing height
*Double-height wall- Hang art 7-10cm up from where you would usually hang it (*See 'Museum Approach' above)
*Staircase- If you're hanging matching frames, follow the 'Museum Approach' but measure up from every third step
***— PLAYING WITH PROPORTIONS —***
*Don't let your room overwhelm the art (and vice-versa)
If there's already a lot going on in the room, opt for larger pieces. Too many small things in one place can make it look crowded. Statement artwork will give the room a focal point and a something for the eyes to rest on.
-- Grouping artwork together:
!!! Be sure to plan your layout first! Arrange piece on the floor and stand above them on a chair to look straight down at how they are arranged before committing to placing them on the wall.
((Another way to play around with your arrangement is to tape craft paper, cut to the sizes of your artwork, to the wall to mock up your composition. This will also make it easy to see it your pieces will fit on the wall space).
Think about how they look in terms of size, color, and style.
*Tip: When hanging multiple piece together (say 2 medium and 1 large over a sofa), make sure the middles match up, not the tops.
***— USING YOUR ART TO TIE THE ROOM TOGETHER —***
Be sure to consider the colors and style of your art when picking the right spot for it. A work of art can do so much for the feel of the room, so think abut what you're trying to say with your artwork, as well as with the vibe of the room.
While its always great to support artists by buying their work, creating your own artwork is even better!
If you're interested in some of our painting and wine classes, we've got something for everyone in our HUGE painting library!
From delicately classic floral designs to bold and intense modern art.... from landscapes and sunsets to people, animals, and wine-themed paintings, we have it ALL!!!!
Build your painting colors and style around your home decor preferences. Think about what painting will work best, and where it'll go!
You can check out our monthly calendar to see what paintings are coming up, and remember that when you come to a class, we will be walking you through the painting you see on the calendar, BUT you can alter the colors to match your home and style preferences, best!
((*And keep our private parties in mind too… YOU are in charge of selecting the painting for the event, along with the guest list, date and time of the class, food, wine, and more!))
Celebrations:
https://www....ivate-parties
Corporate events:
https://www....porate-events
Mobile Parties:
https://www....ainting-party