New Year, New Style!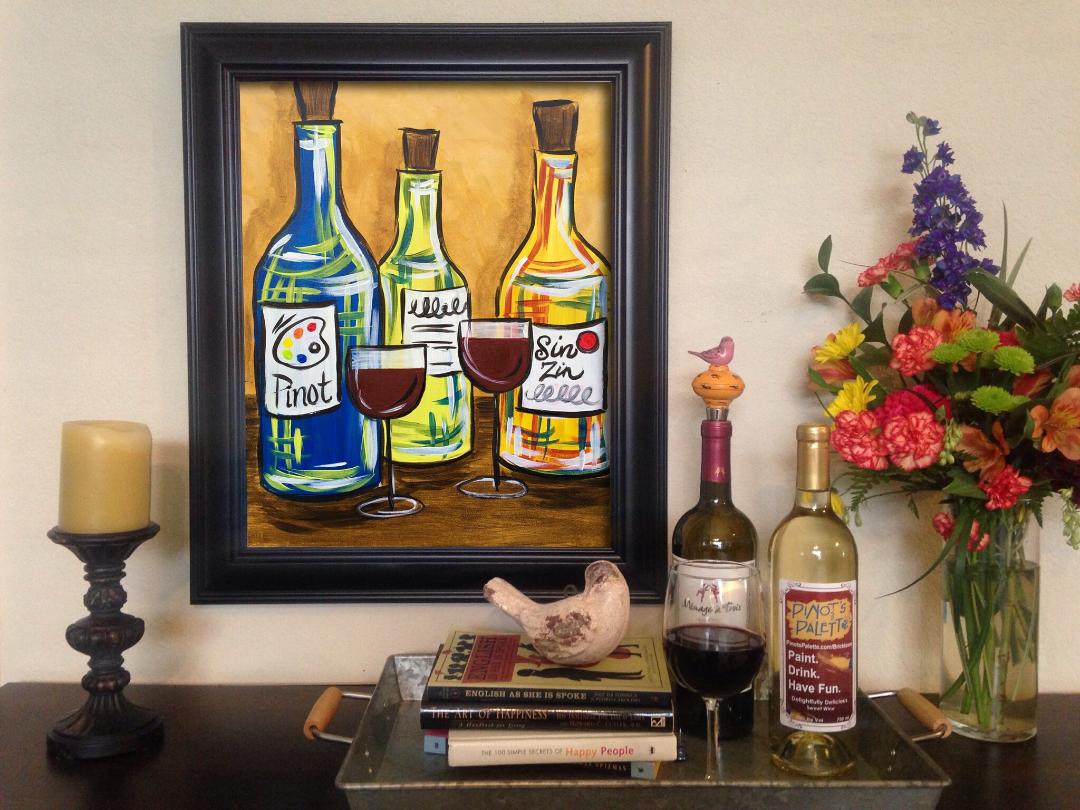 With the new year, comes fresh new things in many areas of our lives! From better heath and new experiences, to self development, being more creative, and spending more time with loved ones, we're here to help you keep your promises for 2019 and have a whole lot of fun while you're at it! Our painting and wine classes allow you to try something new as you learn to paint, while you drink some wine, hang out with friends and family, and make some great memories!
So many of our first-time customers turn into repeat customers, coming in to paint, time and time again, learning more about painting and getting better as they go! It's so great to see someone who comes into a class, so sure that they can't paint, and then seeing them leave the studio at the end of the class, proud of their masterpiece and ready to create more! Seeing those same new artists coming in for classes, over and over, and watching them improve with painting and find their style is so rewarding and something that anyone can do! BUT… after you really get into the swing of making your own artwork, what are you to do with that one (or 50) painting(s) that you make in class???
There are tons of great options for displaying art and incorporating it into your home's interior, sprucing up your style and having a meaningful work of art that YOU made!
The best news is that we have some amazing paintings on the calendar for the new year, and they're just waiting for YOU to come in and create them! You can view our full calendar on the link at the bottom of the page, as well as sign up for classes. From long canvases and 2-canvas paintings, to mommy and me classes, landscapes, floral paintings, and artwork filled with lots of color, we've got something for everyone so grab your friends and come on out to paint, drink, and have fun!
DECORATING WITH YOUR ART
Art can provide you with instant style and beauty in your home! You can use it to create a focal point, add color and pattern into a space, and make a statement about who you are and what your style is all about!
***How to hang it:
There are rules to hanging art that assist in making it look it's best! Show off your masterpiece in any room, hung like a pro!
https://www....worklikeapro-
***Where to display it:
Think about what your artwork says… The color, movement, style, and subject all have a meaning and all work great in certain spaces. Art that has a calming presence, perhaps made up of blues and grey, or other light and peaceful colors, are perfect for the bedroom or a bathroom; Paintings that are filled with bright and bold colors, help to liven up a space, bringing energy and drama into a room, making statement wherever they are.
Let the color and stye of your work help a room in your home to feel a certain way, lending itself to an overall cohesiveness and specific perception of your home and style.
GIVING ART AS A GIFT
There's nothing like a handmade gift to show someone just how much they mean to you. Taking the time and putting in the effort
To make someone something so meaningful is always a great idea and getting in touch with your inner artist as you do it is even better!
Whether you've got some belated holiday gifts to give out, or are looking for a great birthday gift, anniversary present, or any other event you need a special gift for, a handmade work of art is a great way to go!
**Not only can you come in and make a painting to give as a gift but you can give the gift of a painting class!
Purchase one of our gift certificates to give out as a present for the next occasion you need something fabulous for and bring your loved one in to make some memories and artwork of their own!
Buy some gift certificates:
https://www....-certificates
We hope to see you a lot in 2019! Perhaps your new year's resolution was to try more new things or to be more creative…
What better way to reach your goals than through a painting and wine class with Pinot's Palette?!
The great thing about our studio is that we have a great staff, ready to assist you with your painting, making first-time customers feel at ease and confident! One of out talented instructors will walk you through the painting, step by step, encouraging you the whole time! Our helpful staff will be there to assist you with anything that you may need throughout the entire class; Everything from getting you some more paint to refilling your drinks, and offering extra help with your painting (if you need it) will be covered by our team! Leave the class with a stunning, handmade masterpiece that you can take home and proudly display for all to see!
Cheers!
Share Using art in your home decor | View our calendar and sign up for a class!