Fall Is Here! Let's Get Our Homes Ready For The Season Of All Things, Cozy!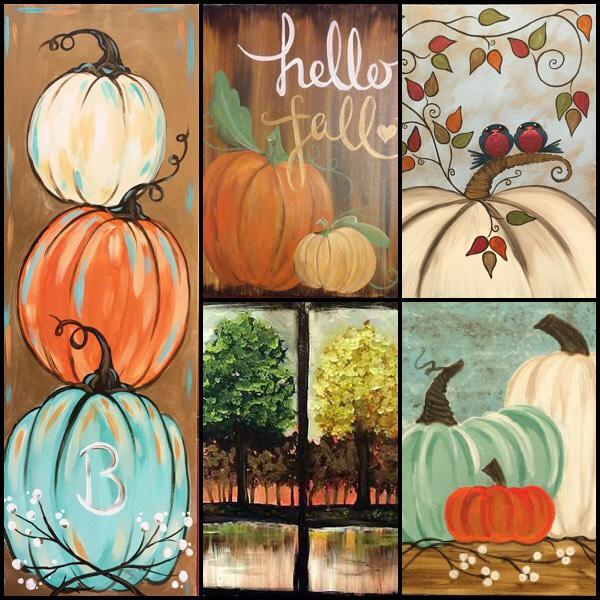 The Summer has finally come to an end and Fall is here!
Along with the many, wonderful things that come with this season, Autumn decor is at the top of the list. Every store you walk into has a selection of decorations that are perfect to add into your home, making it feel warm and inviting. From pumpkins and leaves, to devinely-scented candles, blankets, and cute signs, there are countless ways to add some cheer into your home and welcome the new season with open arms. There's something about these deep and warm colors that come with all Autumn decor that leaves us feeling comforted and safe, ready to fully-embrace the season and all the wonderful things that come along with it.
While it can be tons of fun to walk the aisles of the seasonal decor selecting your most favorite pieces to add to your collection, there's something special about creating your own crafty pieces to hang in your home. Come in for one of the many Fall-themed painting we've got on our calendar and make some handmade masterpieces to style your walls with, gaining you compliments from everyone who seems them! You can customize the paintings to your style and preferences, making them extra-special and perfect for your house. Gather all of your friends and family together to join you for one of these classes so you can spend time with loved ones, getting creative and having fun in a painting and wine class at our studio.
Here are some of the upcoming Fall-themed paintings on the calendar for the month:
(*Be sure to view our full calendar at the bottom of the page, and keep an eye out for our October and November calendar to see all of the additional Autumn paintings we'll be offering!)
September 9 'Autumn's Heirlooms'
"Autumn paints in colors that summer has never seen". This little trio of Cinderella pumpkins sets a charming scene that only fall can set!
*Drink special: First mimosa is included!
https://www..../event/243117
September 15 'Enchanting Autumn Forest'
Warm autumn colors transitioning, contrasting the crisp cool outdoor air... This Enchanting Autumn Forest will take you to a peaceful place of your own as you relax and reflect, surrounded by nothing but nature's beauty...
https://www..../event/246831
September 18, 'Fall Is In The Air'
Fall into fall in this colorful autumn painting!
*This is one of our 'Painting It Forward' classes, a paint and sip class with an extra dose of heart and soul. When you buy a seat in a Painting It Forward class, you're making a donation to a nonprofit or community fundraiser.
https://www..../event/260674
September 20, 'Toot Sweet Autumn'
*Special: $4 glasses of house wine
Nontraditional fall palette will give you that chic modern look. Shimmering leaves will have you saying wow! The ever adorable Toot Sweet Birds make an appearance, rounding out this painting to a super fun seasonal experience.
https://www..../event/250063
September 21, 'Tree For All Seasons' (Date Night)
*Special: 15% off all bottles of wine'
This is a date night painting! Come in with your bff, roomies, husband or wife, or someone else and paint one canvas as they paint theirs. Push them together at the end of the night to reveal one large painting! You can also enjoy making this painting on your own, on just one canvas! This is a versatile set of paintings that can be displayed next to one another, stacked on top of each other, or displayed independently!
https://www..../event/250060
September 22, 'Autumn Equinox'
An ethereal scene of a moon crescent framing a fall tree in full splendor.
https://www..../event/243978
October 6, 'Pleasantly Pumpkin'
Bring some glamour and whimsy into your holiday décor with this monogrammed stack of pumpkins in stylish fall colors!
https://www..../event/250084
We hope to see you soon for a painting and wine class, whether you're interested in one of the above-mentioned, Fall paintings or another one on our calendar! If you live in Tustin, we're right around the corner from you, located in 'The District', a great shopping center and entertainment hub in Orange County! We make the perfect event for everything from a fun and unique date night, an awesome girls' night out experience, and we even offer private events! When you view our classes on our website, you'll be viewing our schedule for our public classes, but you can also book a painting party with the guest list of your choice! Come in to celebrate a birthday, bridal shower, reunion, retirement, and more with friends and family, sharing their artistic sides, together. Make memories that will last a lifetime with a souvenir to treasure forever with one our classes.
*Learn more about our private parties, here:
https://www....ivate-parties
We also play host to some great corporate events, too! Why not book your next work party or team building event with us? We offer several styles of paintings that incorporate team building strategies, encouraging the whole office to work together, creating a stunning world of art!
*Read more about corporate events, here:
https://www....porate-events