11 Amazing DIY Fourth of July Wreaths
We've found some awesome wreaths that'll be sure to add some sparks to your July 4th celebrations!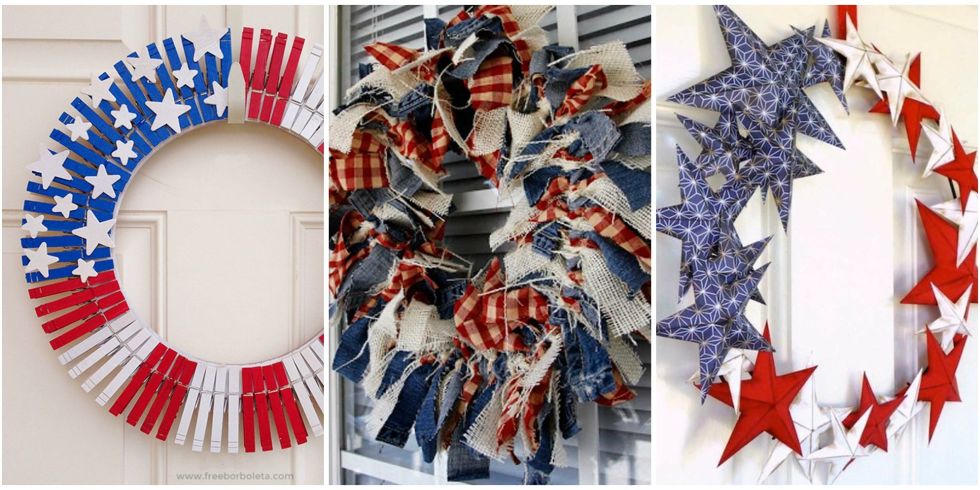 It's that time of year.... fireworks, cookouts, and spending time with friends and family during the long days of summer....
While it's fun to entertain, say at a Fourth of July cookout, it's also super cool to have some fabulous decor to go along with those hotdogs and burgers! You'll be sure to 'WOW' everyone at your event with one of these DIY July 4th wreaths!! They're actually very do-able and most of the materials are extremely affordable!!
One of our favorites from the list, includes the 'Rag Wreath'(*picture, above). The materials can easily come from old items of clothing or scraps of fabric you may have laying around the house! With the endless colors and textures you can combine to create this wreath, it's beauty is worthy of more than just the Fourth of July! Try it for other holidays, as well!
Another very affordable wreath is the clothespin flag wreath (*pictured, above). Again, just grab some clothespins that you may have an abundance of (or even stop by the dollar store for these cheap wreath supplies), and go for it! This is one of the easiest wreaths to create and even the kiddos can help when painting the clothespins!
All of the wreaths have tutorials and materials listed! Check them out and see which one is for you! You can proudly display your creation on your front door, or add it into the mix of decor for your party!
If you're in the mood to expend more creativity after creating your beautiful wreath, come in to our studio in Tustin and paint with us!
*Check out the link below to sign up for a class (sign up online, over the phone, or walk in!)
Share DIY Wreath tutorials | Sign up for a painting class with us!