Get Crafty With These Amazing Dollar Store Finds!!!
We love to decorate our homes for the holidays! It's such a great way to get everyone into the spirit! Sometimes, the decor we see in the stores, can come with a high price tag.
Why not create some of your own, that are inexpensive, easy, and even the kids can help!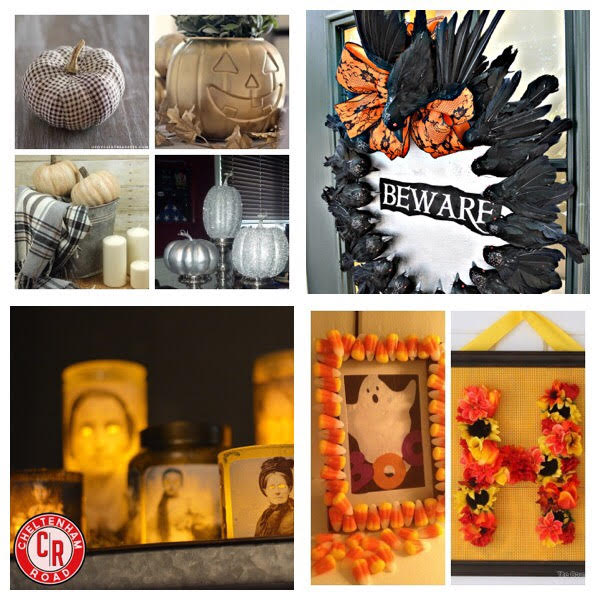 With these supplies, readily available at most dollar stores, the shopping is cheap and easy! Stop in to one store, gather all of your supplies, and pay with singles when you check out! It's easy on your time and easy on the pocketbook!
Plus, it'll get you into the Crafty mood, so you can create more, excellent things, like Halloween costumes!!
(*You can also try the Target dollar section and Walmart, for more, inexpensive supplies)
_____________________________________________________________________________________________________
FALL Crafts:
1-Decorative pumpkins:
*Artificial gourds are the perfect dollar store fall craft!!! There are so many ways to use them in your decor. You can simply, fill a vase or bowl with them, for a quick and easy centerpiece; they can be spray painted, one color, and used to fill things, create a wreath, or just sprinkle, throughout the house, here and there! ...and more!
-Painted Pumpkins:
http://dream...in-and-gourd/
-Crackle Pumpkins:
http://www.t...with.html?m=1
-Fabric Tape Pumpkins:
http://www.s...dana-pumpkin/
2-Autumn Floral Arrangements:
*These can be done in a variety of ways, as well! Simply, place them in the vase size you'd prefer and place them along the table for an instant centerpiece; hallow-out a pumpkin and use that as the vase to contain the flowers, for an extra special touch! The great thing about Fall floral arrangements, is you can use so much more than flowers! Add in some leaves, pine cones, feathers, or straw to make it a full and festive creation!
(All of these items can be found at the dollar store, too!)
https://blog...-arrangement/
3-Floral, monogram wreath:
Get a few, colorful, Autumn flowers from any dollar store, pop them off of their stems, and arrange them into the letter of your choice! This project makes an adorable decoration for your door or to hang, somewhere inside! You can pick up a simple frame at the dollar store, add some fabric where the photo would go (burlap, works wonderfully), and boom! You have your frame... now just add any letter you want, inside!
https://www....ogram-wreath/
50 Dollar Store, Fall Craft Ideas:
http://www.p...-decor-ideas/
_____________________________________________________________________________________________________
HALLOWEEN Crafts:
1-Spooky Photo Candles:
*These candles will impress (and spook) your guests!!! Find creepy photos online, to print out, or even use some of your friends and family! They're easy to create and make a HUGE impact!
https://chel...dle-tutorial/
2-Creepy Crow Wreath:
*This crow wreath is an excellent way to welcome guests, as it hangs on the front door! This can also be made with other dollar store supplies like: bats, skulls, skeleton hands, and more! *Just buy a bunch, and place them all around the wreath!
http://celeb...creepy-crows/
3-Candy Corn Picture Frame:
*Show off your most beloved photos, in this holiday frame! With extremely, minimal supplies (and super inexpensive, too!), you can afford to make one for all of your friends and family!
*Try it another way: Instead of gluing candy corn all over the frame, try some with googly plastic eyes, plastic spiders, and more! Make a whole Halloween collection of frames!
http://barga...y-corn-frame/
***Please revisit our blog, closer to the winter holidays, we we'll provide even more, great dollar store craft ideas! You'll be able to deck your halls on a budget, and create some great, inexpensive gifts for others, too!
_____________________________________________________________________________________________________
While you're on your "crafty kick", stop in to our studio to paint some decor for your home! Use some of that money you saved, creating crafts so cheap, and come to a class! You'll be able to make some artwork that will fit in with your Fall and Halloween decor, perfectly! We'll be offering tons of amazing holiday-themed paintings, throughout the next few months, and they are some of our customers' favorites! We ever have Glow In The Dark classes, where we turn out all of the lights, and paint the night away with fluorescent paint!!
Check out our site, below, to view the whole calendar and register for a class! Bring all of your friends and family out, to join in the fun with you! These paint classes make the perfect date night event or girls' night out! Come visit us and see how much fun it is, yourself!
Share See more, great dollar store crafts! | Sign up for a painting class with us!