Get Crafty This Summer!
It's June 21st and that means, it's officially Summer!!!!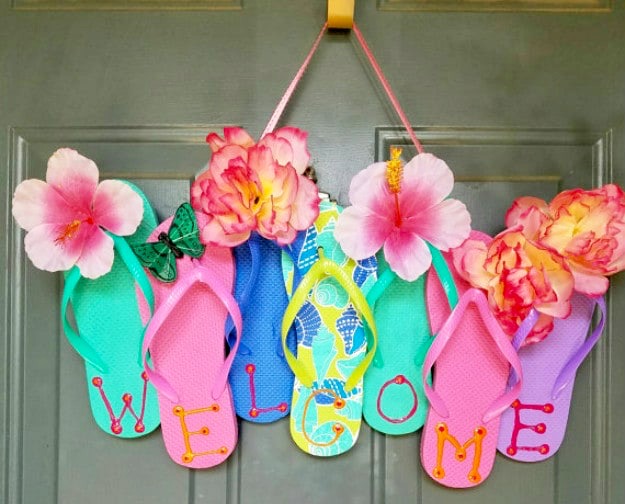 School's out, which usually means lots of time to spend with the family and relax on those hot summer days! We can't think of a better way to wind down than with some summer crafting! We found a lot of super great projects that're fun for long summer days. There's even a bunch of ideas for the whole family to do together!
We especially loved the adorable and inexpensive flip flop door sign (*featured above). The supplies are easily found at the dollar store, which makes it a perfect craft on a budget, as well as an easy one for the kiddos to helping with!
We also loved the summer lanterns, perfect for those summer night parties! The beaded cocktail stirrers were a clever and simple idea as well, and something that you can use all year long!
Check out the site below for some amazing ideas, and remember 'Pinterest' is always a great place to check out for endless ideas! Whatever crafts you choose, enjoy yourself when creating them! Whether they're serving as a relaxing project on your day off or as some crafty fun for your kids over break, there's sure to be something for everyone!
If you and your friends are looking for another way to express your inner artist, come on in to our studio for a class! Wine, painting, music, and fun with friends?!! You can't beat that! (*21 years and older)
Share 30 DIY Summer Craft Ideas | Sign up for a class at our studio