DIY Aprons For Everyone
If you've ever created art, you know it can get a little messy.....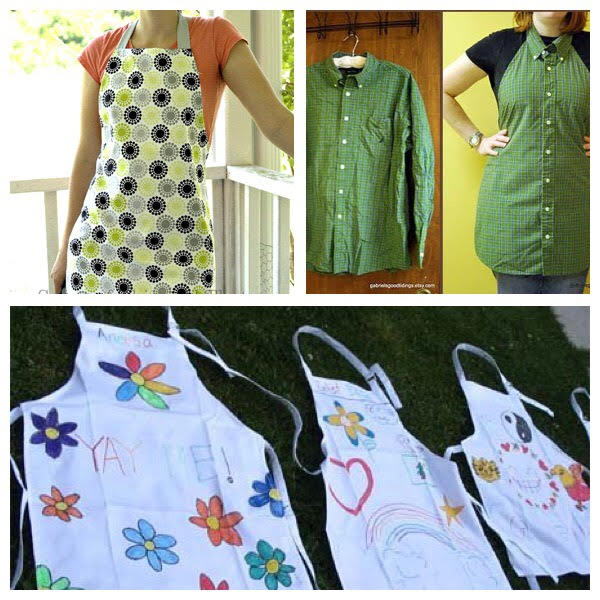 From making your own artwork, to helping the kiddos with theirs, you might want something to help you stay clean during the process: An Apron!
We have found a few, great ideas for a DIY apron, and you can give them a try! Whether you're starting with a blank, store-bought apron, or sewing your own from a pattern, you can create something just for you and your artwork creations!
1-Decorated, Store-Bought Apron
* Stop into your favorite craft supply store, and pick out a plain, white or colored, fabric apron. You can also order one from Amazon for more color choices, without even having to stand in line!
Start with that apron, and think of it like a blank canvas; it's meant to be turned into your work of art! Use everything from fabric paints, beads, and jewels, to iron on stencils and patches, and make it personal to you! Make your apron into your own piece of art and perhaps, it'll inspire you when you wear it and create your masterpiece.
AND....
**Let the kids make one!!!
Grab a set of aprons, one for an adult and one for a child, and have a special "Mommy and Me", matching pair of aprons to cook, paint, or garden in! You can buy a plain, white apron at a craft store, like Michael's, add some fabric markers, and get to work, designing your special, wearable artwork!
http://www.s...-a-kids-apron
___________________________________________________________________________________________________________________________________
2- No-Sew Apron
*This Apron is the best of both worlds: it's super easy to make, so you can tell people you made it from scratch, AND there are countless ways to decorate it, anyway you want!
Made from a T-shirt or button-up, this apron idea is not only cost-effective, but it's a great way to recycle old shirts that don't fit or you don't want to wear anymore.
Once you create this apron, you can rock it "as is" with the original shirt colors and design, OR add some puffy paint, glitter, sew-on patches, and more, to make it customized just for you!
Watch the tutorial for the t-shirt apron HERE:
https://yout...e/deHsXEuI8Ds
Directions for a button-up shirt apron HERE:
https://www....on-tutorial2/
___________________________________________________________________________________________________________________________________
3- DIY, Reversible Apron
*Even the newest learner of 'the art of sewing' can follow this simple pattern! This apron is not only super easy to make but it's reversible, making it twice as useful! The best part about making your own apron, is the fabric.... oh, all the beautiful, patterned, fun fabric!!! Being able to customize the apron print to your taste is awesome, and once you get the pattern down, you'll be able to make this apron in many different fabrics! You can create one for each holiday and make them for birthday gifts for everyone!
Get the tutorial HERE:
https://some...on-easy-make/
PUT THAT APRON TO GOOD USE!!!!
Once you've created a fabulous, new apron, come into our studio for a painting class! While we provide aprons, we do have some of our return customers, bringing in their own! For those of you who haven't been to one of our classes, we offer 2-3 hour sessions, meant for anyone to paint! Whether you enjoy creating art on a regular basis or if you haven't picked up a brush since you were 8 years old, we're here for you! You'll be able to enjoy our classes at any any painting level! We have a wonderful and talented artist, walking you through each step, and a great team, available to help you with anything you may need! We have wine and beer, excellent music, and are the perfect, unique night out experience! Come see us for a girls' night out or a special date night event! With wine and painting, put together, how could you go wrong?!!!
Whether you're creating art at home or in our studio, an apron makes the perfect wardrobe accessory, keeping your clothes clean and you looking like a true artist!
Come in soon, and see us a Pinot's Palette in Tustin! Happy Crafting!