Turn Those Beachy Treasures Into Something Really Special!
Summer is here and that hopefully means a lot of time at the beach for you!!!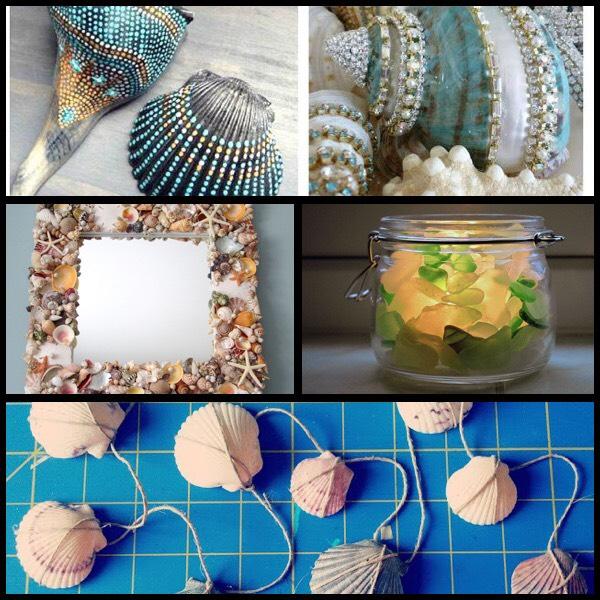 Whether your family schedules regular beach trips, or you have a beach vacay coming up this season, there's nothing like sun on your face, sand between your toes, and the cool water on your skin! The beach is one of the best places in the world to spend time for anyone of any age and will instantly turn stress into serenity, a frown into a smile, and a regular day into some fantastic memories.
If you and the beach have been good acquaintances for some time now, you've likely spent many days, walking the shoreline and searching for treasure. Shells, rocks, sea glass, and other beautiful and interesting items that have washed up are in need of some attention and care and you can give it to them! Take those natural treasures and make them into something wonderful! Here are some ideas of ways to use those beach finds and be sure to check out creative DIY sites like 'Pinterest' for thousands of additional ideas!
1.MAKE A GARLAND
Use shells and twine for this lovely garland! You can hang it throughout your home for a delicate and natural, Summertime decor or let it make a statement at your next cookout or dinner party! Keep the shells their beautiful, neural colors for a light and pretty look or paint them with the colors of your choice for a bit of a bolder statement!
http://canca...-garland.html
2.PAINTED SHELLS
When you find those lovely shells, take them home, give them a good wash, and grab the paint!
Create anything you want on these shells… use the larger ones for your intricate artwork, quotes, or anything else that would take a larger-sized canvas. Think of these clean shells as a blank canvas and go crazy, making them just as you like! Place them in flowerbeds, give them as gifts, or just use them around the house for decorating!
You can use special paint called 'Enamel paint' ('Americana' and 'Folk Art' both carry inexpensive paints) to ensure that it won't chip off OR just use the more-easy-to-find acrylic paint! Whichever type of paint you select, you can finish these beauties with a clear coat of spray paint to seal them for years to come!
3.EMBELLISHED MIRROR
Everything from shells, rocks, seaglass, and even sand can be added to a picture frame or around the frame of a mirror for a statement piece your home will LOVE! Arrange your beach finds onto the frame and use a strong glue like 'E6000' to secure the shells and other items. Remember there are always great things to find at your local craft store if you need more shells or glass (and even fancy things like sand dollars and starfish) to add onto your frame!
4.JEWELRY
As shells are tumbles around in the ocean, they wear down over time. Many times you'll find some with holes in them and these make the PERFECT pieces for a simple necklace or bracelet, as you can just thread a chain through them! Paint them a solid color for a polished piece or just leave them raw for natural look.
Wire-wrapped sea glass for necklaces and more!
http://gayle...the-easy-way/
5.MOSAICS
Use small shells and glass, broken piece of things that are found in the ocean, stones, and more to lay down and make into a work of art! Create a gorgeous serving tray, a wooden initial, stepping stones, photo frames, and more wit the easy-to-do and 'fun for the kids to help with' process of creating a mosaic artwork!
http://www.m...projects.html
6.FILL A LAMP
Get a fillable, glass lamp base and add the sand from your special trip, along with shells, and other knick knacks that will receive immediate attention from anyone who sees your unique and memory-filled lamp! Just filling the base with shells of different sizes, shapes, and colors, will look stunning!
Target has some great options for fill-able lamps:
https://www....r+glass+lamps
7.SEAGLASS CANDLE
This inexpensive crafts absolutely breathtaking! The soft and subtle glow of the candle against the colorful beach glass is gorgeous to just sit on your side table or use as a centerpiece for a party!
https://love...glass-candle/
8.WINDCHIMES
Gather your goods from your beach trip and turn them into a usable work of art: a wiudchime! There are tons of variations for these, making them large or small, colorful or neutral, and they make a wonderful gift!
Shells and things:
https://www....d-wind-chime/
Sea Glass:
http://blog....-wind-chimes/
*Tons of seashell crafts that the kids will love:
https://www....eas-for-kids/
Be sure to stop into our studio for some amazing painting classes this Summer! We have some wonderful things on the calendar and we're always adding new paintings, so check it out from time to time! A painting is a great way to change up your home's style on a budget and the best part is that you'll be decorating with something that YOU made! Our classes are meant for the foist-time painter so don't be worried about coming in with no prior experience.. that's what we're here for! While anyone at ANY skill level will love a painting and wine class, we've got a great team of artists that will assist you with your painting throughout the whole class if you're new to the concept! Our talented instructor will walk you through the painting slowly and encourage you the whole way though! Spending time with loved ones, sipping wine, listening to music, and painting in a fun and creative environment is always a great idea and such a unique night-out!
If you live in Tustin, we're right around the corner from you, located in 'The District', a great shopping center and entertainment hub in Orange County! We make the perfect event for everything from a fun and unique date night, to an awesome girls' night out experience, and we even offer private events! When you view our classes on our website, you'll be viewing our schedule for our public classes, but you can also book a painting party with the guest list of your choice! Come in to celebrate a birthday, bridal shower, reunion, retirement, and more with friends and family, sharing their artistic sides, together. Make memories that will last a lifetime with a souvenir to treasure forever with one our classes.
*Learn more about our private parties, here:
https://www....ivate-parties
We also play host to some great corporate events, too! Why not book your next work party or team building event with us? We offer several styles of paintings that incorporate team building strategies, encouraging the whole office to work together, creating a stunning world of art!
*Read more about corporate events, here:
https://www....porate-events
See you soon and happy beach-day crafting!
Cheers!
Share View our full calendar here! | Buy A Gift Certificate!