Painterly Artwork: What It Is & Where To Make It
Here at Pinot's Palette, we love ALL types of artwork, but today we're talking about the upcoming paintings in our library that take on a "Painterly" style; These are some of the most popular paintings on our calendar (as they're generally perfect for first-timers), filled with color, texture, and beauty.
Join us for some of the upcoming 'Painterly' Paintings on our calendar!!!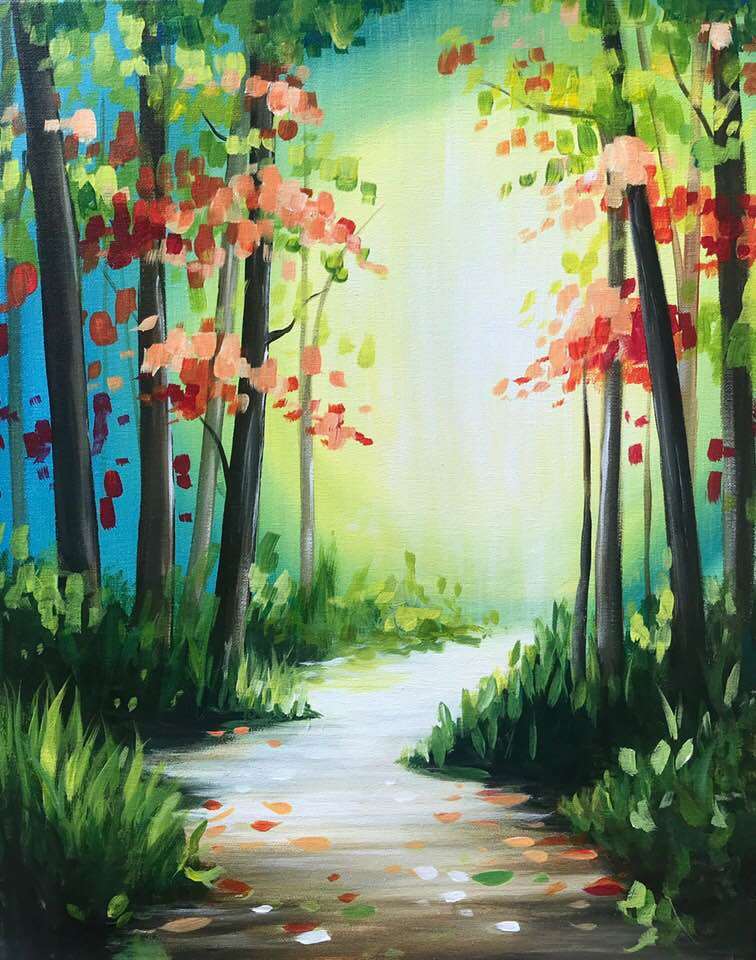 'Painterliness' is a concept, based on the German term "malerisch" (painterly), a word popularized by Swiss art historian, Heinrich Wölfflin (1864–1945), to help focus, enrich, and standardize the terms being used by art the historians of his time, to characterize works of art.
The term, "Painterly" is used to describe a painting, done in a style that celebrates the medium that it was created in; Whether it's oil paint, acrylic paint, pastels, watercolor, etc., 'Painterly' artwork doesn't try to hide the texture and movement of the materials, which gives it a cleaner and more polished look, and preferred by many artists.
It refers to the application of paint in a 'loose' or less than controlled manner, resulting in the appearance of visible brushstrokes within the finished painting.
The Impressionists, Fauvists and the Abstract Expressionists tended strongly to be painterly movements, the most common of all of these is 'Impressionism'…
Just take a look at the works of Monet, Renoir, Manet, Degas, Cézanne, and other famous Impressionists, and you'll get the perfect idea of what a painterly stye of art looks like! The quick and excited brushstrokes, the movement and personality that they hold, and the intense effort that the artists put into the piece can all be seen in these types of art. We find it absolutely intriguing as just looking at it will give you a great idea of the passion and creativity that the artist had as they created the masterpiece; Seeing the work, come to life, with just the pattern, color, and texture, made with specific materials by the artist, gives us insight to the personal thoughts and feelings of the artists and how and why they may have made such a piece.
Many famous artists, from both past and present, have been big fans of a the rich and textured draw of this painterly style; Notably, artists such as Vincent van Gogh, Claude Monet, Edvard Munch, Rembrandt, and Pierre Auguste Renoir… just to name a few.
***Upcoming paintings that fall under a "Painterly' style:
July 20 'Redwood Fantasy'
The color-filled brushstrokes of the trees in this brand new painting, created on a long canvas, will fill any room in your house with happiness!
Special: 1st Glass of House Wine Included with Admission!
https://www..../event/328805
July 20 'Some Beach'
The soft and glowing colors of the sky will take you to a tropical destination in your mind; Create this masterpiece to hang anywhere you want that oasis vibe to continue.
https://www..../event/332345
July 23 'Let's Flamingle'
The light and airy cloud-filled sky, paired with the tranquil water, in this stunning painting are the epitome of a 'painterly' style.
https://www..../event/332371
July 26 'Aurora Through The Tress'
The colors and movement of an aurora borealis is breathtaking and this painting does a wonderful job of catching such a lovely sight, on canvas.
https://www..../event/332365
July 28, 'Change Of Seasons'
This new artwork is light, soothing, and full of painterliness, in every single aspect, from the background color to the leaves of the trees.
https://www..../event/338852
PAINTERLY ARTWORK TO LOOK FOR In AUGUST:
8/2 'Cool Summer Night'
https://www..../event/333786
8/3 'City Reflections'
https://www..../event/344521
8/9 'Dusk On The Docks'
https://www..../event/328774
8/10 'Aurora Magic'
https://www..../event/344527
8/13 'Who Rescued Who?'
https://www..../event/344500
8/16 'The Magic Hour'
https://www..../event/338850
8/17 'Sunset On The Dunes'
NEW painting!
https://www..../event/344509
*AND MORE!!!!