DIY St. Patrick's Day Crafts!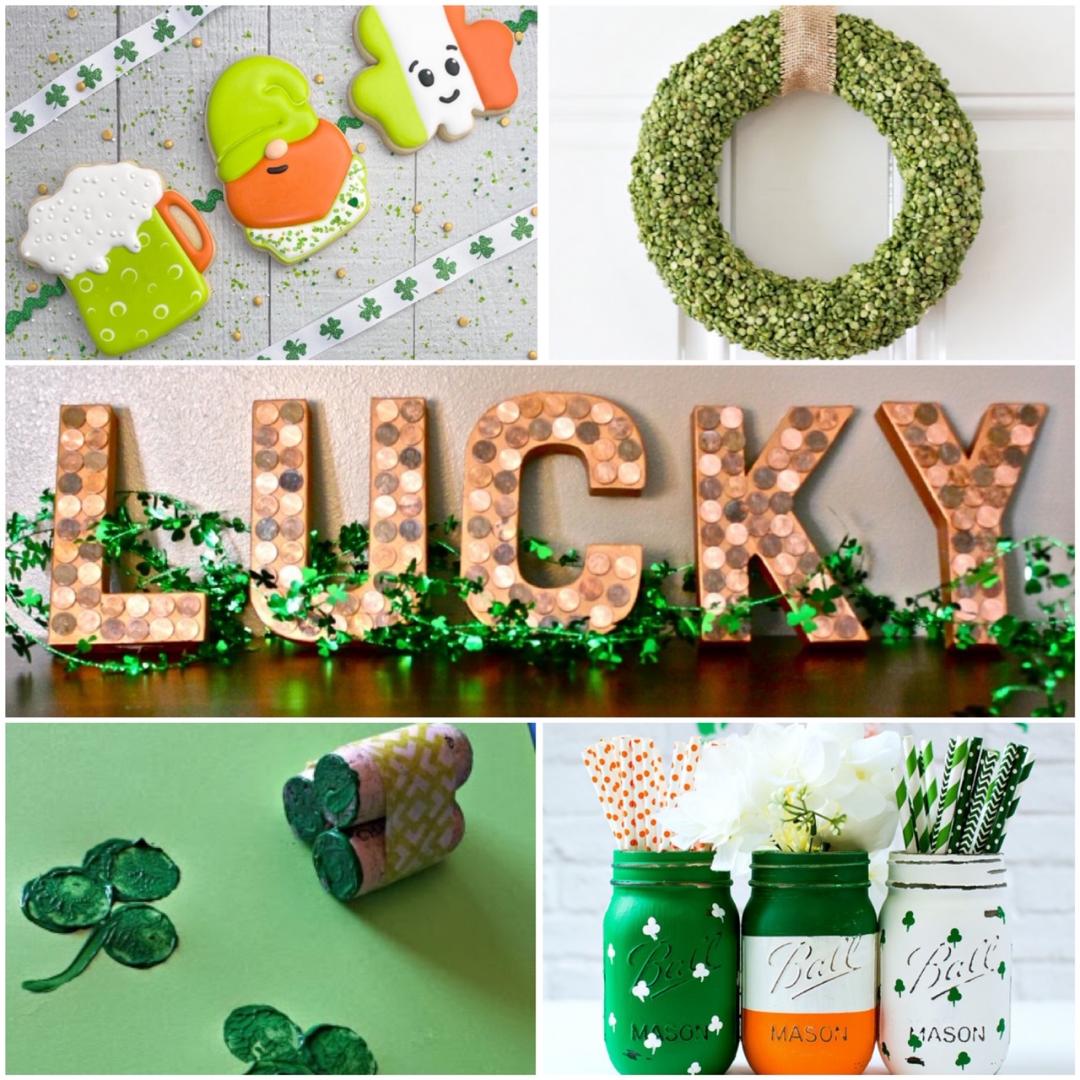 The luckiest holiday of the year is almost here and with that, comes some crafty home decor, fitting for the Irish celebration! We've found some super cute DIY crafts that anyone can make and wanted to share them with you!
We've selected some of our favorite crafts and shared the tutorial for each one. All are made with easy to find items and easy enough for even first-time crafters; These DIY decor projects are fun, cute, and ready to be used, year after year.
Enlist the kids to help out with these fun crafts and you'll end up with more than just a finished decoration… you'll have some great memories too!
1-Super Easy 4-Leaf Clover Stamp
You can throw this craft together in a matter of minutes and is a great thing to use for decorating envelopes, napkins, and more to get you in the spirit of St. Patrick's Day. This is also a fun and easy craft to introduce to your guests at a St. Patty's get-together or to do with your kids at home.
**Just wrap a rubber band around 3 or 4 wine corks, and dip it into green paint and stamp on card-stock (or wherever you prefer). This easy craft is a lot of fun for crafters of any age!
2-DIY Cookies
You won't have to purchase any items or even turn on your oven for this special DIY craft.
Bonus: We'll even show you how to do it with an in-person tutorial in one of our upcoming classes!
JOIN US on March 16th:
We will be having a special guest instructor join us to guide you through edible art! It's a fun spin on a night out with friends and our beginner classes require no previous experience. Plus, there's no mess to clean up in your kitchen! You'll be given guidance on step-by-step instruction, along with all the materials needed to decorate some delicious sugar cookies and some tips and tricks to be able to do this at home and impress your next house party guests! You'll learn a new skill that will impress your friends and family!
Sing up for this class:
https://www..../event/423671
3- Split Pea Wreath
*Check out our local grocery store for a blag of split peas! Add a wreath form and some Mod Podge from the craft store and that's really all you need! The tutorial uses solely Mod Podge to hold these peas on, which is really amazing! Once dry, you can add any type of additional accents to the wreath to customize it, whether its simply a bow (like the photo, above), or a small wooden sign with the family's initial or last name on it (*Or cute words like, 'Happy Spring' or 'Happy St. Patrick's Day'). This simple, minimalistic, fresh wreath, made with natural things, fits the theme of 'farmhouse' decor which has been HUGE these past few years! A wreath that's classy, sophisticated, and handmade?? That's pretty awesome!
Make This Wreath:
https://love...tutorial.html
4- 'L-U-C-K-Y' Penny Letters
*You can purchase these thick, wooden letters at the craft store or try Amazon for an even easier buying process! Shake some pennies out of that piggy bank (or dig them out of your car seats), and grab the Mod Podge! This is a REALLY GREAT one to let the kids helps out with! It uses hot glue so you might want an adult to help out with the actual gluing, but they'll love to both, paint the letters gold AND arrange the pennies on the them. The finished letters can be laid down on a table runner for a cute and simple centerpiece or displayed somewhere in the home for a striking and shiny decoration that will absolutely bring on the compliments and praises of your craftiness.
Make This Craft:
http://www.m...penny-letters
5- St. Patrick's Day Mason Jars
*These jars couldn't be easier to make so they're the best option if you're new to the crafting game or worried about messing something up. All you need is 3 'Ball' Mason jars (or however many you want), some acrylic paint, and sandpaper! You simply add two coats of paint, allow some time for it to dry, then use some sandpaper to give it a rustic look. Once you learn how to make these, the possibilities are endless! Make them in any shade for any occasion, add a lovely ribbon around them or paint some simple designs on them. These adorable jars can be given as a gift, used for centerpieces, placed throughout the house as a part of your everyday decor, and more!
Make These Jars:
https://maso...ason-jar-set/
After spending some time getting crafty at home, join us at our studio for a painting and wine class! At Pinot's Palette in Tustin, we offer 2-3 hour painting classes where you can spend time with your loved ones, getting creative! Enjoy some time in an artistic environment, sipping some wine, listening to music, and making some amazing memories! You'll leave the class with a handmade, souvenir masterpiece that you can proudly hang in your home for an instant conversation-starter!