Looking for a fun and creative outlet for your little artist?
Little Brushes has exactly what you are looking for! At Little Brushes we offer a fun-filled party atmosphere where your little artists can have a blast creating their own artistic masterpieces.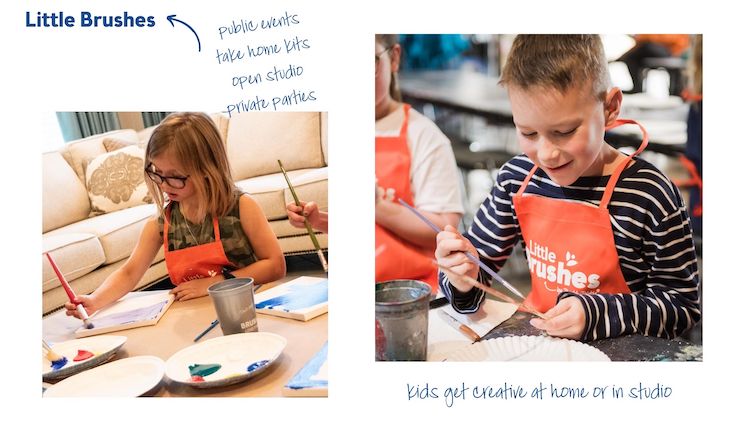 Little Brush events are perfect for birthdays, an interactive way for families to bond OR to supplement your child's online learning experience. Did I mention, there are more options than ever before to get creative!
1. Our website calendar is the perfect place to find public IN STUDIO or VIRTUAL family friendly events. On the day of the event, our experienced artist will lead the guests step-by-step through the painting in a FUN and interactive style.
2. If you can't make a public event or are looking for a more cost effective option, try our TAKE HOME paint kits. Choose between one of two paint kit options, the self-led (with written instructions) OR pre-recorded video tutorials. Take home kits include all the necessary supplies and we have many paintings created for our youngest guests.
3. OPEN STUDIO is also a great way for the family to paint together in our studio. Choose from 25+ family friendly paintings with written "self-guided" instructions. When you paint with us in the studio, we encourage kids to change colors, patterns or other details to make the painting their own. We set everything up for you and even clean it all up afterwards. If you don't see an Open Studio session that's convenient for you, contact our studio and ask to reserve your private open studio session.
4. KIDS PAINTING PARTIES are perfect for groups of 6 or more. Customizable for age, skill level and event type, these parties are nonstop fun! You choose the date/time, type of experience (in studio or virtual) and featured painting. The painting process is closely guided and well-structured, while giving kids the wiggle room they need to be kids and have FUN!
As always, we'd love to hear your ideas about how we can better serve our youngest guests. Contact us at shortnorth@pinotspalette.com.
Share https://www.pinotspalette.com/shortnorth/shop | https://www.pinotspalette.com/shortnorth/events