Meet Our Artist: Lissette
Meet Lissette A Pomart!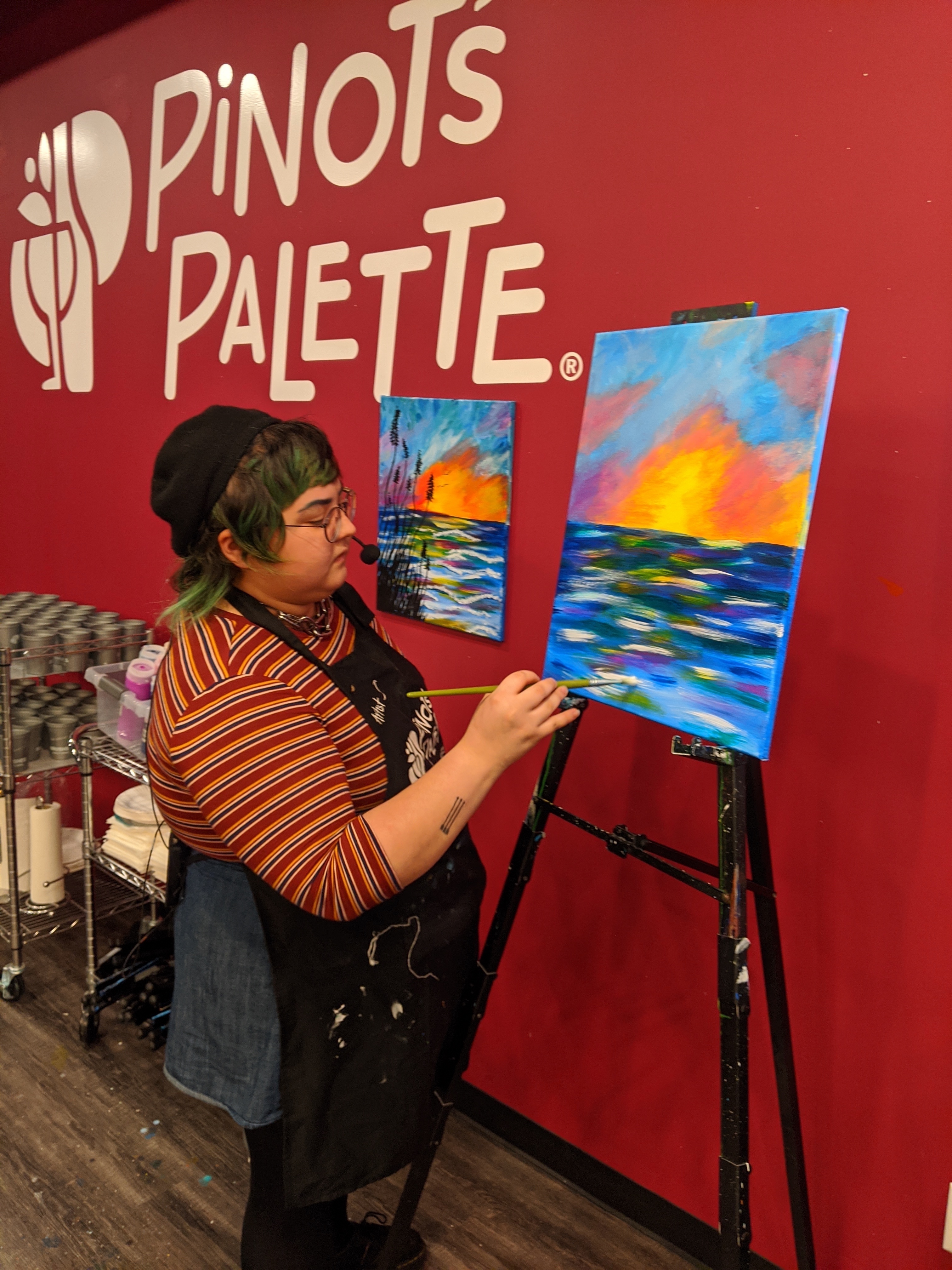 Lissette is Bay Area native, born and raised in Hayward, California. Her experience in the art world both professional and underground art scenes have inspired her to join Pinot's Palette's San Bruno branch in early January 2020. She is skilled in painting, pen and ink, digital, animation as well as cooking perfect rice every time.
Lissette's journey as an artist started from a young age, finding comfort in comics and cartoons such as Invader Zim, The Simpson's, Powerpuff Girls, and of course, Spongebob Squarepants. She began creating humorous original comics and giving away 1 to 26 page comics to her friends and classmates at school starting at age 10.
She began taking college credit AP art courses at Mount Eden high school, (Hayward, Ca) and references Carrie King as an exceptional mentor of her art journey. Through AP Art, Lissette honed in on her painter and charcoal skills, as well as creating a name for herself within the upcoming Hayward Arts community, becoming an honorary member of the Hayward Arts Council during her Senior Year of High school. Her first solo show was at the grand opening of Eko Coffeehouse in downtown Hayward at the age of 17, for her work in untraditional media series 'Portraits in Coffee.' She was also awarded a $50k scholarship to California College of the Arts where she studied illustration, animation, and methods of printing practices.
Aside from painting, Lissette is a self-acclaimed "Zinester" in reference to her work of self-published mini magazines of personal comics, pen and ink illustrations, and interviews with local musicians. Lissette also creates her own clothing merchandise with screen printing and patch making. She is inspired heavily of underground counter culture, the expressionism movement, and punks.
Outside of her craft, Lissette can be found singing Karaoke on weeknights, cooking new recipes for her friends at home, rewatching John Waters films, or singing and playing synth keys with her punk band, MODED. She is a core member of D.I.Y. Booking and art collective Street Ratz, where she organizes gallery and music events for the public.
Lissette's work has since been featured in numerous galleries and exhibitions both professional and in D.I.Y. Communities around the Bay Area, such as the Sun Gallery, Noisebridge Hackerspace, Zocalo Coffeehouse, MEGA gallery, Gilman Zine Fest, Thrillhouse Record shop, and the Bay Area Anarchist Book Fair. She has been teams for multiple murals in Hayward, Ca and wants to pursue more street art opportunities.