Helping Second Harvest Fight Childhood Hunger
Pinot's Palette San Bruno is teaming up with Second Harvest of Silicon Valley to raise money to fight childhood hunger. Join us on May 8th at 7p to paint Family Bouquet and Pinot's Palette San Bruno will donate 20% of all sales from this event to Second Harvest!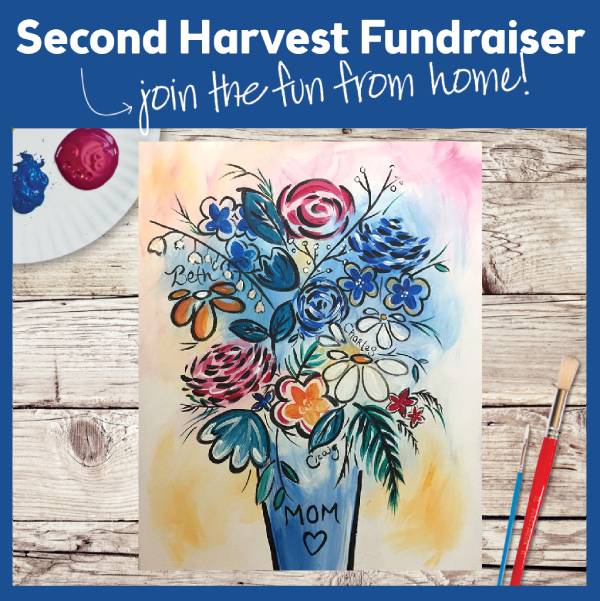 * The economic crisis created by the pandemic has pushed many families deeper into poverty and caused others to seek food assistance for the very first time. Second Harvest is now serving an average of 500,000 people every month, which is twice as many people as we served pre-pandemic. Of the population we are now serving every month, we estimate that about 143,000, or nearly 29%, are kids. With the economy still operating at a significantly reduced capacity, we know now that we're not just responding to a temporary surge in need. Even as the vaccine is rolled out and more businesses are able to reopen, there is long lasting economic damage families will face after enduring an extended period of lost wages, lost jobs, and a depletion of their savings, along with months of back rent owed. Because of these circumstances we don't expect to ever return to the number of clients we were serving pre-pandemic, and we expect to see significantly elevated need for the foreseeable future.
* Increased food insecurity due to the pandemic hurts children
- We estimate 1 in 3 kids in our community are at risk of hunger. The consequences of childhood hunger are real – research shows that even marginal levels of food insecurity are related to negative emotional, behavioral, academic and overall health outcomes experienced by children.
- COVID has created even more barriers for families with children to access regular sources of nutritious food. The pandemic has led to high rates of unemployment, diminished wages and lost savings, leaving many Silicon Valley families unable to pay their bills let alone buy nutritious food, which is more expensive than pre-pandemic.
- Children who are food insecure are more likely to experience negative health and academic outcomes. There are real consequences for kids who don't get enough nutritious food to eat – it's difficult to study, concentrate or have enough energy to do your best work when their diet is filled with high-calorie, low-nutrient food.
- Regular access to nutritious food increases the likelihood that kids are healthier and more self-sufficient in early adulthood, and that they are able to finish school and have better economic outcomes, helping to break the cycle of poverty.
- Today's kids are tomorrow's entrepreneurs, business leaders, healthcare workers and educators. Providing nutritious food now is a crucial investment that can support the long-term wellbeing of children for years to come.
* Actions Second Harvest is taking to address childhood hunger in the Silicon Valley
- We're continuing to provide free food to anyone who needs our services, many of whom have indicated they've never come to a distribution before.
- We've worked to open 130+ drive-thru food distributions so that families can get the food they need in a safe environment, easing the stress parents face over feeding their kids during the pandemic. We have continued distributing a nutritious mix of food (~50% produce and 25% protein/dairy) even in the midst of supply chain challenges due to the pandemic, which means kids and their families have continued to receive the balanced nutrition they need to thrive.
- We are helping to ensure children and their caretakers can get school and summer meals even while instruction is remote.
▪ Second Harvest views universal free school meals as an issue encompassing education, hunger, equity, and health. When all children take part in eating free meals provided by their school it builds community among peers and ensures that every student has the quality nutrition they need to focus and learn. Many schools in our counties qualify for federal universal meal programs, but small funding gaps prevented them from taking part in them.
▪ Second Harvest advocated to fill these funding gaps through co-sponsoring a state bill and partnerships with our counties.
▪ Through these county efforts, over 18,000 students will be part of universal meals programs through the 2024-25 school year.
Additional links:
https://jour...dren_s.6.aspx
https://www....d-food-prices
https://www....ork/advocacy/
Share Register for Family Bouquet with paint kit | Register for Family Bouquet link only