Ingredients Needed for a Perfect Bridal Shower
A bridal shower is typically organized by the bride's girlfriends, and usually everyone contributes with her part, both for gifts and the bill. Although the tradition says to organize the party the evening before the wedding, from a practical point of view this would be almost impossible. It can be held however at any other time in the couple of weeks before the wedding.
Although there is no ideal recipe, there are some ideas that can be successfully applied to any bridal shower party. Here are just a few of them: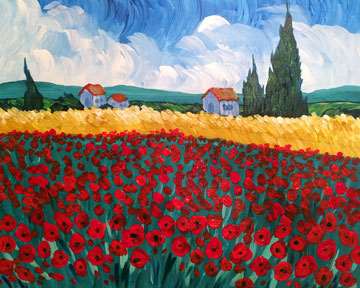 1. The bride's album
This may turn to a beautiful and special gift from the bride's best friends. It can be a photo album or a memo book in which each one is invited to attach photos with her and the bride, as well as to write some pleasant memories about the way they met etc.
2. Other gifts for the bride
As a rule, and even more for the sake of amusement than anything else, the bride may receive all kinds of spicy gifts, such as unique toys and sensual lingerie.
3. Games for the bridal shower party
Among the most popular games in the US (that can also involve considerable amounts of alcohol), are "I never ..." or "Secret command".
4. An amazing way to celebrate the upcoming nuptials, is to gather friends at Pinot's Palette, and along with your favorite beverages, enjoy the opportunity to create a piece of art with the help of Pinot's talented artists!
Share plan an amazing bridal shower in Ridgewood NJ | paint and sip Westwood NJ bridal shower venue