How Painting Can Help Enrich Your Mind
Painting is a wonderful creative activity with lots of cognitive and emotional benefits. Pinot's Palette in Ridgewood offers a variety of ways to learn to paint with creative instructors, cocktails, and a fun atmosphere. It is a wonderful way to spend time with friends and family. Here are some other reasons to spend time painting!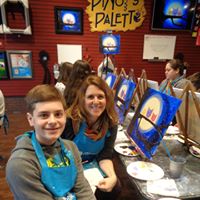 - Decreased stress levels – painting calms the nerves and soothes racing thoughts. Just start mixing the colors on your palette, then put a few spots on the canvas and you will instantly start feeling calmer, more relaxed and more focused at the same time. Painting is also known to improve the painter's ability to cope with unavoidable stress by improving psychological resilience.
- Improved problem-solving abilities – creative activities, most notably painting can activate neural responses, they establish new connections in the brain and the process has undeniable benefits for day to day problem solving. Those who practice painting regularly develop the ability to look at events and problems from multiple angles, which helps them come up with solutions that might be unusual, but efficient, nevertheless.
- Stronger self-confidence – painting is a form of self-expression and as such, it improves the painter's abilities to express their thoughts and opinions more efficiently in areas other than painting, which will improve the painter's confidence in their communication skills.
- Inducing a feeling of happiness – creative activities release substances in the body that make you feel euphoric and you can trust the feeling to stay with you even when you are not painting.
Share Ridgewood NJ things to do to enrich your mind | paint night enrichment classes in Paramus