Paintings That Make Everybody Smile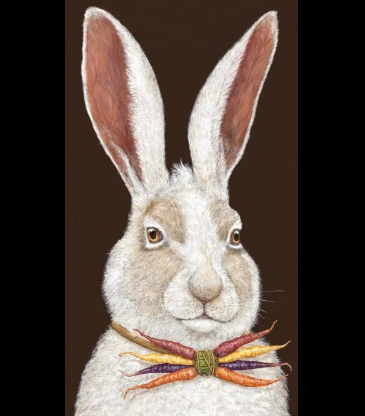 At the Pinot's Palette – Princeton studio, our primary goal is to provide a place where people can have fun while creating paintings they make them proud. Professional artist, Vicki Sawyer, has taken this idea to a whole new level by not only having fun creating paintings, but paintings that give fun to others as well. Over the past 15 years she has painted more than 2,000 pictures of birds and other animals wearing hats, necklaces and masks, and every creature retains its inherent dignity. How did this happen?
"On a walk one day, it occurred to me that if birds could build nests, they could make hats," says Sawyer, 63, an avowed animal lover. "I label my art as serious whimsy. It's seriously painted, but whimsical." In 2015, a set of appetizer plates boasting Sawyer's critters was included on Oprah Winfrey's "Favorite Things" list. Today, the memorable images adorn greeting cards, placemats, needlepoint kits, mugs, teapots, phone cases, kitchen towels, aprons, rug hooking patterns, napkins, calendars and journals.
Sawyer works in acrylics, painting many layers, and then using spray varnish to give the art a sheen so it looks like an oil painting. Of all her images on all the different products, does Sawyer have a favorite? "I'll get interested in one thing, and then I get interested in something else, but I do have a favorite bird — the great blue heron, because they are so stunning," she says. In addition to birds, Sawyer has painted penguins, alpacas, llamas, bears, raccoons, even possums. "I love painting European badgers," she says, "and lately I've loved painting hares. I have one wearing a bow tie made of colorful carrots."
"I get the sweetest emails. Some say my art has made them laugh and others tell me to keep doing what I'm doing, because I bring so much joy to the world," she says. "That's exactly what I want to do."
Taken from the online newsletter, next avenue [Jan 7, 2020]