Charity and Fundraising Events
Schedule a fun and entertaining fundraiser for your 501(c), or other organizations.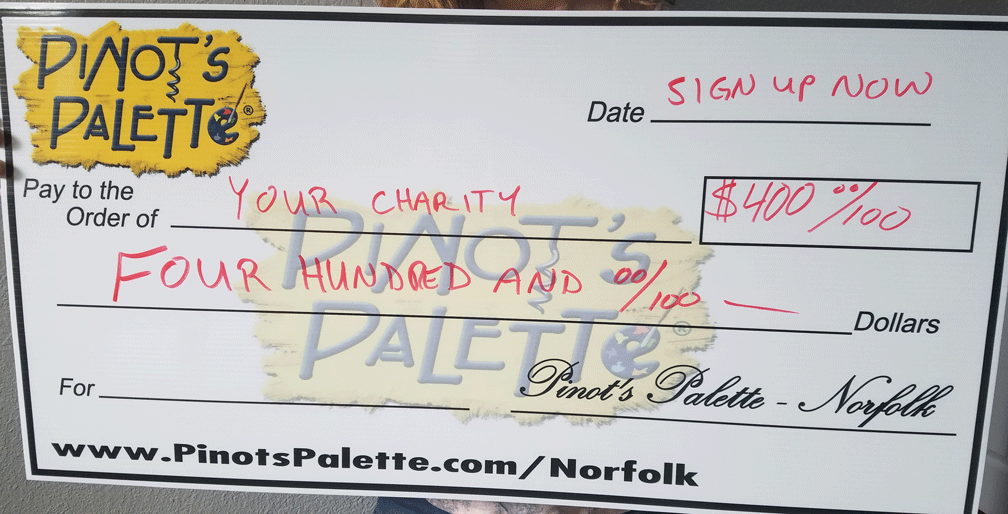 Nothing pleases us more than giving back to our local community, and at the same time, throwing a great party. One of the things we specialize in here at Pinot's Palette Norfolk is our charity fundraising events we call "Painting it Forward". These specifically organized and fun events are a great way to not only raise money for your organization but also allows you to interact with "donors" and provides them with a great experience as well as a keepsake from the event that they create themselves.
Each event is unique and requires coordination with our studio to make sure that the event is a success and your organization is pleased with the results. As the event coordinator you are able to choose from our library of images, or for an additional cost, our artists can create a customized image or logo for everyone to paint.
Pinot's Palette Norfolk will also work with you in promoting your event to help boost interest and attendance. If you're interested we'll also contact local media to see if they are willing to cover the event to further drive awareness.
So whether you're a national 501(c) non-profit, Church, local PTA chapter, Girl Scouts, Boy Scouts, or even raising funds for military functions such as the "Khaki Ball" for those selected to Navy Chief Petty Officer, we can help create and market an event that has little-to-no out-of-pocket expenses for you. Learn more at our website @
https://www.....com/norfolk,
send us an email to norfolk@pinotspalette.com, or give us a call at 757-386-4679.