We're Painting At The Fox Valley Mall
Paint at the Fox Valley Mall this Holiday Season!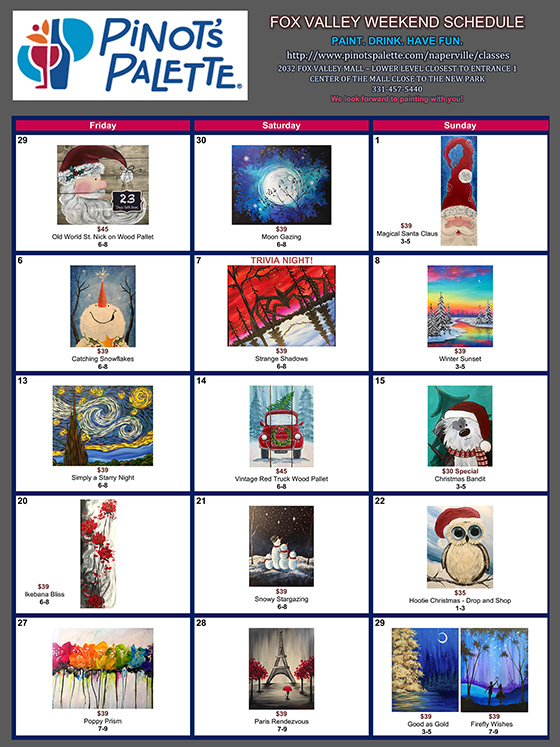 We will be doing mobile, pop-up events on weekends during the holidays. Pinot's Palette will be in the community room, located on the lower level near the new "Center Park" and Francesca's. The community room is where The Fox Valley Mall is showcasing and promoting the new changes to the mall. We will be offering plenty of paintings that will be great for family time, date night, birthday parties, girl's night out and much more!
On December 7th, we will be having a fun trivia night with our "Strange Things" painting and costume contest. Come dressed as your favorite character and enjoy some fun trivia - There will be prizes!!! View more information here:
https://www..../event/381512
The Fox Valley Mall is currently undergoing a renovation. The new 16,000 foot "Center Park" is expected to be completed by Black Friday (that's our first day of painting). The park will include swings, outdoor games, and sculptures. Next year, work will begin on an 8,000 square foot "Treehouse Space" that will reach up to the second level. There are a lot of fun new stores at the mall this season, as well.
Stop by and check out all the exciting changes to the mall and take some time to destress during the holidays and paint with us. You can also drop off your kids, seven and up, at our classes while you do some shopping --- Drop and Shop!
As classes fill up, we will be adding more to the calendar. Check our website and follow us on Facebook to see any updates:
https://www....teNaperville/
Sign up for classes online here:
https://www....rville/events
View other events at the Fox Valley Mall here:
https://www....l.com/events/
We look forward to painting with you!
Share Paint at the Mobile Pop-up Events at the Fox Valley Mall