The Perfect Pair: Pinot and Popcorn
Ever since Scandal's Olivia Pope (Kerry Washington) stunned some viewers with her odd combination of popcorn and wine, it's caused quite a buzz as a new savory snack for relaxing. So here at Pinot's Palette we couldn't think of a better combination for our painter to try out, and what better day to try it than January 19, 2017 – National Popcorn Day?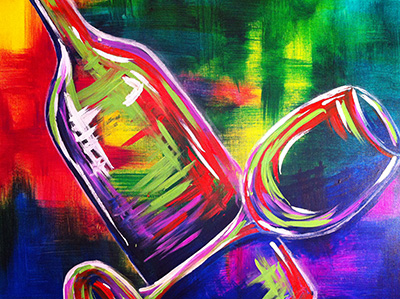 Why do wine and popcorn go together you ask? Well, the results from many studies show that slowing down and savoring a glass of wine at the end of the day is genuinely stress relieving. Thus far, science has only proved that red wine helps our bodies deal with stress, but it can only be a matter of time before they confirm that bubblies, whites, and rosés help, as well. Meanwhile, the crunch of popcorn helps with relaxing your facial muscles while the popcorn's carbohydrates release the neurotransmitter serotonin. Of course, as with all wine and food pairings, there must be a method to the madness. Which is why we have decided to share some of the perfect pair combinations we found for you to try tomorrow with our half off wine bottles! Thankfully, they all go well with a relaxing night at Pinot's Palette, giggling with friends, or at home from the comfort of your couch!
*Butter, Salt and Chardonnay
Butter and butter? Yes please. We suggest pairing this seasoning with a glass of smooth, creamy Chardonnay. The buttery notes in the wine are the perfect complement to this traditional popcorn flavor.
*Say Cheese and Champagne
Wine, cheese and popcorn- what more could anyone ask for? If you're a savory snacker, this classic combo is right up your alley. The effervescence of the champagne balances the sharp notes of cheddar for a satisfying bite.
*Double Hit and Merlot
A match made in heaven, no popcorn and wine-pairing list would be complete without Double Hit and Merlot. With Double Hit's rich taste and Merlot's smooth pour, makes it the perfect sipping companion.
*Creamy Caramel and Rosé
Match the sweetness of caramel with a dry rosé. The crispness of the wine heightens the creamy caramel taste, creating the ultimate combo for a girl's night in. And in case the bag is empty before the credits are over, we're not here to judge...
*Thai Sweet Chili and Riesling
Prefer to go a little caliente? We don't blame you - spicy and sweet are often better together. A sweeter wine works best with dishes that pack a little bit of heat. So, the next time you open a bottle of Riesling, grab a bag of Thai Sweet Chili for the ultimate combo of heat and sweet. (Pairings provided by kernalspopcorn.com)
Call the studio today at 331-457-5440 for more information, or you can email us at Naperville@PinotsPalette.com
And don't forget to follow us for the latest updates and pictures!
Facebook: Pinot's Palette Naperville
Instagram: PinotsPaletteNaperville
Twitter: NapervillePinot
Snapchat: NapervillePinot