Thank[ful for friend]sgiving!
Friendsgiving is magical. It keeps all the best parts of Thanksgiving, but removes a lot of the awkwardness that goes along with spending the day with distant relatives and even more distant friends or neighbors of those relatives. Reconnecting with your odd-natured but kind of nice cousin, maneuvering around your mom's pointed questions about your future, and finding common ground with your little sister's smirking boyfriend are all important interactions to have; but they are admittedly uncomfortable, and can leave everyone (your cousin, mom and sister's boyfriend included) feeling mentally worn out.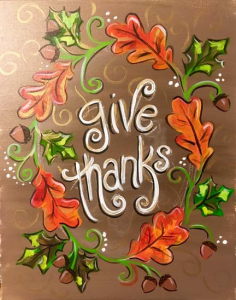 So whoever came up with Friendsgiving is a genius. No political talk, no strangers, just your favorite friends and favorite conversation topics. But like Thanksgiving, Friendsgiving is a lot of work.
Go through the guest list and choose the date!
Pick a Friendsgiving date based on people's work and travel schedules. November and December are the busiest months of year for most people, so it's okay if you can't find a date where everyone can make it. This is the nature of the holidays! And make sure to only invite as many guests as you can handle - do you have the space, or the time to prep your place for a larger group?
Incidentally, Pinot's Palette will let you host a Friendsgiving in the studio! Just call our Naperville location before the spots fill up!
Go potluck!
Your great aunt may insist every year on cooking every last dish on the table, but that's a ton of pressure for most people. So for this friendsgiving, go potluck! Decide in advance who's bringing what, that makes for a much less-stress filled day.
Once again incidentally, Pinot's Palette will let you bring your turkey and gravy boats into the studio for your Friendsgiving! (or whatever food your friendsgiving tradition calls for that doesn't require any further cooking.)
Don't forget about the leftovers!
Stock up on disposable Tupperware, or have everyone bring their own. Nobody deserves to go home without delicious leftovers.
Crazy enough, Pinot's Palette even lets you bring in your own Tupperware to take home your tasty Friendsgiving leftovers! (The studio also has plenty of 'starving artists' if you happen to forget some.)
Prep Prep Prep!
Don't leave all the prep work until the day or night before. Remember, it takes a few days just to thaw a turkey, and marinating can take 24 hours. Do your grocery shopping a few days ahead of time. Read all your recipes in advance so you know how long each dish will take to make, which items need to be cooked at which temperature, and if some items have to chill or marinate in between steps. Chop your veggies the day before. And don't try to clean the whole house the morning of.
Thankfully, prepping to throw your Friendsgiving at Pinot's Palette is much easier! Call the studio to reserve the date, and make (or order) the food with a little more flexability. You don't even have to do the 'people are coming' whole house preclean or the 'they're finally gone' after the guests leave cleanup!!!!
Perfection is overrated!
If something doesn't work out – you burn the turkey, some unexpected boyfriend shows up, or Susan is 30 minutes late again with the sweet potato pie, whatever – let it go! Friendsgiving is not about the experience, not the execution. It's about making memories and showing your commitment to some of your favorite people in the world. So laugh and smile at the spills, the mistakes and the weird parts.
Conveniently, Pinot's Palette is all for making memories too! Which is why we want YOUR Friendsgiving party here with us - so we can help you not only make (and clean up) those silly memories, but help you make something out of them as well! That's why you get to pick the painting when you book a private Friendsgiving party with us!
Lastly, it doesn't have to be traditional!
Most Friendsgivings follow the familiar pattern of everyone gathering at someone's house and sharing turkey, cranberry sauce and pie. But what makes Friendsgiving so rad is that it's all about making new traditions, that maybe aren't so traditional! So if you want to order pizza instead of cook a turkey, do it! Have a movie marathon all day then take everyone's dogs to the park! Or, bring the friends that you're thankful feel like family to Pinot's Palette to create an unforgettable (and frame-able) memory. You do you!
Once again, don't forget Pinot's Palette is here to help you do any and all of that this Friendsgiving Season. (Even the cleaning up thing, we mean it! You really won't have to clean a thing, other than your dinner plate!)
Call the studio today at 331-457-5440 for more information, or you can email us at Naperville@PinotsPalette.com
And don't forget to follow our Instagram, Twitter, and Facebook for the latest updates and pictures!