Art For Mental Clarity and Stress Relief
Stress less and improve your mental health, by creating some self-expressing artwork!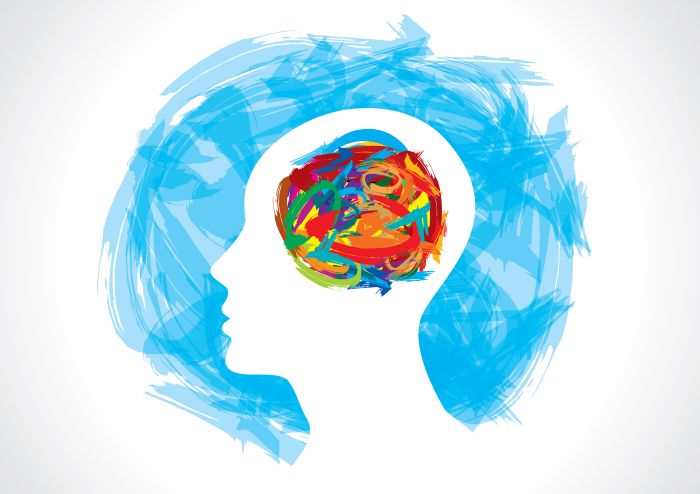 Sometimes, we ALL fall victim to life's craziness. Trying to fit too many things into too little time, is not only stressful, but taxing on your mental health, too. We try to over-achieve to keep up with everyone else around us, and the busyness that is 'life'. With so many other people and things in your life, it's often easy to forget about you!!
It's just as important to take some time for yourself, every so often, to help maintain your physical and mental health. You've heard it before, but it's true: "You can't take care of others if you don't take care of yourself first."
We're here to offer some truly amazing and real ideas of ways to relax and de-stress, from time to time. Art is such a therapeutic past time; it allows you to turn off your brain, relax, and just do something fun and creative for a bit. There's no right or wrong way to do it, there's no correct answer to find.... it's just about being able to non-verbally express yourself. Art as a form of relaxation has been proven, time and time again. It has helped people who suffer with everything, from depression and anxiety, to Autism and Down Syndrome.
The concept of 'Art Therapy' has been around for a while and helps those who suffer from just about any form of physical or mental disabilities or illnesses. "For thousands of years, art has been used as a tool for communication. It has been used as a means of group interaction, conflict resolution, diagnosis and self-expression. The therapeutic use of art has existed for centuries with a diversity that echoes the varieties of artistic experience and needs."
****************************************************************************************************
The TOP benefits of Painting (and other artistic creations) include:
*1- It helps with self-expression and exploring your emotions.
Unexpressed thoughts and feelings can be very damaging, and it's important to let them out in a healthy way. Creativity can help you to make sense of them and put things in perspective. You can show your thoughts and emotions through your art. Expressing yourself on a canvas, in a poem, on a musical instrument, and more, is a power form of communication.
*2- It can serve as a way to clear your mind, de-stress, and manage anxiety.
Clearing your mind and focusing, intensely, on something makes it hard to think of anything else. People who focus on creativity (visual arts, creative writing, or whatever it may be), are absolutely consumed by it at the time they're doing it; That level of focus, wards off stress and anxiety, by distracting the mind.
Let your artwork be your "happy place". Think of it as something that calms you, takes your mind off of your worries, and allows you to connect with yourself on a deeper level.
*3- It boosts self-esteem and provides a sense of accomplishment.
Accomplishment can come from the process of doing or learning and it's not necessarily about the end result. While you're immersed in your creativity, you'll be constantly learning! You will discover new ways to make art and exciting things about yourself, and in the end, you'll have something to show for it! Seeing something YOU created with your mind, eyes, and hands will be validation for you, as an artist and a human being.
*4- It increases empathy, tolerance, and feelings of love and positivity.
Creativity can help take the focus away from destructive, negative thoughts. It's a healthy way of channelling negative energy into something positive. Art is personal, deep, and insightful. Creating art, helps you to look at others' art, differently than you may have, before. You may be able to read deeper into the meaning behind the artwork; you may be able to see and understand the artist's feeling and thought-process, better. Art truly is a language, all of it's own.
GIVE IT A TRY!!!
Ok, so maybe you haven't picked up a paintbrush since your last art class in 3rd grade....
You might not be sure of where or how to start. You don't want to commit to purchasing expensive art materials, until you know if you like it or not. You want to be sure that expressing yourself, creativity, will actually work for you...
Have no fear! You can start TODAY, with minimal supplies and just a small amount of time. Taking just a few minutes a day, to do something mindless, soothing, and creative for yourself, truly can make big changes!!!
*****************************************************************************************************
Why not try one of these ideas, right now, to get the creative juices flowing and see how good it feels to express yourself:
(1)Coloring:
Something As simple as taking 20-30 min a day to color in a book... can really make an impact on your mental health. Adult coloring books are all the rage right now so they're easy to find, inexpensive to buy, and totally acceptable for grown ups, now!!! :)
(2)Journaling:
There's really no wrong way to do this:
*You can go "old school diary" style and write about your thoughts, feelings, and events from each day, before bed.
*You can simply write what you feel you need to: whether it's positive thoughts, ideas you have, plans and goals you want to document, and more!
((Types of journals to keep)):
http://www.d...rnals-to-keep
*Free writing- set a timer and just write! Everything that comes to mind, put it down on paper. Don't stop, don't over-think, don't worry about grammar, and don't judge yourself in the end. There's no wrong way to do this; it may make sense when you re-read it, after... and it may not! That's ok... it's just meant to be a pure and free form of expressing yourself, with a raw and natural flow to the style.
((Free writing techniques)):
https://www....g-techniques/
(3)Cooking:
Cooking is, absolutely, an art form! It requires creativity and it'll keep your mind busy, too! Get creative with dinner tonight and try something new, exciting, and delicious. Talk about a 'feeling of accomplishment'!-- you'll get to see and taste what you made and feel proud!
****************************************************************************************************
So many of our customers tell us how relaxing it is to paint. One of the best things we constantly hear, is how much they enjoyed our class and how it turned a long, stressful day into a relaxing night out. Sitting with friends, sipping some wine, and painting is about as relaxing as it gets! Being able to tap into your creative side of the brain, and turn a blank canvas into a masterpiece, is truly a wonderful thing. You can change the colors, subjects, and overall look of the painting, too! It's YOUR creation, so do it how YOU want to! We always tell our customers to not compare their paintings to everyone else's, because they shouldn't be the same! You're putting your touch, your additions, and your preferences onto that canvas, and so it should be a reflection of you!
Come in to our studio for a class and see what a 2-3 hour painting session can do for you! It really is a great way to spend time, learning more about yourself and your inner-artist. You could very well discover a talent you never knew you had, and it may turn into a passion that you'll always be able to turn to! Come out and give it a try! We offer lots of classes, throughout the week, and a large variety of paintings! You're sure to find something you'll love to paint and show off in your home!
Cheers and Happy Creating!!!
Share Sign up for a painting class at our studio!! | Read more on the many benefits of 'Art Therapy'