Is There A Link Between Wine And Creativity?
Need to get your creative juices flowing? Grab a drink!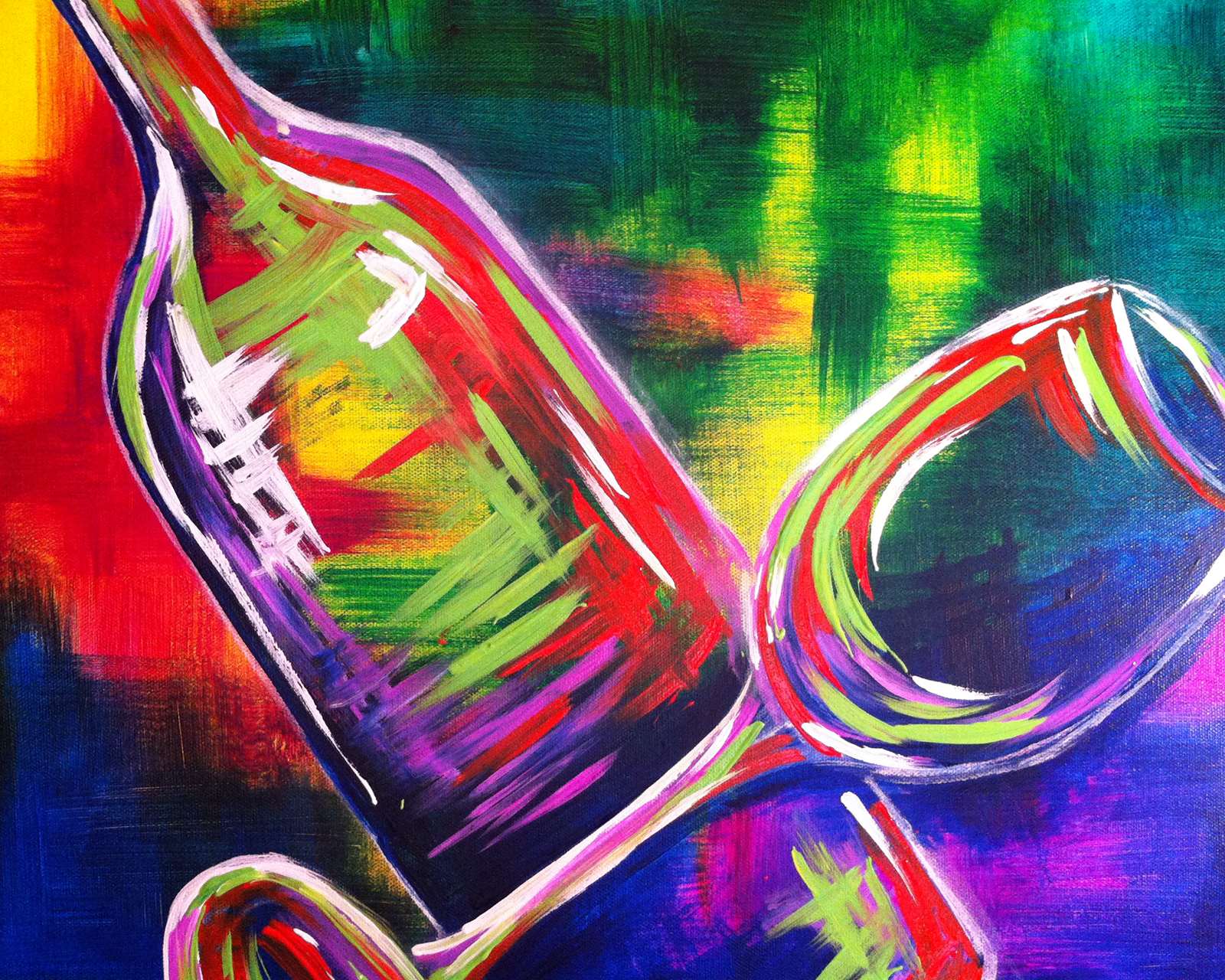 Here at Pinot's Palette, we know just how well wine and art go together! We've been a paint and sip studio for over seven years with millions of people loving the concept of a step-by-step painting class, paired with wine, spirits, or beer! While painting itself is always a fun and relaxing pastime, there's just something about a glass of wine on the side that makes it better (but, really, doesn't wine make EVERYTHING better?!).
It's no coincidence that the two pair so well, and for many reasons, we're such huge fans of adding a glass of vino to your painting experience; Much of the time, customers come to us nervous that they won't be able to paint. When trying something new, it's typical to feel uneasy and unsure about whether you'll be able to succeed, but the thing with art is that (we believe) anyone and everyone DOES succeed.
Everyone has an artist within them; Whether you create the painting exactly as your instructor does or you go rouge and make your masterpiece the way YOU want to, you've accomplished something great and should be proud!
Wine and other alcoholic beverages are the perfect thing to help you relax, get extra-creative, and have more self-confidence!
Alcohol has been linked with creativity throughout much of history. Previous research has found almost half of the great writers had a history of drinking. It's been proven that a small drink can indeed help with certain aspects of creativity.
Austrian scientists found that while moderate drinking could simultaneously make focused work a little more difficul, it might well work for someone who is sitting down to do creative writing or brainstorming ideas in a boardroom.
Some participants in the study were given a bottle of normal beer whilst others were given a non-alcoholic beer, which they weren't able to distinguish between.
They were subsequently given a series of word association tasks, for example, they were asked to link the "swiss", "blue" and "cake".
Those who had drunk alcohol were more likely to correctly guess that cheese was the linking word.
The alcohol-drinkers also exceeded in a creative thinking task, in which they had to suggest alternative uses for tyres with "a swing" deemed one of the most creative answers.
Published in the journal Consciousness & Cognition, the research also revealed that those who had consumed the alcohol had less focus and "cognitive control". (*That's science for "they were drunk"). :)
There are two theories for how this works; The first being that when you are really focusing on solving a problem, you can become fixated so that your mind gets stuck on one way of addressing it. Alcohol makes it more difficult to keep all the parameters of the task in mind, but that can also help you come at it from another direction.
The second theory is that alcohol, which is distracting from the central task, allows you to tap into your unconscious mind and find alternative solutions.
AND MORE!
Another recent study found that one to two glasses of alcohol can actually help people become creative problem-solvers. In the study, participants who consumed a little bit of alcohol were faster to solve puzzles than people who were completely sober.
And still another study found that light to moderate drinking can actually help relax your brain and get you thinking more clearly. It was even found to help people not overthink and come to better, more thought-out solutions.
Think about what a glass of wine can do for you and your painting abiities!
-- In-Studio Classes --
We know that some people are physically seeing one another, and so for those who are, our in-studio classes are perfect! We've limited the seating in the studio and are taking all of the necessary precautions for following safety guidelines; We're also making sure to give the studio a good disinfecting, often.
We've been hosting customers in the studio for months and everyone has such a great time; It's nice to see people doing normal things at a time like this, so if you and your friends would like to join us for a class, come on in and see us and remember to invite your friends, too!
-- Virtual Classes --
For those of you who are looking for a virtual experience, we have tons of amazing classes to offer you, as well! We've adapted to the virtual side of things very nicely and have been running these classes since March. People love the option of making some art while they're stuck at home; It's nice to have a way to unwind and get creative, and who couldn't use more relaxing activities these days? Buy a bunch of classes for yourself to do during the day when you're bored or at the end of a long one to de-stress. Buy some for you and some for friends so everyone can make art together - you guys can even Zoom or FaceTime with one another as you all paint the same things and have a blast making memories.
If you're looking to spend time in a small group, host a painting event at your home and remember to take advantage of these classes and invite others, too!
Prepare your drinks and even some snacks to enjoy as you work with loved ones, whether you're together or apart, nothing pairs better than wine and painting!
-- Take Home Kits --
Lastly, you may have seen our 'Take-Home Paint Kits' on the calendar, and these have been very popular as well!
You can paint anytime and anywhere with these popular classes and our customers have been loving these, especially for the kids!
You can buy some of the kids to do while you're busy with work or for you and the hubby to do while the kiddos are watching movie!
Buy some for a small Girls' Night In paint party (in-person or virtual), Or enjoy them for a date night or a relaxing night at home alone!
Keep our private parties in mind (both virtual and in-studio) for your holiday party this year, whether its a traditional office party, family and friends event — no matter what you're celebrating! You can learn more on our website and book your private event where you get to select the date, time, painting, and guest list of your choice!
**ASAP though, as these parties do sell out fast - especially this year!
Celebrations:
https://www....ivate-parties
Corporate/Team-Building:
https://www....porate-events
Kids:
https://www....ainting-party