You (literally) Can't Paint At Pinot's Palette and Think About Life's Problems!
Try as we might, we can't help the craziness of life, seeping into our routines all too often. It's easy to get bogged down with daily stressors in our environments and with the holiday season, right around the corner, thing are about to get really busy…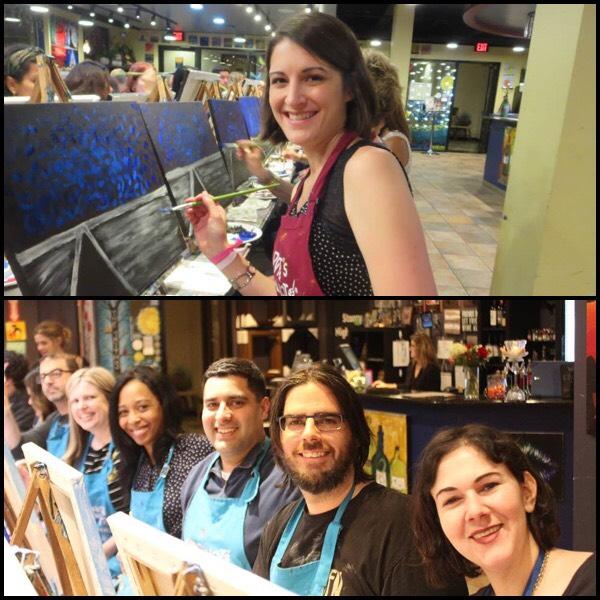 Through all of the 'ins' and 'outs' of our schedules, the 'must dos', and the long list of tasks, it's important for us to remember to take some time for ourselves and unwind with some great activities that take our minds off of the stressful stuff.
With the observation from a customer and a little research into the subject, we've discovered something quite interesting (and useful)…. The way our brains are divided and the roles that each part of the brain plays, it's scientifically proven that you can't indulge in your creative part of the brain, while overindulging in the problem-solving part.
The human brain is an intricate organ. At approximately 3 pounds, it contains about 100 billion neurons and 100 trillion connections. Your brain is command central of all you think, feel, and do.
The left side of the brain is associated with analytical thought, whereas the right side is associated with creativity. While each side of the brain, generally-speaking, controls the other side, there's a dominate side that each one of us possesses; It's the reason why some of us are better at art, rhythm, and imagination, and others are better at mathematics, logic, and linear thinking.
THINK ABOUT THIS:
**Your brain has to disengage from the problem-solving (worrying) side to be engaged with the creative (painting) side.
Basically, you can't be thinking about (and stressing about) all of the problems in your life and the many things on your to-do list, if you're engaged in an artistic process.
Unwind from a long day at work with a painting and wine class at our studio! Carving some time out of your schedule to do something creative and fun like painting and sipping wine, is really like a mini vacation you're giving to yourself. You're taking a break from your problems, if only for a 2-3 hour period, and just that small amount of time away from the problems of life, can do wonders for you and your sanity!
Just the act of finding a new hobby can make a person feel more well-balanced in their lifestyle. With all of the responsibilities in life, it's sometimes easy to forget that most people need and should have some 'me time'. Dedicating some time on a regular basis to painting can help this to be achieved.Painting and creating art is a good way of distracting your thoughts from whatever is causing your stressing or anxiety. The distraction is, of course, only a momentary effect, but many people find that the relaxation gained during a painting session enables them to have a clearer line of thought, which later helps them deal with problems and help put them into perspective.One further benefit of painting to relieve stress, as it can often enable a person to achieve a positive state of mind known as "Flow". This is a state of mind which occurs when an individual involved in an activity is completely immersed in strong feelings of involvement and focus.
**Take advantage of our wine and painting classes, for double the relaxation benefits!!!
Wine and relaxation:
We all know about the benefits of a glass of wine, pertaining to stress, so why not pair it with a creative activity and have the two forms of relaxation, helping you to de-stress?!
Drinking wine is one of the most time-honored ways for disconnecting our brains at the end of the day; It calms the mind, temporarily, because it is a central nervous system depressant, relaxing your brainwaves and muscles, too.
Painting and stress-relief:
One of the main reasons that art therapy has proved to be successful is due to the accumulative effects of several well-known benefits associated with the act of painting. These benefits include self-care, distraction and flow: Self-care means taking care of yourself and taking part in activities, purely or partly, for the benefit or your own well-being. Art can help you discern feelings and express thoughts that are difficult to articulate. Engaging with the arts and creating something is a way of engaging with and being in relationship with yourself, helping you to know yourself better. The process of creating art opens channels of communication beyond those of the purely verbal, dissolving barriers caused by words or our own internal censors, helping us to see ourselves, and others, more fully and clearly. In so doing it connects us more deeply to ourselves and to each other. If you are working in class with other people the atmosphere becomes one in which there is a mutual give and take of ideas, and a spirit of generosity. The creative process helps to create new relationships and foster existing ones in a positive productive environment.
So, come in for one of our classes and see what great effects it could have on you. Stop in on a weeknight and unwind from along day at work, as you switch gears from a strict schedule and dealing with stressful things, to allowing time for yourself and the freedom to be creative and do what you want. There are no rules to painting, in our opinion, making it the perfect way to relax!
Sure, we'll have one of our talented and helpful instructors, leading you though the painting of the evening, but it's up to you to follow along or do your own thing. That's the beauty of art: there's no right or wrong, as it's all about projecting your emotions and expressing yourself in your own way. Unleash your inner-artist and get in touch with your creative side, free from judgment and tight schedules, as you paint, drink, and have fun!
We hope to see you soon for a class at our studio whether you're coming in, purely to relax and de-stress, or just to make some gorgeous artwork. If you're looking for something fun to do in or around the Naperville area, we make a great spot to visit for everything from a fun and unique date night, an awesome girls' night out experience, and we even offer private events! When you view our classes on our website, you'll be viewing our schedule for our public classes, but you can also book a painting party with the guest list of your choice! Come in to celebrate a birthday, bridal shower, reunion, retirement, and more with friends and family, sharing their artistic sides, together. Make memories that will last a lifetime with a souvenir to treasure forever with one our classes.
*Learn more about our private parties, here:
https://www....ivate-parties
We also play host to tons of corporate events, too! Why not book your next work party or team building event with us? We offer several styles of paintings that incorporate team building strategies, encouraging the whole office to work together, creating a stunning world of art!
*Read more about corporate events, here:
https://www....porate-events