What Makes Pinot's Palette The Perfect Place For Your Holiday Party?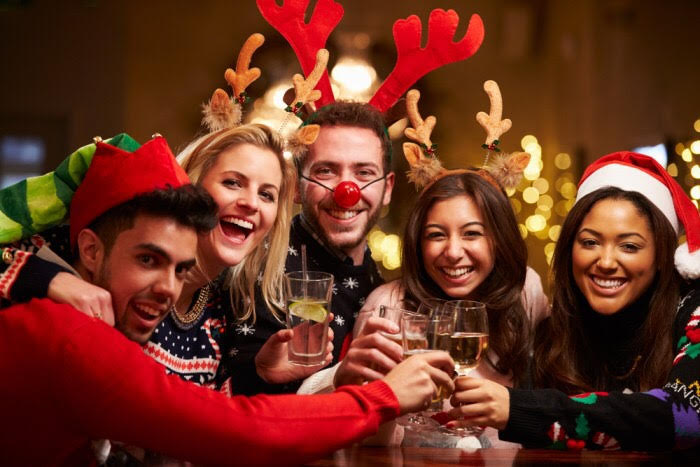 It's already time to start thinking about your holiday party!!
December will be here before you know it, along with that big 'To-Do' list that comes along with the season... Get ahead of the game and relive some stress by booking your office party (or annual family and friends party) with us!
Enjoying some quality time with friends, family, or coworkers in a creative environment all to yourselves, as you paint, drink, and have fun at Pinot's Palette in Naperville!
*** So, What Makes Pinot's Palette The Perfect Place For Your Holiday Party?
(1) You get to be in control of every decision.
From selecting the date and time, to choosing the painting, this part is all about you and your guests' needs! You can select the food, drinks, music, and anything else you need to make your event special. Let us know how we can help.
((Be sure to ask us for suggestions on the best local places that cater, if you're going that route. While the food is something that you will order and purchase, outside of our studio, we can offer ideas to help make it easy for you! Or bring in your own food, potluck style!))
*View our painting selections:
https://www....nting-library
(2) It's easy on the party planner.
We're here to help you, from booking your event, to setting up the studio on the day of your party. You can easily begin by visiting the link below to get your party started. We'll supply and set up everything you need to paint, and have the wine and beer ready for you. The best part? We'll cleanup at the end of your event!
Private Celebrations:
https://www....ivate-parties
Corporate/Team Building Events:
https://www....porate-events
Kids' Parties:
https://www....ainting-party
Mobile Events:
https://www....ainting-party
(3) It's fun!!!!
What's better than food, wine, music, and spending time with friends as you paint?!
It's been proven that painting is good for your health, as it's a relaxing and mindless activity that calms, soothes, and encourages creativity. Experience all of that with your loved ones and it's sure to be a night to remember! You'll have so much fun, watching your loved ones or coworkers get creative and make their paintings, and it'll give you plenty to talk about at the office!
Making memories is always wonderful!
(4) It's A Unique Type Of Party.
Try something new this year and think outside the box!
You'll be the hero when you plan this unique and thoughtful party concept! People will love trying something new and leaving with something they created, with their own hands!
While many people have heard of a paint and sip class, many have still never done one. This really is a fresh and fun idea for any one, at any age, AND at any painting skill-level.
The best part is that you'll be leaving with a personal work of art to hang in your home or a collective piece to see, each day when you walk into the office!
What Type Of Holiday Party Are You Looking To Host?
(*Keep in mind that the holidays aren't the only time a painting and wine class is a great choice for your event; Join us for any reason you want to celebrate and we'll help to make it special)
ANNUAL HOLIDAY PARTY WITH LOVED ONES
Are you typically in charge of hosting the annual holiday party but aren't a fan of all of the stress that goes along with it? November and December are insanely busy for everyone, and dealing with a party shouldn't be another thing on your long 'To-Do' list!
Let us help you with your party-planning needs! Book your event with us and take a bunch of stress out off your party-planning agenda! Have the party catered to eliminate all food-related stress or have everyone attending, bring a dish to lighten the load! Plan a theme for an extra good time! Have a tacky sweater contest, do a gift exchange, play games, and more! We're here to help you plan and execute your party in any way we can so take advantage of our private parties and plan this year's event with us!
*Book your private party:
https://www....ivate-parties
OFFICE HOLIDAY PARTY
We proudly offer team-building painting classes where our guests work together to create a work of art! We have puzzle paintings where everyone paints a piece of the large picture, collaboration paintings where teams must work together to paint on a big canvas, and various other styles of classes that encourage teamwork and bonding.
You'd be surprised how a glass of wine and finding your inner-artist can create a fun and relaxed environment, encouraging people to loosen up and get to know one another! Taking the time to sit together, outside of the office and have fun while painting and listening to music, can be just the trick to boosting office moral and solidarity in the long run.
You're sure to be the coolest boss in town when you select a unique and fun location for your party like a painting and wine studio! Gather the whole team together to get creative and make some stunning artwork.
*Book your corporate party:
https://www....porate-events
MOBILE PARTIES
We can come to you!
Book us for an off-site, mobile event and we can bring all of the supplies to you for the party. It's all the fun of our regular studio classes, held at the location of your choice!
*Book your mobile party:
https://www....ainting-party
And More:
Keep us in mind for you child's next party, a wedding celebration, retirement, reunion, a fundraising event, book club meeting, or any other reason you have to gather.
We're here to work with you and your group, ensuring that you'll have a great time, make some fabulous artwork, and leave satisfied!
You and your guests will have a blast, mingling and learning more about one another in our studio space, as you paint and enjoy a creative celebration!
If you're still not sure that our classes and studio environment is the right fit for you party, join us for a public class and see what we're all about!
We hope to see you soon for a fun, exciting, unique, creative, and above all, memory-making activity at Pinot's Palette!
Make some memories and masterpieces this holiday season, or any time of year, with Pinot's Palette in Naperville!
Cheers!
***
Remember to keep our gift certificates in mind for an easy-to-buy gift that anyone will LOVE! Buy them for friends and family who live in another state so they can attend a class or get them for loved ones who would love the gift of spending quality time, partaking in a new experience!
Share View our (public) class schedule | Buy some gift certificates!