What Are The Benefits of Drinking Wine?
Let These Benefits Inspire You To Pour A Glass OF Wine With Your Painting Class… Or Any Time!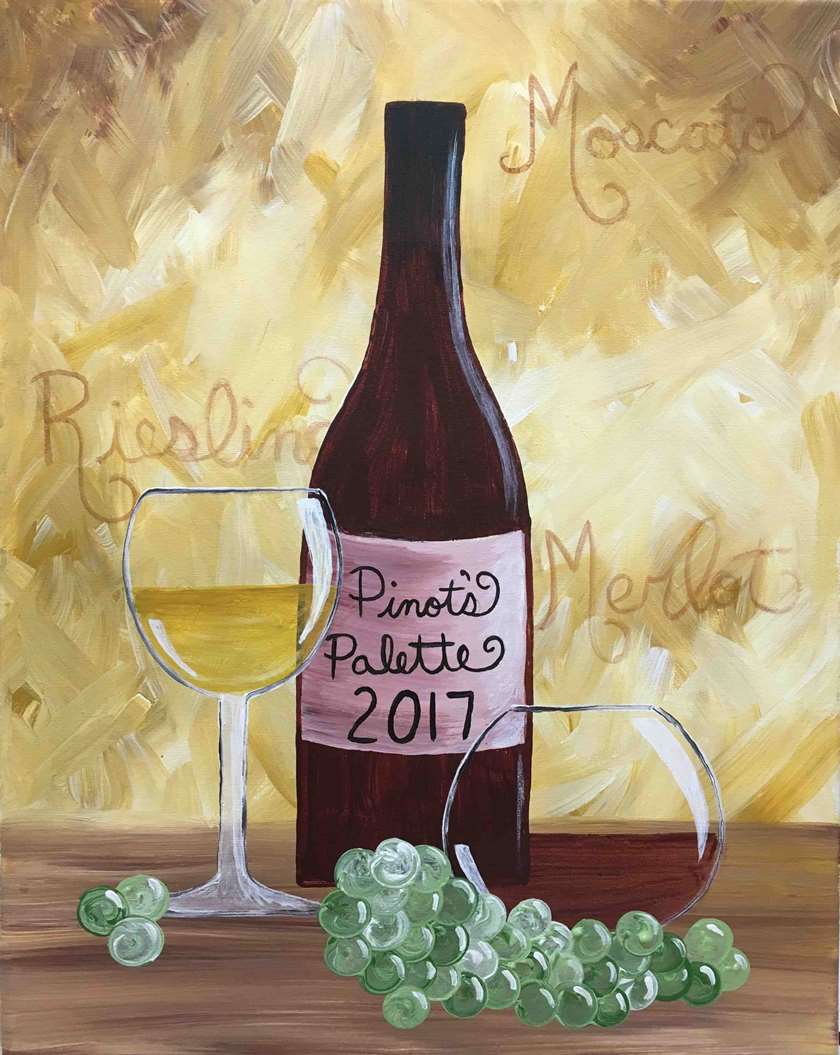 Wine is a great friend of ours and if you love it as much as we, here at Pinot's Palette do, then you're in luck! We're going to list some of the interesting ways we found that wine is beneficial. As if you needed another reason to drink wine (with the way 2020 has been, it's likely we'e ALL had more than our fair share of the spirit), but here are some additional positives for wine!
*** It Contains Antioxidants
In the battle against fighting off free radicals that cause terrible health problems such as cancer, wine could be your answer. Wine is full of antioxidants that attack free radicals when they come lurking around. When choosing your wine for antioxidants, go with white.
A study done by the University of Barcelona scientists found that the phenols in white wine had equal, if not higher antioxidants, than those in red wine. This is interesting because wine drinkers commonly believe red wine provides the most health benefits in moderate amounts.
*** It Reduces The Risk Of Heart Disease
In the battle against heart disease, taking all necessary precautions is well worth it - especially when it involves wine. The tannins found in red wine contain procyanidins - phenols which neutralize free radicals - that have shown to be effective in preventing cardiovascular disease.
According to WebMD, a study by researchers at the Israel Institute of Technology, Haifa tested the effects of red wine on the health of blood vessels. What they found after 21 consecutive days of consumption was that blood vessel cell health was enhanced, improving the flow of blood. This increases the health of the heart, lowering the risk of cardiovascular disease.
So the lesson is, if you want a healthy heart, bite the bullet and drink a glass of wine. While the American Heart Association does not support drinking for nondrinkers or those at risk of alcoholism, those who already imbibe may continue light drinking for positive heart health.
**Stronger Bones and Sharper Minds
Some of the most startling news we can across is from studies suggesting that moderate drinkers may cut their risk of osteoporosis -- age-related bone thinning related to calcium loss. A report in the American Journal of Epidemiology in April 2000 showed that women who drank 11 to 29 grams of alcohol a day -- the equivalent of one to three glasses of wine -- had greater bone mineral density, measured in the hip region of their thighbones, than nondrinkers or heavy drinkers. Bone mineral density is the measure physicians use to determine bone strength and resilience.
That news was quickly followed by an equally encouraging report in November in the American Journal of Clinical Nutrition. Testing nearly 500 elderly women, researchers from Creighton University in Omaha, Neb., found that bone mineral density was 12% to 16% higher among moderate drinkers, compared with nondrinkers.
And women aren't the only ones who may benefit. In a study published in the journal OsteoporosisInternational in November 2000, Finnish scientists tested 143 men aged 54-63. Compared to nondrinkers, the men who enjoyed a glass or two of alcohol a day also showed signs of greater bone mineral density.
***Wine may Benefit Mental Health.
An occasional glass of wine may reduce the risk of depression. However, excessive drinking can have the opposite effect, putting you at a higher risk of this condition
***It Promotes Longevity.
Studies have found that drinking moderate amounts of wine as part of a healthy diet may increase longevity thanks to wine's high antioxidant content
***It Promotes Healthy Gut Bacteria.
Recent studies have even suggested that red wine may promote the growth of beneficial gut bacteria, which may improve metabolic syndrome markers in people with obesity
***It Helps With Creativity!
Austrian scientists have found that a small glass of wine or a pint of beer helps unleash creativity
"Alcohol is so linked with creativity," lead author Dr Mathias Benedek said. "Previous research has found almost half of the great writers had a history of drinking. We found that a small drink can indeed help with certain aspects of creativity."
Don't reach for the morning Merlot just yet; as Benedek explained that moderate drinking could simultaneously make focused work a little more difficult. No kidding.
"There are two theories for how this works," explained Dr Benedek. "The first being that when you are really focusing on solving a problem, you can become fixated so that your mind gets stuck on one way of addressing it. Alcohol makes it more difficult to keep all the parameters of the task in mind, but that can also help you come at it from another direction.
"The second theory is that alcohol, which is distracting from the central task, allows you to tap into your unconscious mind and find alternative solutions," he explained.
PAIR IT WITH A PAINT NIGHT!
Come out to the studio for some wine and painting OR paint at home with your own wine and snacks!
We have a full calendar of events for all ages and preferences right now so check it out, sign up, and be sure to pair your favorite wine with the fun to make it an extra-special night!