What Are Some Ways To Relieve Stress This Time Of Year?
The shopping, crowds, diet-busting parties, and interminable chats with the in-laws.
We understand how easy it is to feel not so wonderful at this most wonderful time of the year.
That's why we've rounded up some excellent ways to help you dodge the seasonal blues and stay happy, healthy, and energized!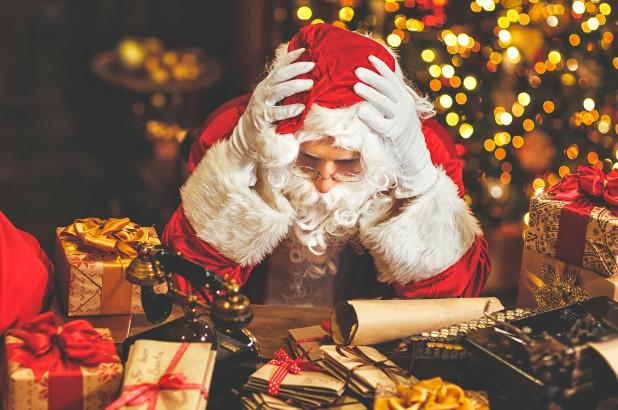 While 'tis the season to be merry, for many of us, it's also a season for stress, anxiety and angst, which leads us to behave in ways we're sure to regret later. During this time of year, people often resort to bad habits—they may cave into sugar cravings, go for the booze, and bump up your consumption of caffeine.
In part, that's because, during the holidays, people tend to experience heightened emotions. You may feel overcome by loneliness, become annoyed by meddling relatives, or lose patience with your loved ones. And in the present economy, you also may be worried about how you'll be able to pay for good gifts without maxing out your credit cards.
The American Psychological Association (APA) found that nearly half of all women in the United States experience heightened stress during the holidays, which makes sense; There's so much going on and so many things to do. Trying to knock all of those names off of your 'To-buy-for' list, tasks off of your 'To-Do' list, and all while trying to keep up with your usual daily schedule, AND make time for the additional holiday things… wow… talk about stressful.
But, you don't want to miss out on this festive holiday season with loved ones, traditions, and fun-filled moments, so we've got some ideas on ways for you to cope, not only this time of year, but any!
*** So, what are some ways to reduce stress this time of year?? ***
1. PLAN YOUR HOLIDAY ACTIVITIES
Double-booking multiple activities on the same day can result in frustrated family members and lost opportunities, not to mention the occasional screaming argument. Avoid this stressful pitfall by using a paper social secretary.
Buy a wall calendar when you make your budget and start listing the activities that you want to experience during the holidays on it. Plays, church services, family meals, and traditional gatherings need to be listed on it along with who is to attend. Post it on the refrigerator and make a rule: It must be on the calendar to happen. This way every family member can see what is planned and when it's planned to happen and won't want to go on a Christmas Light Tour when they know they have to be at Grandma's house for dinner!
2. WORK IN SOME ALONE TIME
Do not choreograph, plot, and plan out every hour of the holidays. Factor in some alone time for the sake of your mental health. Remember to do it for the over-achievers in your family as well. During the holidays, we all need to be saved from ourselves!
3. BE FLEXIBLE
The holidays require planning to enable the merry-maker to get through them without too much stress. But like most things, you can take strict adherence to a plan too far. Being rigid and inflexible will only bring on bad feelings. Use common sense and accept changes to the plan when the majority votes for a change.
Just because you wanted to go to a Santa/Elvis dress-up contest doesn't mean that the rest of your family wants to go as well. Be ready to compromise, accept plan B, and keep an "Oh, well!" attitude when dealing with the inevitable setbacks to your careful planning. Follow this holiday tip, and you'll be much saner in January.
4. DELEGATE
Anyone who insists on doing it all alone during the holidays is a candidate for the mental or cardiac ward. To stay sane and reduce stress, you should delegate holiday tasks to friends and family members.
It's good that you ordered the fruitcake, but you don't have to be the one who picks it up. Have your spouse pick out the Christmas cards this year while you chill out and count to ten. Anybody can run to the post office, you don't have to do it yourself. Delegate first, and then follow-up for extra peace of mind.
Now this is an important one….
5. FOCUS ON THE POSITIVE
It's really important that you stop in the midst of all the craziness and think about the positive…
-Are you stressing over the mound of gifts you have to wrap? — Be thankful that you have so many people in your life to buy for.. Or that you have the means to buy gifts for all of your loved ones.
-Annoyed with all of the dishes you have to make for your big family dinner? — Be thankful that you have food on the table, under the roof of your warm home, AND for the friends and family you get to share a meal with.
It's all about the way you look at things, and there are blessings in every measure of our day if we just take a moment to be calm and think on it.
This special time of year, most of all, is a great time to stop and think about what we have and practice graditude, both towards others, and to ourselves.
(Ways to be thankful):
https://www....randeveryday-
(Enjoy getting dressed up for all of the seasonal events, and check out these trending fashions while you're at it):
https://www....rtheholidays-
And Lastly:
6. GET CREATIVE
There are lots of reasons to join us for a painting and wine event, but using our creative classes for stress relief is one of the top ways to relieve stress this time of year (or any time)!
Did you know that painting and other creative activities are incredibly beneficial to our mental health?
Whether you're a professional artist or a master of the stick-figure, it's been scientifically-proven, time and time again, that making art can significantly reduce stress-related hormones in your body.
Besides the brain and health benefits of painting (like building motor skills, decreasing stress & anxiety, and strengthening memory… yep, it's scientific!), painting is just plain fun! Anybody can dive right in and let loose with a brush in their hand regardless of age, gender, or previous experience. Unfortunately, many beginners find it overwhelming and simply don't know where to start. That's exactly why we're here to suggest and painting class at Pinot's Palette for you this season, or any time of year! With a few techniques, tricks, and knowledge about your supplies, you'll be painting your heart out in no time at all.
Remember that no matter the skill-level of painting you have (most of our customers are first-time painters), you will see benefits from a painting class or other creative activity!
From a reduction in stress, to socialization, trying something new, and having a feeling of accomplishment, a painting and wine class at Pinot's Palette is a wonderful idea for the hectic holiday season!
Join us for a painting and wine class this season's (or any time of year) and make some art as you relax and have some fun!
Check out our full calendar below, as well as a link to buy some gift certificates. Boom! That's another big stress-reliever right there; If you have hard-to-buy-for people on your list, check their names off after you get them the gift of an experience: A painting and wine class at Pinot's Palette! And, all of those painting you'll be making as you work to relieve stress? Well, there are some handmade gifts right there to give out to loved ones as a thoughtful, handprinted work of art they'll aways cherish!
There are so many ways to utilize our classes, and between the relaxation of painting AND the calming benefits of wine, you'll be having a merry holiday season in no time!
<3** We'll see you soon! Cheers! **<3
Share Check out our class schedule! | Buy some gift certificates!