Warm Meals & Creative Pastimes For The Cold Weather
Comfort Food & Time Spent With Loved Ones Is A Combination That's Sure To Warm You!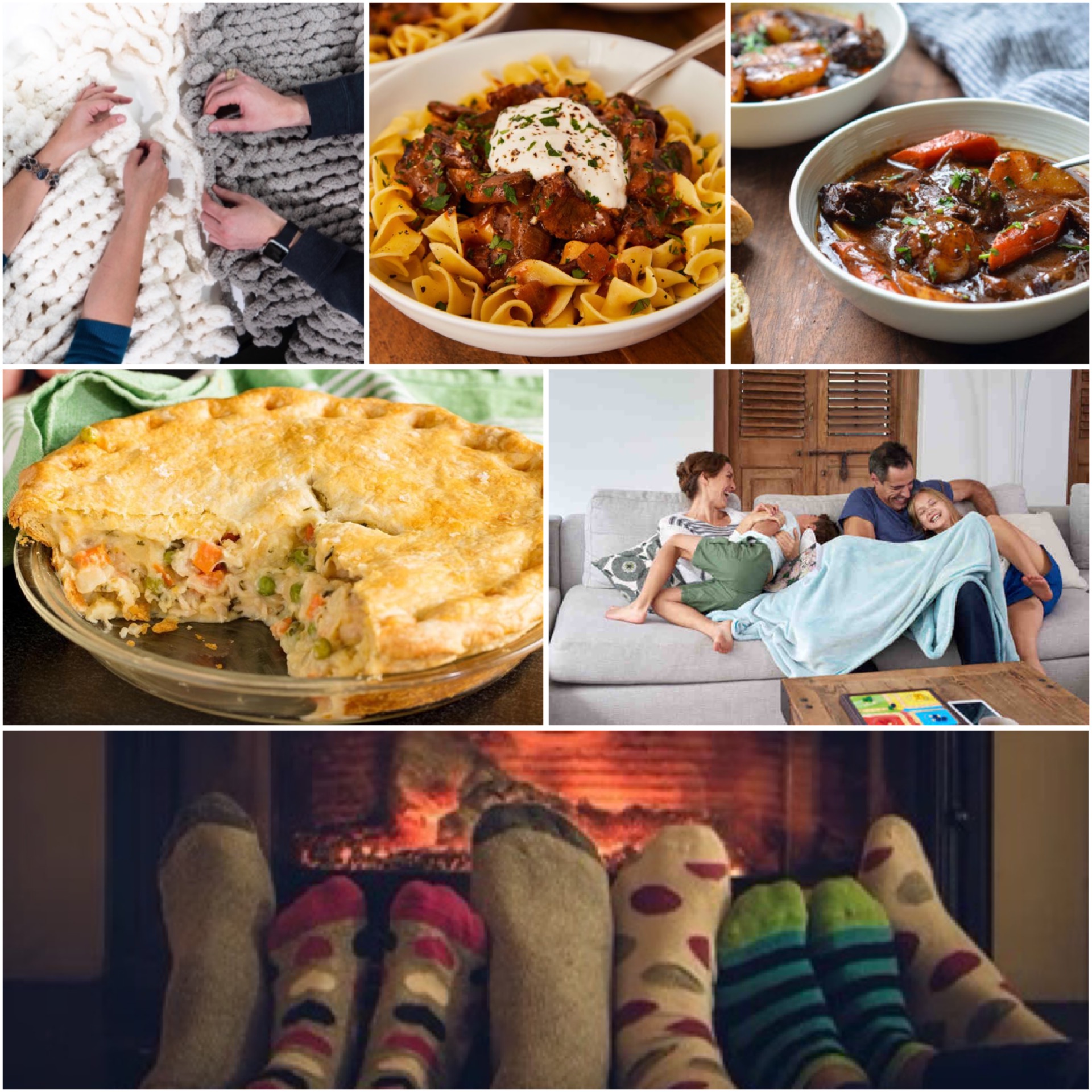 Between the snow, rain, and low temps, these last weeks have been less than ideal, BUT there are still plenty of great ways to spend time when it's yucky out!
From spending time with loved ones, to relaxing by yourself, and of course, enjoying some delicious warm meals, we've got some fun ideas for you!
GET CREATIVE!
Enjoy our painting classes from home! If you're not eager to get out in the cold to join us in the studio, bundle up and stay warm and cozy in your home! That's right - we're offering our fabulous painting classes, virtually! If you haven't already tried one out, you definitely should; They're a lot of fun, convenient, and a great way to spend time with loved ones from anywhere you want to paint. The best part is that you can stay at home in your comfy clothing, enjoy some good wine and good food, and stay warm as you paint for relaxation and fun!
DELICIOUS DINNERS TO WARM YOU UP
Get your cook on with these deliciously warm and hearty meals; Enlist the whole family to help, giving everyone the chance to reconnect with one another while contributing to the dinner!
If you're looking to do some of our painting at home (Take-Home) or Virtual classes, make a scrumption meal before or after you get creative on the canvas!
Toated Ravioli
Make this raditional war
https://www....violi-recipe/
Beef Stroganoff
Super rich flavors perfect for a chilly evening.
https://www....anoff-recipe/
Chicken Pot Pie
Making your own crust takes this pot pie to the next level.
https://www....t-pie-recipe/
Chicken Stroganoff
A bit lighter than the original beef stroganoff, but just as flavorful!
https://www....anoff-recipe/
Italian Wedding Soup
This is the kind of soup that can actually be a main meal.
https://www....-soup-recipe/
Roasted Corned Beef and Cabbage with Carrots, Potatoes & Horseradish Cream Sauce
Corned beef isn't just for St. Paddy's Day! While most recipes call for boiling the meat and veggies, the key here is slow-roasting the meat and horseradish-butter spiked vegetables separately in the oven. The corned beef comes out tender and flavorful, and the bronzed veggies are impossible to resist eating straight from the pan.
https://www....potatoes.html
Beef Stew with Carrots & Potatoes
In this classic French beef stew, chunks of beef are seared in olive oil and then braised with garlic and onions in a wine-based broth. After a few hours in the oven, the meat becomes meltingly tender and enveloped in a rich, deeply-flavored sauce.
https://www....potatoes.html
FAMILY FUN
Build a fort, play a game, watch a movie, or even cook together! There are tons of fun things to do as a famiyl when it's too cold to go outside and play. Enjoy all of the litle things and be thankful for everything you have, especially during the craziness of current times :)
https://www....donesrightnow
(*Things to do as a family when it's cold outside):
https://www....-play-outside
DATE NIGHT
Play "Chopped" and make dinner from a basket of random foods; Watch that movie you've been wanting to watch for months but never had the time for; Or, get to know onw another better with a fun game, meant to guide you through conversations. However you choose to spend a date night, remeber to take advantage of all the time you have together as a couple. With the business of daily life, it's easy to get wrapped up in everything but your relationship; Take some time to reconnect with one another and spend some quality time IN, when it's to chilly outside!
https://www....rnextdatenght
(*Fun games for your next date night):
https://www....couple-games/
(**MAKE A BLANKET)
For your next date night, make a soft and cozy blanket to snuggle under! We're now offering these in our Take HOme Kits so you and your honey can make them anytime you want!
Introducing Pinot's Pre- Recorded Video Tutorial Blanket Kits. Our take home kits will include - 4 skeins of Chunky Knit Yarn. Once your order has been placed, we will email you with our color options. You will also receive a link to a pre-recorded video tutorial that will take you STEP-BY-STEP throughout the project!
https://pino...op-item/27343
GIRLS' NIGHT
Gather your ladies together for a Girls' Night In and soak up all of the fun and much-needed time together. Prepare snacks and cocktails to enjoy from your own separate homes (if virtually), or together (if gathering in-person) and gab, talk about a book you all read, catch up on The Bacheor, or do an arts and cratts project! Whatever you do, it's sure to be fun if you're with your BFF's!
**Be sure to take advantage of our Take-Home Kits or the Virtual classes where you can paint somme of our ost popular Girls Night paintings like Paris themed artwork, 2-canvas creations (fun for roomies), floral artwork, female silhouettes, and more!
https://www....girlsnightin-