Stress Less This Holiday Season
Ah, yes, the holidays.... what a lovely time of year....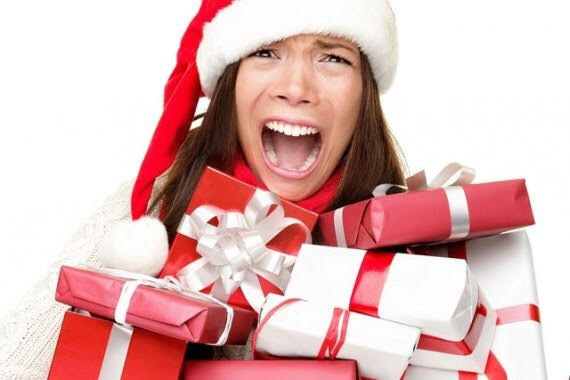 Seeing old friends and spending time with family; Drinking hot cocoa and baking sugar cookies; Watching Christmas movies and exchanging gifts...
Standing in long lines at every store, sitting in extra traffic every day, stressing over what to buy Uncle Henry, upset that your holiday photo cards turned out blurry, and every item on your list is sold out or on back order...
This time of year is one of the very best!! Of course, it can also be one of the most stressful, too! While there's nothing like the holidays, seeing loved ones, and reminding yourself how blessed you are, that LONG 'to-do' list can become a bit overwhelming.
Have no fear, because we are here! We want to offer some great ideas for how to reduce your stress this season and spend more time, enjoying the moments!
(1) Shop online.
Ok, so it's 2017 and virtual shopping and shipping are easier than ever! Save yourself and your cortisol levels from the manic craziness of the stores' crowds and lines, and shop from the comfort of your own home! Sit down with your lap top, comfy jammies, coffee, and watch some sappy Christmas movies while you click away your holiday stress!
(2) Treat yourself!
*After a long day of shopping (if going into the stores is a must for you!), or a long day of running errands or wrapping gifts, be sure to do something for you! Buy a too-expensive latte or hot cocoa, indulge in a scrumptious pastry, get a massage or manicure. Wherever your happy place is, go there as a reward for all of your hard work!
(3) DEL-EG-ATE!!!
*Lets other help out when they offer, or even suggest something simple they can do, even if they don't offer. You can't do it all, no matter how amazing you are. Even if you truly can, it's not worth it! You're going to miss out on some of these special, Christmas memories while spending every moment, checking things off that list, so be sure to delegate a little and let others help!
(4) Plan ahead.
*This seems easier said than done, but it really is key to reducing your stress this time of year, and ANY time, for that matter! Set your table, days before guests arrive, look up some "make ahead freezer meals" for recipes that you can cook now, and save for your holiday party or Christmas Day dinner. Purchase stamps, wrapping paper, and other items as far in advance as you can do you'll have everything ready to go and won't have to deal with the crowded stores so close to the holidays.
(5) Cheat a little (or, a lot!!)
*Purchase store-bought items and display them, beautifully, for al of your entertaining! Why spend precious time, slaving over spinach dip and cheese balls, pies, and cookies, when you can just get them from the store and call it a day?! If there's something, traditional, like your great grandmother's pecan pie recipe that everyone expects, make those few items and buy the rest, pre-made. Your guests will enjoy them just as much and you can put your time towards other things like spending time with the kids!
We want to offer an additional suggestion for stress-reduction, ANY TIME of year.... a painting and wine class at Pinot's Palette in Downtown Naperville!
Thank about it.. painting, which is already a proven stress-reliever, and wine, which.... well, wine....
That's a combo that can't lose! You can come in with friends and family (how about all of those out of town guests?!), spend some time getting creative together, sipping wine, and listening to some music, and have a wonderful night out!
Check out our website, below, to view our entire calendar and sign up for a class! We have some amazing paintings coming up throughout the whole month, geared towards winter and Christmas themes. The upcoming paintings are some of our customers' favorites, all year long, so be sure to sign up, ASAP, and tell everyone you know to come join in the fun!
We also sell gift certificates, making your holiday shopping even easier, when you buy a painting and wine class for everyone on your list! Gifting someone with a fun night out is a special and thoughtful way to share the love this season.
Cheers!
Share View our entire calendar and sign up for a class! | Purchase a gift certificate HERE!