Plan Your Next Corporate Event With Pinot's Palette!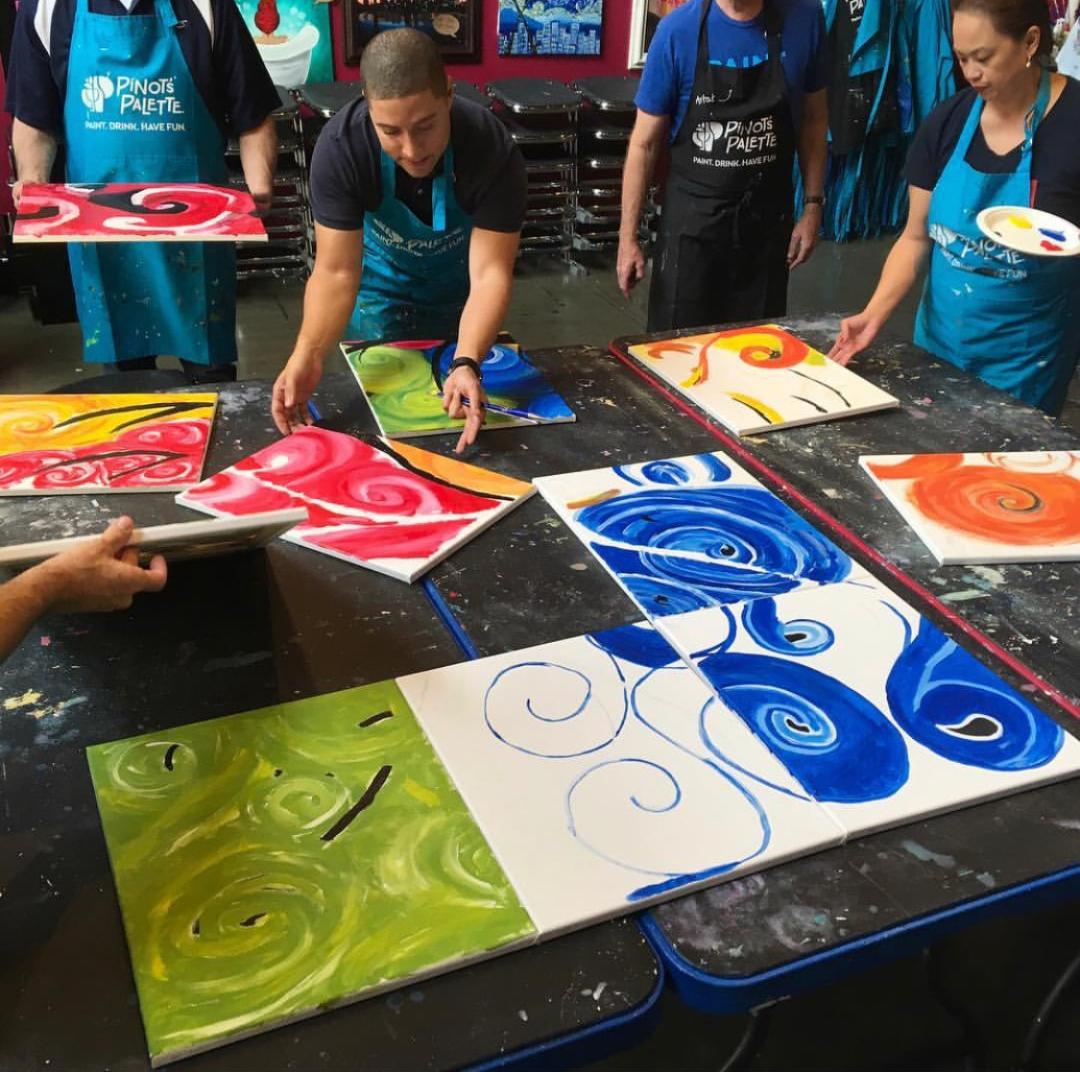 If you're looking for a fun and unique place to have your next work party, team-building event, or any other type of corporate gathering, Pinot's Palette is a great place! We cater to YOU and your group with our private parties; You and your team get to select the date and time, as well as the painting, music, and guest list (+ more!).
There are tons of ways you and your team can benefit from a painting class with us!
** Bonding and forming connections **
With the year we've all had, no matter where you live or what your job is, you've been affected by the pandemic at your place of employment. From working remotely, to wearing masks and staying six feet apart from one another, it hasn't exactly been the work environment of the past.
Reconnect with all of your coworkers as you bond over something creative and new! Employers, this is a great way to get the whole team together for some fun!
** Learning something new **
Whether you've never done a painting and wine class, chances are many of your employees haven't so this will be a totally new and creative experience for them! Even those who have painted in one of these classes several times will love doing it again, as each time you'll lear something new and make a new style of artwork.
It's always fun to bond over a new experience; It'll give you something to talk about and always share that connection from there on out.
** Tailor the class to meet your needs **
If you need to gather in the studio before or after the actual painting activity, you can! Use our space for a meeting or anything else you'd like as a part of your private party! We've had raffles as a fund-raising event, games played at holiday office parties, and business meetings held before the fun of the painting commenced! This is YOUR event, so feel free to schedule it the way you want. Let us know what you're looking for in a private party and we'll help you to design it your way :)
** Leave with a great work of art as a souvenir **
With the many styles of paintings we offer, you and your team can make the artwork that works best for what you!
Let everyone in your party paint on their own canvas, making a personalized work of art to take home and keep as a souvenir; Make a collaborative painting where everyone paints one large canvas OR where everyone paints a part of a large masterpiece on their canvas and then push them together like a puzzle!
Think about how cool a large painting would look, displayed in your company's building, serving as a great memory and perfect conversation piece for anyone who sees it!