Perfect Outfits For Every Occasion, This Holiday Season!
'Tis the season to be stylish...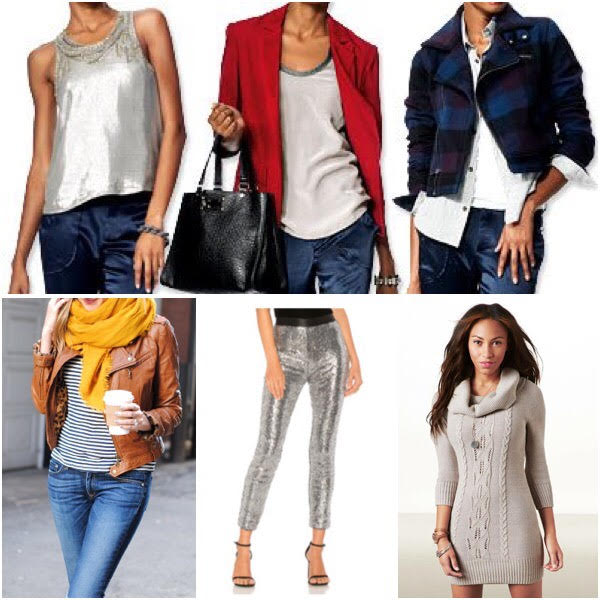 It's the one time of year where, no matter who you are, you put extra thought into your wardrobe choices! You're going out more, seeing people often, and it's just more fun to dress up during the holidays!! With fancy days like Christmas Eve and New Years Eve, you'll want to have something special to wear! Some days, it's cold and you're running errands and want to be warm and comfy!
Have no fear! We have outfit ideas for every day this season, and they're ones you'll be glad to carry over into the upcoming, winter months! Enjoy the fun of shopping and remember that buying online is always acceptable, especially this time of year when the store can get crazy!!
We found this amazing article, from 'Instyle', suggesting 4 basic pieces that you should own, that will help you to style your life for MANY occasions! With the addition of these 4 items into your wardrobe, you'll be able to put together a large variety of outfits for everything from work to play! All of these pieces are super "in" right now, fun to wear, and will win you lots of compliments! These specific 4 pieces consist of:
-A ruffled blouse
-A velvet dress
-Satin pants
-A brocade skirt
**Each of these 4 wonderful pieces are shown as 3 different ways to be worn, giving y u a total of 12 outfit ideas!!
That's 12 outfits that are:
- Classic and professional for WORK
- Elegant and sophisticated for a PARTY
- Practical and stylish for the WEEKEND
Check out the full article, including how to wear each and where to purchase them, HERE:
https://www....great-outfits
New Years EVE!!!
*Think about shine!!! Incorporating sequins into your outfit in ANY way is not only a classic way to do New Year's, but also very "in" right now, making shiny pieces, extra easy to find in stores!
The best way to do sequins this year?? Leggings!!!! These sparkly pants are all the rage right now, and they'll be super perfect for a night out because they're comfy, warm, and easy to move in!
(Check out legging from 'Polyvore' here):
https://www....quin+leggings
How about when you're running errands, cookie-baking with friends, or sipping some cocoa on your day off? We have some suggestions for the perfect 'comfortable, yet stylish' outfits that will be perfect for those days you're looking for comfy, cozy, and cute!
(1) A sweater dress!
*This is such a simple thing to throw on but it will automatically make you look more fancy since it's a dress! These come in a wide variety of colors, fabrics, and styles and are great to wear with with boots (tall or ankle)! You can throw on a pair of leggings or tights under the dress for extra warmth, and add a leather jacket and bulky scarf for more pattern and texture in your overall look!
**You can get the same look with a flannel or chambray shirt dress, too!
(Sweater dress, above, from 'American Eagle'):
http://where.../link/1529592
(2) Skinny jeans, patterned shirt, leather jacked, oversized scarf, and boots!
*Enjoy some layers that are super practical for those days in the South that are notoriously cold in the morning and humid by the afternoon! Wrap yourself in a jacket and scarf but dial the outfit back to just skinny jeans and a lightweight shirt when it warms up!
(Check out 'Express' for some awesome scarves):
https://www....es/cat1910059
(3) Leggings, an oversized, cable knit sweater, and some cute flats!
* This is the ultimate choice for those cold days where all you want is warmth and comfort! Big plans to hang out on the sofa with a giant coffee while wrapping gifts and watching holiday movies...??? THIS is the outfit you'll want!
(Visit the 'Shein' website to view a bunch of comfy sweaters):
http://m.she...373-1734.html
We hope you have so much fun, picking out some cute (and comfy) outfits, all season long! While you're in the mindset of being an artist, putting together colors, patterns, and styles... put that creativity to good use!!
Come in to Pinot's Palette, for some painting classes!!! If you live in or around the Naperville area, bring everyone you know in to enjoy a painting and wine class! We are beginner-friendly, offer wine and beer while you paint, and have an excellent staff , ready to help you or with anything you may need!
We make a wonderful date night idea, a unique girls' night out, and a great way to spend time with out-of-town guests this season! While you may not want to wear any of your new, super cute outfits to paint in, you can certainly continue to shop before or after one of our classes!
Check out some of the MANY stores that Downtown Naperville has to offer! Shop for a while during the day, enjoy a delicious meal out, then come in to our studio to end your evening the best way! Wine and painting are two things that always go together, especially when you have friends to share in the fun with!
Shopping in Downtown Naperville:
http://downt...lle.com/shop/
We hope you and your loved ones will join us soon! Why not joking us for several classes?! Painting has been proven to reduce stress (and who doesn't need that this time of year...). You can create a bunch of paintings and give them out as thoughtful, special, handmade gifts that anyone would love!
Speaking of utilizing our studio for gifts, why not check those last names off your list with some Pinot's Palette gift certificates??!! With over 170 studios across the US, we make an excellent gift for all of your friends and family! Give the gift of a fun and unique experience to all of your loved ones and watch face light up with excitement over a night out with wine and painting!!
Cheers!
Share Sign Up For A Class With Us! | Buy gift certificates for everyone!