Painting And A Chance To Win Something Special!
Grab Your BFF and Get Ready To Paint And Win! The upcoming movie, 'Barb And Star Go To Vista Del Mar' is going to be a funyn one and we're super excited for it!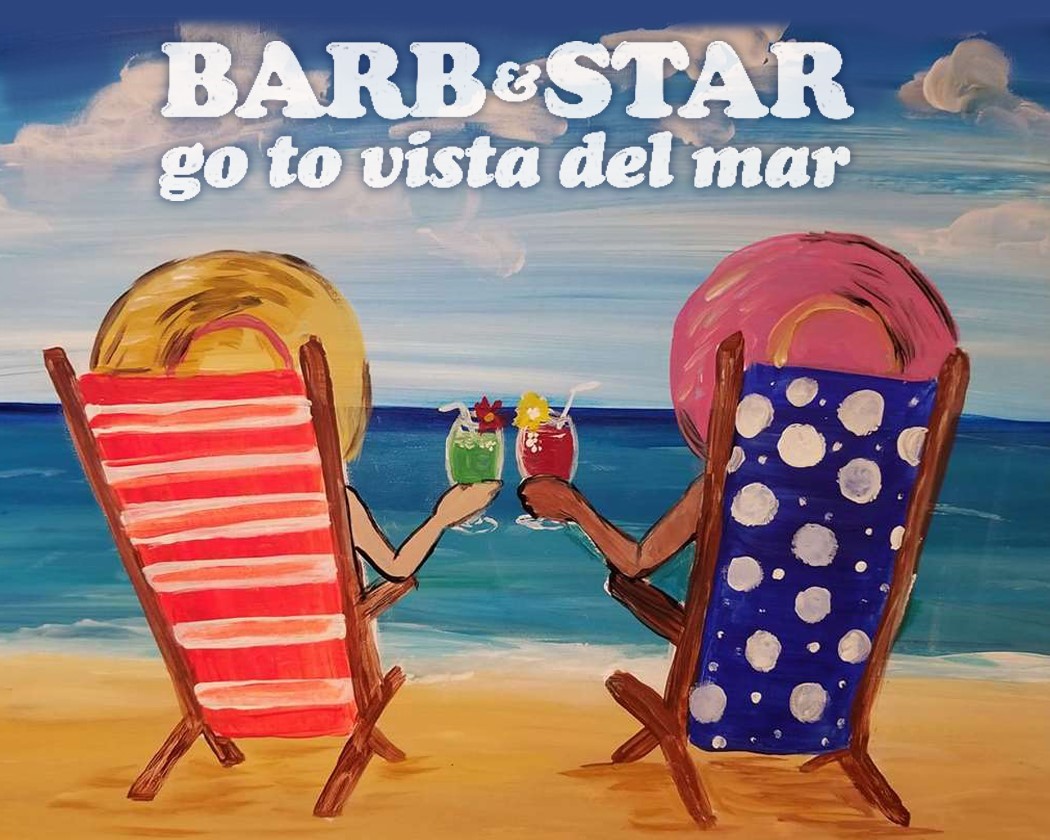 While some people across the US will get to see the hit in theaters and others will be viewing from home, we're sure it's going to be a popular and long-awaited movie — and guess what?!
YOU can enter to win the chace for a FREE digital download of this movie to watch it when it comes out - and invite you bffs to join you AND you could also win a $50 gift certificate from Pinot's Palette, too!!!!
If you attend this special class on Feb. 10th (in-person OR virtually), you're automatically signed up to win!
We're painting one of our most-loved bff works of art, perfect for those of us who are eager for the warm and carefree days of Summer: 'Beach Besties'.
These best friends know how to relax and have a great time! This brightly-colored beach-themed painting is a lot of fun to make and even more fun with your bff by your side!
JOIN US for this special event! You'll make a fun painting, spedn time with your bff, and get the chance to win a $50 gift card from Pinot's Palette as well as a FREE digital code for the upcoming movie!
You and your bff can come in to paint together for this special class and possibly win the chance to paint some more (with a $50 gift certificate) AND watch the movie together!
This class is held in our studio with limited seating in order to maintain socail distancing guidelines.
For these in-studio events, just like ALL of our in-person classes, we're following all CDC recommenations and current social guidelines.
Masks are required, and we're limiting the seating, keeping groups six feet apart. We have a new OptiClean air filtration and purification system in the studio to clean and move the air.
Take a trip and break out of your shell with Barb and Star. Enter for a chance to win a $50 Gift card from Pinot's Palette Naperville and a free digital code for the upcoming film, BARB & STAR GO TO VISTA DEL MAR. Winners will be drawn at random from all entries received by 5 PM CST Friday, February 12, 2021.
If you sign up for the class, you are automatically entered. No purchase necessary* -- Enter sign up here:
FEBRUARY `10th IN-STUDIO CLASS:
https://www..../event/517471
**For the In-Studio Class, Be Sure To Sign Up As Seats WILL Seall Out!
FEBRUARY 10th LIVE VIRTUAL CLASS:
https://www..../event/517797
All About The Movie:
Bridesmaids co-writers Kristen Wiig and Annie Mumolo have reunited as quirky pals embarking on the vacation of a lifetime in Lionsgate's Barb & Star Go To Vista Del Mar.
They're a pair of lifelong friends who've lived their entire lives in their small Midwestern town, and in order to celebrate their friendship and inject some excitement into their lives they decide to take a trip to the resort of Vista Del Mar in Florida. But the pair get far more than they bargained for when their vacation turns into an adventure, as they encounter unexpected romance and also become entangled in a plot to murder everyone in the town.
Take a trip and break out of your shell with Barb and Star. From the gals who brought you Bridesmaids (co-stars and co-writers Kristen Wiig and Annie Mumolo) comes Barb & Star Go To Vista Del Mar. Lifelong friends Barb and Star embark on the adventure of a lifetime when they decide to leave their small Midwestern town for the first time…ever. Romance, friendship and a villain's evil plot…Hold onto your culottes, it's going to be a wild ride!
This movie is just bright, colorful, and silly; It's basically the perfect movie to sit back and watch if you've had a long, stressful day at work and just need to unwind. Mumolo and Wiig are obviously having a lot of fun playing the naïve and wide-eyed Barb and Star, and I think we will enjoy watching them too!
We can't wait to see you SOON for some painting at the studio! Whether it's a Freestyle Afternoon or Evening event, a step-by-step class, or if you're jsut picking up supplies for a virtual event, we're the place for you! We've offer fun and unique ways to have a girls' nigh tout (or in), date night, family day, or just something fun to pass the time by yourself.
However you choose to utilize our classes, we've got your covered, and we're sure you'll have a great time!