Men AND Women LOVE To Paint, Drink, & Have Fun At Pinot's Palette!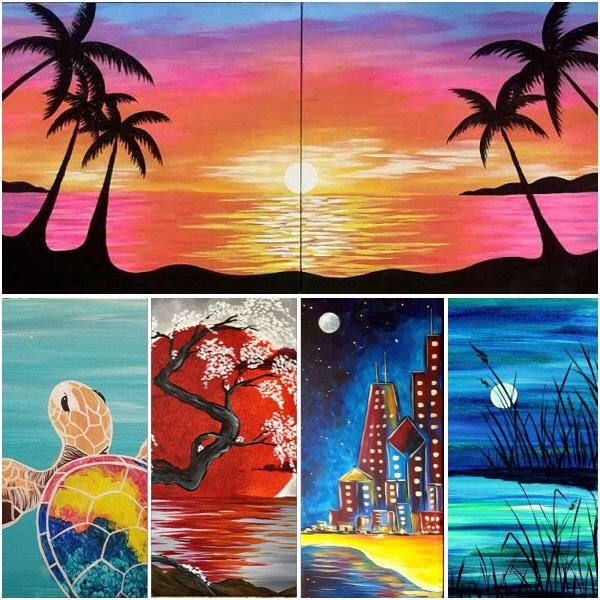 'DATE NIGHT' IDEA ALERT…..
Our studio is a wonderful place for anyone of any age to visit; While many of our customers are women, there are lots of men who accompany their significant others, friends, and co-workers on these artistic adventures. The artwork that fills our calendar is always beautiful, but sometimes the picture is of flowers or a female silhouette, which makes the PERFECT subject to create on a girls' night out, all-female bday party, bridal shower, or other occasion where it's typically an female guest list; But what if you're looking for a way to spend time with the whole family, a large group of friends, date nights, birthday parties, wedding events, corporate events, and more?? Most people are looking for something that males AND females, alike, can create and be happy to hang in their home, when they're finished!
Luckily, there are far more paintings in our massive library that are gender-neutral, than not!!!! Paintings of landscapes, animals, tropical-themed (and more) are fun for anyone of any age, sex, and style-preference type; Come in with your kids, entire family, good friends, coworkers, or just with your significant other and bond over a unique and creative experience that will leave you with memories to treasure, forever!
We've listed some of the April, gender-neutral artwork that's coming up, but remember to always be on the lookout for our calendar updates and additions, as we're always adding some fabulous classes! These paintings are such a wonderful way to spend time with someone, whether its a first date, long-time relationship, or your spouse of 40 years! Re-ignite the flame and have something to instantly bond over (goodbye, awkward first-dates…), as you find your inner-artists and create some masterpieces over a glass of wine or beer!
No matter who you choose to experience our painting classes with, we're sure you'll have a wonderful time as you paint, drink, and have a whole lot of fun at Pinot's Palette!
**Check out some of the paintings we're offering this April, that would make a PERFECT Date Night class:
April 12, 'Dream Island'
Escape the reality of everyday life and drift off to this dream island.
https://www..../event/311828
April 14, 'Marble Art'
This immersive, expressive type of pour art painting is so cool! It is a fun experience, easy to make and looks very professional. Select the colors you want to create a one-of-a-kind masterpiece, specific to your taste and home's décor.
It's a POUR PAINTING class at Pinot's Palette!
April 19, 'Swimming The Sea'
You will "turtley" love this colorful sea turtle Swimming the Sea.
*$30 special for this class!
https://www..../event/324682
April 19th, 'Sunset In Paradise'
*This is a DATE NIGHT painting
Partner up and escape to paradise as you paint this gorgeous beach sunset.
https://www..../event/311821
April 20, 'Japanese Crimson Moon'
This contemporary picture with its deep crimson moon and delicate flowers is surreal.
https://www..../event/315420
April 20, 'Aurora Reflections'
Auroras are unexplained natural phenomena that occur when solar winds disturb the magnetosphere. They usually occur in the polar regions and different colors represent different magnetic wavelengths varying in color and complexity. Come paint your own unique aurora night sky reflecting in a calm lake surrounded by evergreens!
https://www..../event/311829
April 23, 'Some Beach'
Come paint a colorful, relaxing beach scene for those days when you need to escape to warm summer days.
https://www..../event/311832
April 26, 'Swimming Octopus'
This delightful octopus swimming through the sea is great for any decor!
*This is painted on a LONG canvas!
https://www..../event/259609
April 27, Open Studio!
It's an Open Studio at Pinot's Palette today. Saturday Open House and Self-Guided Paintings - No sign up necessary.
$15 to paint a Mini 8x8. $25 to paint a larger 16x20 canvas.
We have 30 self-guided paintings to choose from.
There will be artists available to assist you.
Children are welcome! :)
https://www..../event/316106
April 27, 'Colorful Chicago'
Colorful Chicago shines bright under the moonlight. Paint the town tonight!
*This is painted on a LONG canvas
https://www..../event/311836
April 30, 'Sapphire Lagoon'
Like the transparent precious sapphire stone, this scenic lagoon is a rare yet precious find. The moon's reflective light glistens off the water turning it several shades of blue & green. This serene water scape would be beautiful and tranquil piece of art in any home.
https://www..../event/311819
.........................................................................................................................................................................................................................
*** Why should guys come in for a painting and wine class?? (*With or without a date?)... ***
- It's sexy.
When someone takes a painting class, it shows that they have a willingness to learn, an adventurous side that wants to try new things, patience and sensitivity. And if that's not attractive, we don't know what is.
- It's very good for you.
The benefits of painting go far beyond what comes out on the canvas. Like most creative pursuits, painting seriously reduces stress and improves neural pathways in your brain. These benefits can actually help your brain figure out solutions to problems at work or home, and boost overall productivity and positivity in your life. (Really. It's science.)
- It's a great way to connect with people.
Something about a palette of colors, an encouraging instructor and a glass of wine brings out conversations and connections that just don't happen outside the studio. Taking a date to a paint and sip night is an awesome way to get to know another side of them. What's even better is reminiscing and reconnecting with your siblings in a brand new way. And making a date with Mom or Dad is an endearing gesture that, again, breeds conversations that don't happen at home in the living room.
- It's great for breaking stereotypes.
Wine-infused painting lessons aren't a common male hangout, but there's no reason they can't be. Paint and sip classes offer the same incredible benefits whether you're male or female, college student or grandparent, accomplished artist or total newbie. It's rewarding for us to see more variety in our classes, and we believe creativity benefit
.........................................................................................................................................................................................................................
We look forward to seeing you soon for some of these perfect, date night (or gender-neutral, whatever the situation) works of art!
Join us for a painting and wine class where you'll spend time, getting in touch with you your inner-artist, as you paint, drink, and have fun!
As mentioned above, we also offer private events where you can book our studio for a special event!
**Private Parties:
https://www....ivate-parties
**Corporate Events: building events:
https://www....porate-events
**Kids' Parties:
https://www....ainting-party
**Mobile Events:
https://www....ainting-party