Looking For Halloween Party Ideas? We've Got You Covered!
The Best DIY Halloween Party Ideas, All In One Spot! Enjoy!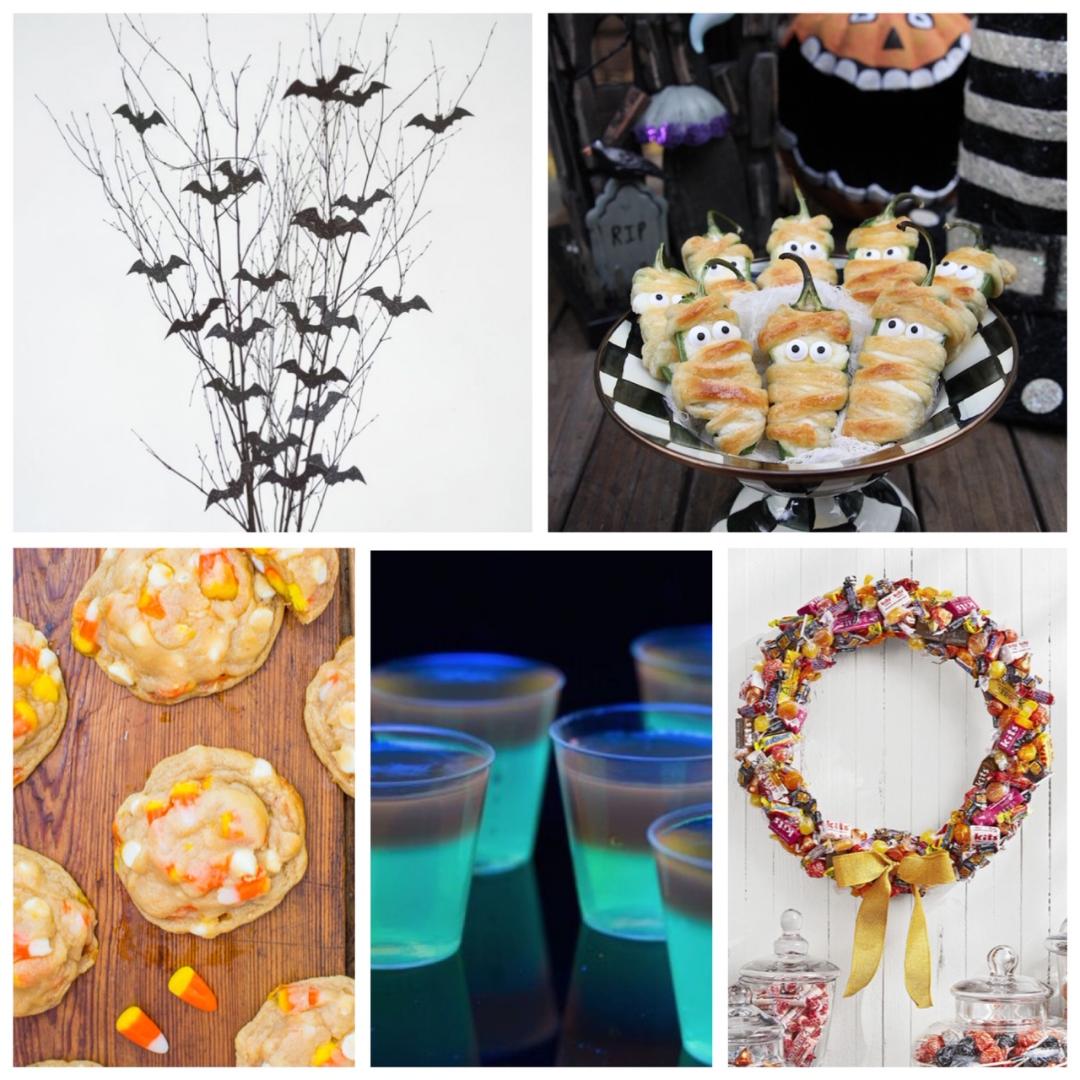 There are many people who say their favorite holiday is Halloween, and we can see why…
There's just something about the idea of dressing up in an outfit, getting delicious treats, and of course the parties, fun decorations, and fond childhood memories, that go together so well. It's nice to take a day where you can be anything you want to be, without being judged (you can't ride in a car with crazy hair and makeup any old day of the year without getting some odd looks); Spending time with your friends or your children and enjoying all that the spookiest night of the year has to offer, is something you'll continue to cherish as you make new memories and have a lot of fun in the process!
We've rounded up some of our favorite food and drink recipes, party games, and decorations to help you with your party planning this year! Whether you're the one in charge of the Halloween festivities, or are helping a friend with their party, your child with a school event, or more, these spooktacular ideas will come in handy!
-- -- FOOD & DRINKS -- --
* Ghost Pizza Bagels
It's all about the cheese (Isn't it always?) in this recipe. Cut mozzarella into Casper-like shapes for the ultimate Halloween feel.
https://www....agels-recipe/
* Jalapeño Popper Mummies
Nothing to be afraid of here, unless you're scared of spice ... and mummies.
https://www....#.V4_ija1g6K0
* Holy Skull-y Guacamole
After all the candy and scary sweets, your guests might want some real food. Cue the guac.
https://www....-y-guacamole/
* Cheesy Breadstick Bones
Here's yet another genius thing you can do with store-bought pizza dough.
https://www....bones-recipe/
* Mummy Hot Dogs
Give your pigs in a blanket a spooktacular twist with a mummified hot dog appetizer. A spider web of mustard and ketchup makes for one festive dip.
https://www....-f9f90d03b912
* Pretzel Broomsticks
Looking for a savory Halloween-themed snack? Sweep away the boring bites in favor of these easy cheese and pretzel broomsticks. We think they're positively bewitching!
https://www....l-broomstick/
* Full Moon Pumpkin Patch Pudding Cups
You're never too old for a dirt cup, especially when Halloween rolls around.
https://spri...loween-snack/
Ghost Fruit Kebobs
The best way to get kids to eat fruit? Skewer them with marshmallows and add friendly ghost faces.
http://katar...fruit-kabobs/
* Boo-scotti
In a pinch? Transform store-bought biscotti into a spooky treat that doubles as a party activity. Guests (kids too!) can decorate their biscotti ghost to their liking.
http://adult...m/boo-scotti/
* Candy Corn and White Chocolate Cookies
If you're wondering what to do with all the leftover Halloween candy corn, just throw it into these buttery, melt-in-your-mouth cookies.
https://www....atch-cookies/
* Pumpkin Pie Dip
Cheesecake filling and canned pumpkin are the main ingredients for this seasonal snack. Serve it up with graham crackers, or some cinnamon sugar pita chips.
https://www....inute-recipe/
-- -- DRINK RECIPES -- --
* Glowing Jello Shots
Get the party glowing with these festive glow-in-the-dark layered shots.
https://www....-party-foods/
* Sparkling Ginger Sangria
Bubbly prosecco makes this spooky cocktail oh-so-festive.
https://www....ngria-recipe/
* Bloody Mary with Mary's Severed Fingers
Emphasis on the bloody. :)
http://www.s...loween-party/
**Halloween Drinks For KIDS
https://spac...nks-for-kids/
--- --- ACTIVITIES --- ---
* Scavenger Hunt
https://www....enger-hunt-2/
* Trick or Treat Fear Factor
https://www....-fear-factor/
* Pass-It-On Ghost Story
A simple Halloween party game for adults that doesn't require any special props.
Guests gather around in a circle and take turns weaving a spooky Halloween tale in this sometimes funny and sometimes scary Halloween game.
*Ouija Board
Dust off you board from when you used to play at sleepovers and see who will try to contact you
((Don't own one? Buy one)):
https://www....-473383695791
History of this game:
http://menta...y-ouija-board
-- -- DECORATIONS -- --
* Halloween Candy Wreath
Gather an assortment of old-fashioned candies in autumnal shades such as yellow, orange, and magenta. Wrap a 14-inch foam wreath form in white ribbon. Attach candy with hot-glue, layering and overlapping as you go. Finish with a yellow burlap bow.
* DIY Bat Branch Centerpiece
Backyard twigs and branches form an easy base for this bat centerpiece.
https://thes...-centerpiece/
* Bubbling Witch's Cauldron
Make your party punch come to life with this spooky setup. First, tuck battery-operated LED lights into a grapevine wreath, style tissue paper flames on top, and then add a cauldron. For added heat, fill your pot with dry ice and your favorite Halloween concoction.
Shop:
https://www....[src|[ch|[lt|
* Candy Corn Garland
This DIY candy corn garland encourages snacking, so you better buy an extra big bag of the Halloween treat this year!
https://www....-decorations/
* Skull Candle Holder
Light up your mantel or table with this metallic skull candle holder that's equal parts elegant and spooky.
https://abea...lder-diy.html
** There are so many great ways to decorate for a Halloween party and if you already decorate your home for the holiday, you're almost there! Add in some inexpensive and simple decorations in the party areas and maybe at your front door and you're all set! We're huge fans of streamers and balloons, as you can buy them at the dollar store and use them in a lot of different ways!
((Check out these DIY Halloween Decor Ideas)):
https://craz...ration-ideas/
While it's always fun to shop for and make some decorations, why not take it up a notch and get your inner-artist involved?
A PAINTING CLASS AT PINOT'S PALETTE!
Our calendar is filled with some excellent Fall & Halloween themed classes this month, so you can come in with friends and family to make a stunning, handmade work of art to use at your party… or anywhere! Have a pre-party celebration with loved ones as you spend time together, making memories and masterpieces in a fun and creative environment, doing sometime unique and exciting!
Here are some of our upcoming classes:
https://www....dmadeartwork-