Fun & Creative Painting Parties For All Of Your Bridal Celebrations!
Before saying, 'I Do', come in to Pinot's Palette and paint, drink, and have fun as you celebrate your engagement and next chapter of your life with a painting and wine class; Keep your special handmade souvenir as a remind of this time in your life and all of the loved ones who were a part of it. <3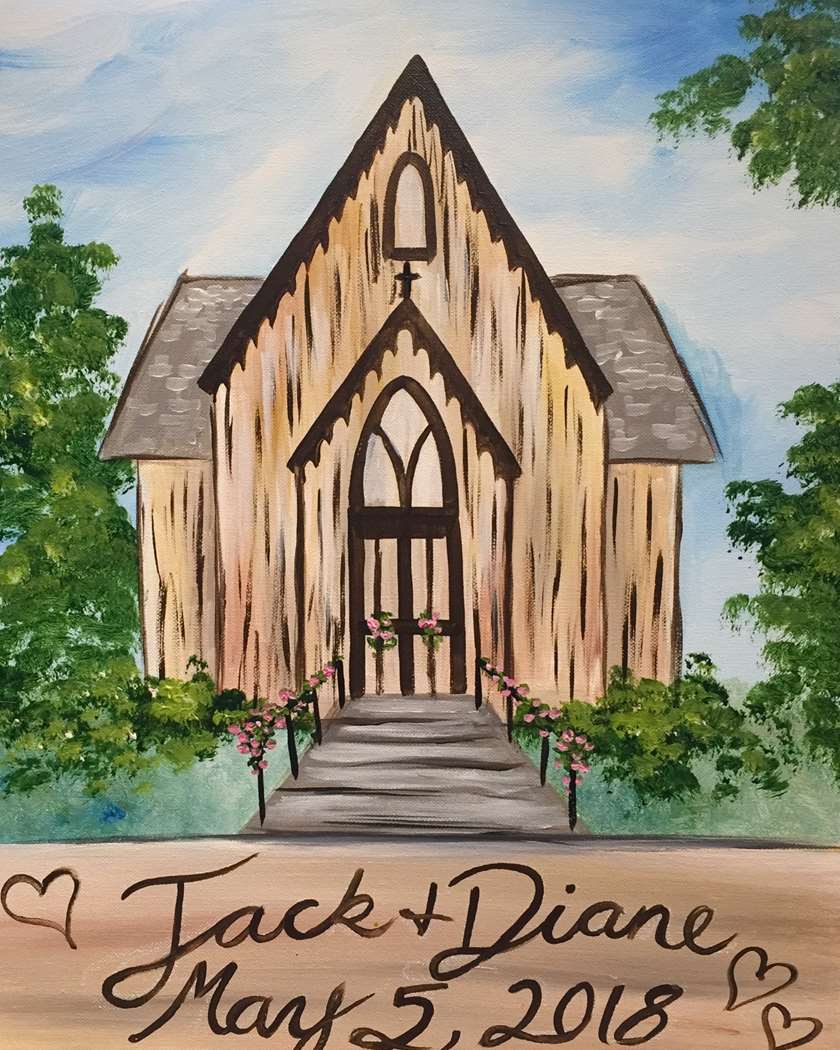 With the majority of wedding proposals taking place between November and February, it's highly likely that many of our out there are either newly-engaged or know of someone that is.
Consider a painting and wine class at Pinot's Palette for all of your upcoming wedding celebration needs!
We make a great spot for Engagement Parties, Bridal Showers, Bachelorette Parties, Couples Wedding Showers, and more!
Gather all of your loved ones together and spend time in a fun and creative environment, painting, drinking wine, listening to music, and celebrate you and your upcoming nuptials.
When you book a private party with our studio, it's all the fun of our public classes, but where everything you say, goes! Select the time and date of your event, choose which painting you'd like to make, decide on the guest list, food, drinks, music, decor, and more!
We're here to help you book the event and all along the way; When you come in for your party, our helpful team members will assist you with anything you need, including the art supplies, drinks, and of course, walking you through the painting, step-by-step.
Whether you're the bride-to-be, a member of the wedding party, or just a loved one who's eager to celebrate the bride and groom, reach out and get your party started! We're here to answer any questions you may have, so let us know what you need, and we're happy to help.
Start here:
https://www....ivate-parties
***Speaking of the painting selections for your class:
We have a huge library of paintings for you to choose from, and while any of them are excellent choices, some of the most popular for wedding-themed events are:
-- Birds & Animals: Love birds and delicate tree branches are always a sweet tribute to a wedding-themed event
-- Date Night: This is a good category of paintings to check out for a couples' shower
-- City Skylines: A Parisian themed painting is perfect for a bridal shower; Look over the selections to see if the spot where you got engaged, first met, or visited together is among them. --(*The 'Regional' category is also great for this!)
*** And if you've been eyeing that stunning painting of the little chapel, above, you might be recognizing the structure as one of our Naperville landmarks, 'Century Memorial Chapel!
One of our fabulous Pinot's Palette artists designed this painting at our studio, just for you! Come in and create this one-of-a-kind work of art and customize it with names, a date, quote, or anything else!
When selecting the painting for your private party, keep this one in mind; It's titled, 'Going To The Chapel' and is perfect for anyone wanting to incorporate a part of our community into their wedding celebrations.
The charm and elegance of Century Memorial Chapel shines through in its original stained glass windows and decorative hand stenciling. The curved buttresses, carved pews and globe lighting highlight the Gothic Revival style of architecture. This historic wedding venue near downtown Naperville, Illinois was moved in 1970 from Jefferson and Ellsworth Streets in Naperville to its present site as the cornerstone of Naper Settlement, a history museum.
*If you're interested in holding your wedding at Century Memorial Chapel, you can learn more about that here:
https://nape.../109/Weddings
________________________________________________________________
MORE Than Just Wedding Celebrations….
**While bridal showers and bachelorette parties are some of the more popular events we hold at the studio, there's no limit to what you can celebrate with us!
Birthdays, kids' parties, social gatherings, retirements, club meetings, and other celebrations are always welcome at Pinot's Palette!
-Book yours today:
https://www....ivate-parties
**Corporate events, like Team-Building classes, are some of the top reasons we open our doors for private parties.
It's such fun to gather your employees together for a little fun and creativity while you get to know one another better over a bonding activity like our team-building painting styles!
Learn more:
-Book your corporate event:
https://www....porate-events
**Bring the little ones in for their birthday party, a team celebration, or any other reason. Young minds LOVE making art so much because they're ambitious and honest in their creativity. Your child and their friends will get to spend time together making paintings to take home and always treasure!
-Book your kids' party:
https://www....ainting-party
**If you're interested in our parties but would like us to come to you, then our mobile events are the thing for you!
It's all the fun of our regular on-site painting events but at the location of your choice.
-More about our Mobile Events:
https://www....ainting-party
Share View our full public calendar | Buy a gift certificates