Delicious Cocktails, Paired With Some Of Your Favorite GoT Characters
Don't worry…. No Spoilers here! Just lots of yummy drink recipes :)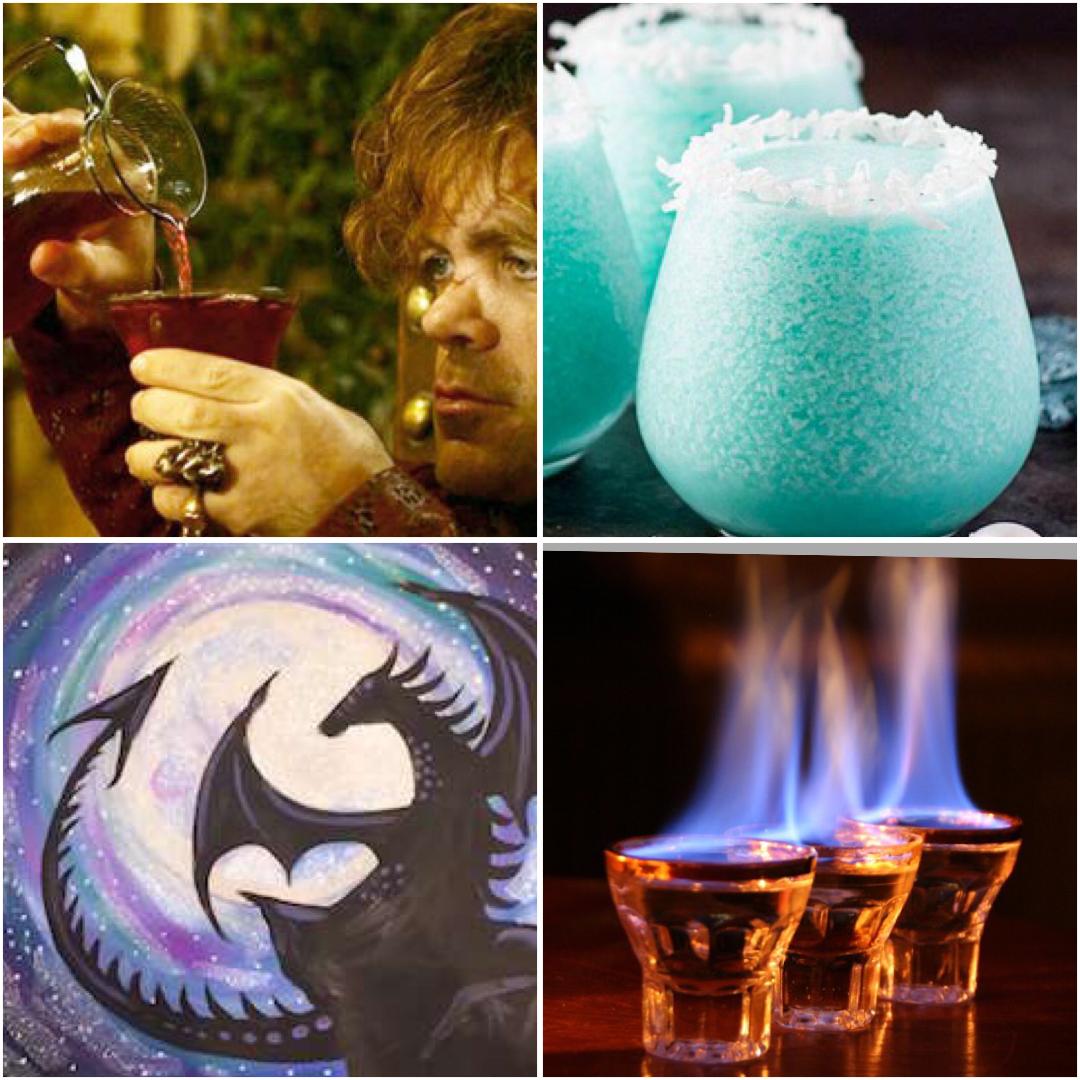 We've waited for SO LONG to see these last few episodes….. But now that they're here, we just want our long-time friends to stay with us a little longer.
This season has been so bittersweet, and we expect a lot of the last 3 episodes to be the same way (though, let's be real….other parts will be just plain brutal); Whether you watch the series with friends, family, or alone (so no one sees you cry), we've got some excellent cocktail recipes for you to try out, ASAP!
They're sure to help calm your nerves, relieve some stress, and taste delicious, too!
******************************************************************************
In addition to these cocktails, we're offering 2 painting and wine classes where we'll paint a Thrones-inspired work of art!
TUESDAY, MAY 2nd, 'Game Of Dragons'
(*)Painting, shown above
Join us for this amazing painting and some GOT trivia. There will be prizes and drink specials.
Sign up for this class:
https://www..../event/320482
THURSDAY, MAY 30th, 'Moonlit Dragon'
Gazing up at the night sky, a dragon takes flight in the night, over a sky of stars and a shining moon.
Sign up:
https://www..../event/320497
******************************************************************************
-- GAME OF COCKTAILS --
Recipes that your favorite characters would approve of:
**Daenerys Targaryen - Flaming Dr. Pepper Shot
"The Mother Of Dragons" walked into the walked into the flames, untouched by them, giving her one of the MANY titles, 'The Unburnt'. She and her dragons are the "Fire" of the "Fire & Ice" concept the entire series is built on, where as Jon is the "Ice". She is small but dangerous, just like this flaming shot recipe.
http://cockt...ter-cocktail/
**Jon Snow - Hot Toddy
Cloaked in giant furs, every time we've ever seen him, Jon the master of having to overcome the cold. From bearing the literal name, "Snow", to being in charge of the 700 ft. snow wall, and then in charge of taking on the entire Army of The Dead, who only come out in winter, NO ONE deserves a nice, hot drink more than Jon.
Also, no one says, 'Winter is coming", more than this guy (...who say's he knows nothing?)
https://cook...toddy-recipe/
**Sansa Stark — White Russian
Sansa is seemingly meek and ladylike, and she wants to be feminine in a world where femininity is scorned. I appreciate that about her, but I think Sansa is stronger than she looks. I believe she will surprise us one day with her strength and character. This makes the hidden strength in a White Russian her prefect signature drink and one of the ultimate Game of Thrones cocktails.
https://driz...e8e9c69f7e86d
**Arya Stark- Bloody Mary
Since Arya isn't "no one" anymore, she has become one of the deadliest characters in the show. Add more spice, as you like, for a taste that matches Arya's strength. What a treat for the Many-Faced Goddess.
https://www....y-mary-351589
**Brandon Stark - mind eraser
Becoming the Three-Eyed-Raven takes its toll (see: our dearly departed Hodor and consequentially giving the White Walkers power to move without boundaries). The Mind Eraser blends vodka and club soda with coffee liqueur, for a (third) eye-opening cocktail that'll keep you awake through his slow-moving journey.
https://www....er/#gs.8d6na9
**The Night King- Jack Frost Cocktail
Cold, blue, and uses ice to make it complete.... This drink recipe AND LOOK, says it all :)
https://theb...ost-cocktail/
**Tyrion Lannister - Hanky Panky
Made with 'Fernet Branca', a red wine that's not for amateurs (and have you ever seen Tyrion without a glass of red wine?)
If he's not a champion wine-drinker, than we don't know who is...
We start with the only truly well-known Fernet Branca recipe: the Hanky Panky. The ingredients that are here to tame the fernet? Gin and sweet vermouth. Both of those have enough herbal heft to take on a fernet: Gin brings juniper to the bout, of course, and perhaps it goes without saying that you should choose a juniper-forward gin for this. If you choose a lighter style that tastes of rose hips, bergamot, and angels' tears, Branca will kick its keister.
https://leit...cocktail.html
**Jaime Lannister — Lion's Tail
The golden son of the Lion—literally, he has a golden hand—Jaime has always wrestled with his sense of morality and his irrevocable devotion to his sister/lover. This golden cocktail also combines several conflicting flavors—sweet bourbon, spicy allspice dram, sour lime juice, herbaceous bitters—but blends to create a well-balanced drink that will ultimately never let you down.
https://www....il/#gs.8dxms5
**Cersei Lannister - White Whisky
Cersei is a cold, hard woman. She hates that she is the most competent in the family (in her eyes) but is forced to take a lesser role simply because she is a woman. She is not above using her sexuality to win favors and power, however. A white whiskey spiked with orange bitters is the perfect drink to represent Cersei because it looks innocuous, but packs a powerful, burning punch.
-- ((To make)):
2 ounces white whiskey
1 ounce ginger liqueur
1 ounce orange liqueur
Pinch of orange bitters
**Mix all ingredients together and serve room temperature. Or you can mix shake it with ice and serve cold.
**Sandor "The Hound" Clegane — Salty Dog
A twist on the Greyhound, this bracing vodka drink is perfect for one the very salty 'Hound', indeed. Grapefruit juice makes the cocktail a little bittersweet, much like how we felt watching the 'Brotherhood Without Banners' tear through his new hippie lifestyle, but knowing that means he'll finally (probably) come head to head with his brother, the Mountain, any day now.
**Gregor "The Mountain" Clegane — Zombie
Gregor iss undead and packs a wallop (a wallop just like this drink...). After a few of these, you might just feel as strong and capable as the evil brother to The Hound..
We recommend this drink to get you through the inevitable 'Cleganebowl'
#teamhound
http://imbib...ecipe-zombie/
**Brienne of Tarth - Scotch Fizz
Poor Brienne is out of place in her world. She wants to be a career woman, but is scored wherever she goes. This doesn't mean she has no feminine side, although she tries very hard to mask it. The perfect cocktail for Brienne is one she would choose herself. I think she would choose the manliest drink possible, just to make a point. Brienne would drink straight alcohol, I believe- no frills added. If you want to make the "Brienne" cocktail, serve a high-quality scotch or whiskey. Just take it slow, or you might end up on the floor
-- ((To make)):
1 oz of Scotch
½ oz Fraise Chilled Champagne
Pour the spirits into a wide champagne glass and top with champagne. Decorate with a strawberry.
**Theon Greyjoy
Grey(goose) Sea Breeze
This simple classic mixes crisp cranberry and slightly bittersweet grapefruit with 'Grey Goose' brand vodka for a perfectly balanced sip
-- ((To make)):
1.5 parts GREY GOOSE® Vodka
2 parts Fresh Squeezed Grapefruit Juice
1 part Cranberry Juice
+ Fresh Lime Quarter
--(*) Build 'Grey Goose' and grapefruit juice in a highball glass.
Add cubed ice and stir.
Top with cranberry juice.
Garnish with a lime quarter.
**Bronn— Black Velvet
Thanks to killing the right people, Ser Bronn of the Blackwater is a knight now, but he's still a humble sellsword at heart. The Black Velvet blends the highbrow and lowbrow halves of his life, mixing fancy Champagne with hearty Guinness stout. It may hold a station above the average ale, but it can still knock you on your arse.
https://www....et/#gs.8dhfyq
**Varys — Jungle Bird
The little birds sing in the west, they sing in the east, but no matter where he goes, Varys will hear them all. The Jungle Bird's exotic mix of blackstrap rum and bitter Campari creates a cocktail that, like the Master of Whisperers, will always keep you guessing—at once warm and inviting, yet also dark and mysterious.
https://www....rd/#gs.8dv8c8
**Melisandre - Spicy Blood Orange Beergaraita
Cominging a whole lot of random things that we might not understand (just like Mel's character), is a drink with complex layers. Spicy like a flame, which Melisandre is great at creating, and bloody like the her constant need for human sacrifices, this drink is lovely to look at, but strong, in the end.
https://www..../beergaritas/
**Tormund- BOOZY BAILEYS OREO MILKSHAKE RECIPE
Standing by our promise of no Season 8 spoilers, we won't go into detail about why we've chosen this milky recipe for our friend, Tormund.
People who haven't' seen the episode yet, you're welcome….
Those who have… you're welcome. :-)
https://www....shake-recipe/