Create Your Own MASTERpiece AT Pinot's Palette!
You May Wonder What Masters Inspire Us At Pinot's Palette?!
Well, We're Here To Tell You All About Them!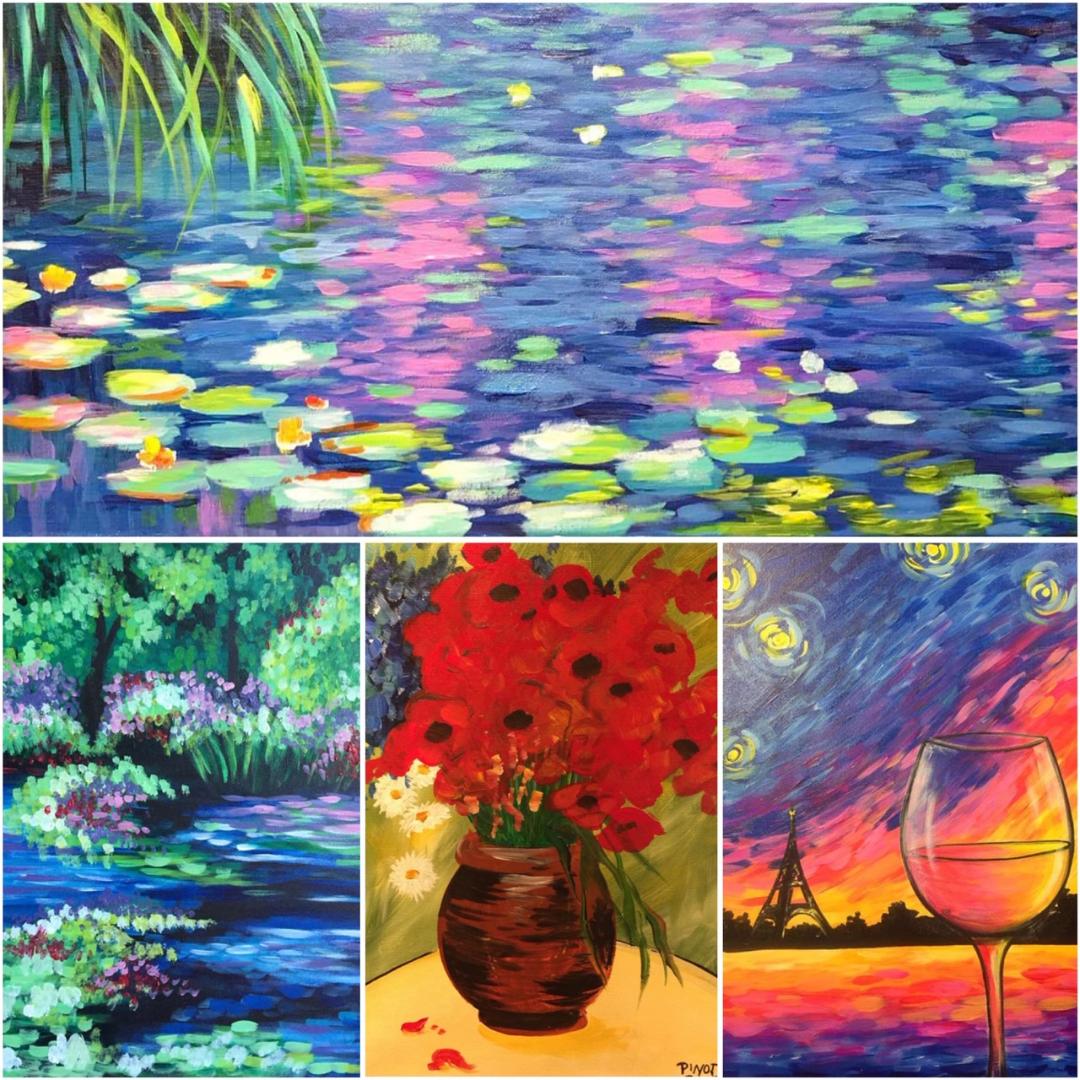 If you're a long-time fan and attendant of Pinot's Palette classes, you surely know by now how much we LOVE Vincent van Gogh and Claude Monet. Of all the many "Master's" paintings we offer at the studio, these two well-known gentlemen are among the most-offered AND most-popular artwork to create!
BUT, these two amazing artists aren't the only ones we adore. From Pablo Picasso To Gustav Klimt, and Édouard Manet and more, we love the masters of the past and enjoy honoring them and their work by sharing it with our customers.
Come out and paint the quick and textured brushstrokes of Monet's and Manet's 'Impressionistic' style and Van Gogh's 'Post-Impressionistic' pieces on a canvas of your own!
Let the colors and sparkle of a Klimt painting shine through from your own brushwork; And let yourself really "think outside the box" with some crazy angles and shapes when you channel your inner-Picasso.
We love all of these special artists throughout history who have inspired us and so many others to make art in their own, unique way, while borrowing some ideas and techniques from them, as well.
We encourage all of you to come in for a class and to let go of your stress; Just enjoy getting in touch with your inner-artist and expressing yourself the canvas in front of you.
You'll be surprised at how good it feels, and impressed with the final product at the end of class! In just 2-3 hours you'll create a masterpiece of your very own to take home and show off as you decorate your home with some personal style.
We hope you'll come in and create your own masterpiece in our Downtown Naperville studio, soon!
Each month we add more fabulous artwork to the calendar, so check it out, often, and see which artists have inspired us in our paintings, as well as some of the replication pieces we're offering (like van Gogh's 'Starry Night', a customer favorite!).
- Learn About Van Gogh:
https://www....ghgallery.com
- Learn About Claude Monet:
https://www....iography.html
___________________________________________________
Join Us For One Of These Upcoming Master's Paintings:
*** February 29th ***
'Pinot In Paradise'
We love our glass or glasses of wine essentially anywhere, but could you imagine how awesome a glass of pinot with a Paris scene like this would be!? Paint it with us for your very own Pinot in Paris!
https://www..../event/426153
*** March 16th ***
Monet's Water Lilies'
Claude Monet is one of the most popular of all the impressionist painters and for good reason! His water lily paintings are quite a sight to see in person and are also really fun to paint. Paint your own Monet with this serene scene.
https://www..../event/412498
*** March 21st ***
'Monet's Wonderland'
A beautiful spin off of a Monet Impressionistic painting, inspired by his water lily garden in Giverny, France.
https://www..../event/412522
*** March 22nd ***
'Van Gogh's Daisies and Poppies'
"Let life be beautiful like summer flowers..."
Vincent Van Gogh
*** March 25th - Special Event
Ok, so when we think of the masters, we generally think of the older gentlemen who painted centuries and decades before we were even born... BUT, there are certainly many others who have lived among us more recently.
How about Bob Ross?!
Most people in the art world consider him to be a master in his own right, as he was the only artist we've ever known of who's able to create an entire oil painting in less than 30 minutes.
He walked his viewers through the steps of the painting, slowly and calming, encouraging them with kind words and a sweet smile.
We treasure this man for all that he was, artist and human being alike, and we're showing our love for him in a special class on March 25th!
JOIN US:
To paint, 'Foothill Falls', a lovely little scene with some happy trees and friendly mountains.
*BONUS: Join us for a Bob Ross Trivia Night! Feel free to wear your favorite Bob Ross outfit!
https://www..../event/412507
___________________________________________________
***MORE Paintings That Are Created In The
Impressionistic + Post-Impressionistic Styles
Of The Masters Like Monet, Édouard Manet, Van Gogh, and Cézanne.
Join us to create some of these beauties, all month long!
February 29th
'Beautiful Begonias'
Who doesn't love a beautiful arrangement of flowers? Begonias are easy to grow and easy to paint. Customize these pretty posies to match any decor!
https://www..../event/397585
March 1st 'Floral Delight'
https://www..../event/412456
(**This painting is offered again on March 24th):
https://www..../event/416236
March 7th 'Pinot's Poppin' Peonies'
https://www..../event/412520
March 14th 'Ikebana Bliss'
https://www..../event/412521
March 20th 'Scarlet Autumn'
https://www..../event/412501
*Check out our March 8th class with a painting titled,
'Sunset Glow' and you'll see some very pleasant nods to Mr. Gustav Klimt within this piece! From the familiar hues to the thick, wide, and short vertical brushstrokes, it's clear to see how his style and techniques inspire many artists all over the world!
Bring a pop of color to your decor with the bold, modern hues of Sunset Glow!
https://www..../event/412470