Have a Barbeque Good Enough For the Front Yard
With warm weather finally just around the corner, it's time to pull out the patio furniture and call the neighbors! What better way to celebrate than with a few new recipes? Try out these new recipes to get your summer started off the right - and delicious - way!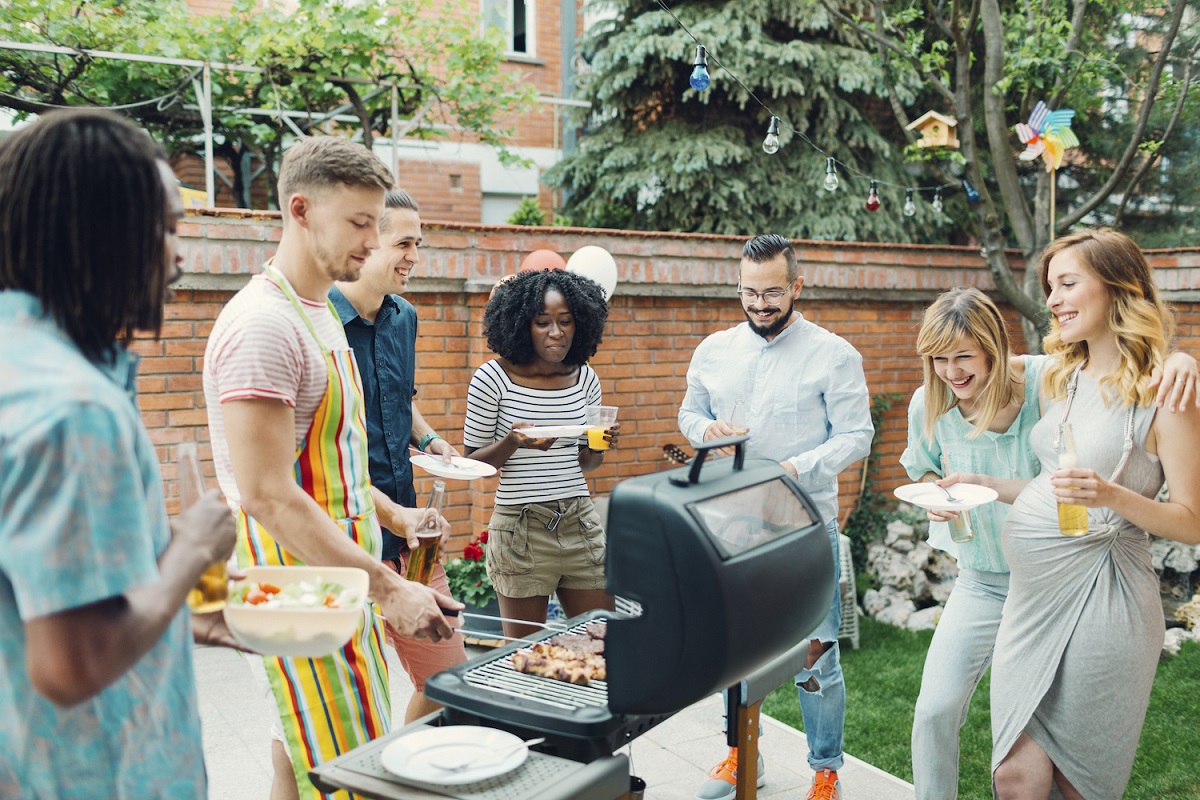 MUSHROOM VEGGIE BURGER
*Ingredients
3 tablespoons olive oil
1 1/2 pounds mushrooms, roughly chopped (combination of cremini, shiitake and portobello) and Portobello)
1/2 cup onion, finely chopped
6 cloves minced garlic
2/3 cup rolled oats
1/3 cup shredded Parmesan
3/4 cup breadcrumbs
2 eggs, beaten
1 tablespoon chopped fresh parsley or 1 teaspoon dried parsley flakes
1 teaspoon dried oregano
1/2 teaspoon salt
1/4 teaspoon black pepper
*Instructions
Heat 1 tablespoon olive oil in large saucepan.
Saute the mushrooms, onions and garlic over medium heat for about 10 minutes, or until the liquid boils off and the mushrooms begin to saute.
In a large bowl, add the mushroom mixture to the oats, Parmesan, breadcrumbs, eggs, parsley, oregano, salt and pepper. Mix well.
Allow to sit for 15 minutes to develop the flavors.
Shape into patties.
Heat 2 tablespoons olive oil in large non-stick skillet over medium heat. Fry the patties, cooking about 5 minutes on each side, or until golden brown.
Serve with your favorite burger toppings.
BACON DOUBLE CHEESE STUFFED BURGERS
*Ingredients
1 1/2 pounds ground beef
1 cup (240 mL) shredded sharp cheddar cheese
1/2 cup (120 mL) chopped onion
1/2 cup (120 mL) crisp cooked bacon, crumbled
1/2 teaspoon (2.5 mL) Spike (or seasoned salt)
2 tablespoons (30 mL) flat beer
*Instructions
Combine bacon, onion, cheddar cheese and set aside.
Mix beef, spike, and beer, then shape into 6 thin patties.
Put bacon/onion/cheese mixture on 3 patties. Top with remaining patties and press edges to seal.
Grill, broil or pan fry until well done (internal temperature of 165 degrees F.), about 4-5 minutes per side.
QUICK SEVEN LAYER DIP RECIPE
*Ingredients
1 16 ounce container sour cream
1 package taco seasoning
2 16-ounce cans refried beans
1 16-ounce jar tomato salsa
1/2 cup green onions, chopped
1 large tomato, chopped
2 avocados, diced
2 cups shredded cheese
1 4-ounce can sliced black olives
2 cups shredded lettuce
tortilla chips
*Instructions
First, in a small bowl, mix together the sour cream and the packet of taco seasoning. Chill this mixture in the fridge for 30 minutes to allow the flavors to combine.
Next, In a small sauce pan, combine together the vegetarian refried beans and the salsa. Heat on medium until evenly blended, about 5-7 minutes. Let cool.
Shred lettuce. Dice tomatoes, avocados, and green onions.
Take cooled beans and salsa and spread in 11x13 inch pan.
Spread sour cream/taco seasoning mixture over beans. Layer the cheese, olives, lettuce, tomatoes, avocados, and green onions in that order evenly over each ingredient.
Serve your seven layer dip with with tortilla chips.
CAROLINA SLAW
*Ingredients
1 large head of cabbage, finely shredded (see below for chopping guidance)
1 medium bell pepper, finely chopped
1 medium sweet onion, finely chopped
2 carrots, grated or julienned
1 cup granulated sugar or as desired
1 teaspoon salt
2/3 cup neutral flavor vegetable oil, such as corn oil, grapeseed, safflower, peanut, or canola
1 teaspoon dry mustard
1 teaspoon celery seed
1/4 teaspoon freshly ground black pepper
1 cup white or apple cider vinegar
*Instructions
Combine the shredded cabbage, chopped bell pepper and onions and the grated or julienne carrots in a large serving bowl.
Then, in a medium saucepan over medium heat, combine the sugar, salt, oil, dry mustard, celery seed, pepper, and vinegar and bring to a boil.
Simmer, frequently stirring, until the sugar is dissolved.
Cool slightly, then pour over the vegetables and toss well.
Cover and refrigerate the coleslaw until thoroughly chilled.
TINTO DE VERANO: SPANISH WINE COCKTAIL
*Ingredients
Ice
1/2 cup red wine
1/2 cup lemon-lime soda, such as Sprite or 7-Up
Slice of lemon
*Instructions
In a tall glass of at least 20 ounces, place 3 to 4 ice cubes. Add red wine and soda. Garnish with a lemon slice.
Call the studio today at 331-457-5440 for more information, or you can email us at Naperville@PinotsPalette.com
And don't forget to follow us for the latest updates and pictures!
Facebook: Pinot's Palette Naperville
Instagram: PinotsPaletteNaperville
Twitter: NapervillePinot
Snapchat: NapervillePinot
Share Check Out Our Pinterest For More Must Try Recipes! | Get More Tips and Recipes Here from The Spruce!