Host A Spooktacular Halloween Party!
It's that haunting time of year, again... Halloween!!!
Plan a party that's both, easy and inexpensive, with these tips and ideas....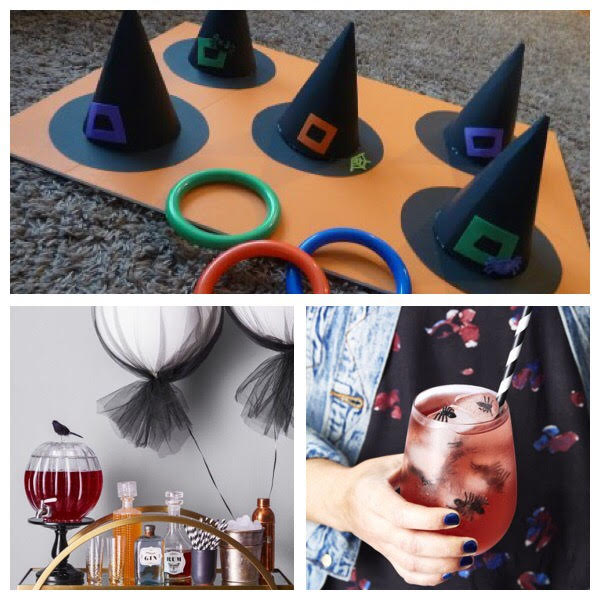 Be ready for this month's festivities, and start planning the perfect Halloween party that everyone will love, NOW!
Save yourself some time and stress and get going on those party plans, well in advance! From the food, drinks, games, costumes, decor, and more, this will be one party that will leave everyone talking for a while!
Think about your guest list:
Adults only?
Kids' party?
Or one that everyone can enjoy?!
___________________________________________________________________________________________________
Decorations:
For inexpensive decorations, try Walmart, Target's dollar section, and even the dollar store! You can grab tons of goodies for gift bags, easy decor, and can get some crafts out of the supplies, as well!
Our top pick for party decor ideas are ones that use inexpensive, easily found materials, mixed with a few homemade touches such as:
- cobwebs/orange and black streamers/garland/etc...
- fake spiders/bats/pumpkins/etc...
- this simple and super cute, homemade Halloween banner:
http://www.j...65881P24.html
*Check our some more great ideas!
30 Dollar Store Halloween Crafts and Decorations:
https://www....ns-spooky-fun
____________________________________________________________________________________________________
Food and Drinks:
There are so many fabulous ideas out there for fun and creative, yet easy and inexpensive, party food ideas... Take some candy and other treats, that are already made, and spice them up a bit with some cute ideas!
FOOD---
-Pumpkin cheese ball:
*Cheese balls are ALWAYS a good idea for any party! This is a crowd pleaser that can be served with chips, crackers, bread, or veggies (and more!)
https://www....e-2108927.amp
-Mummy dogs:
*Made with a few, simple ingredients, these snacks have a been a long-time favorite at Halloween parties and for good reason: they're tasty, adorable, and easy to create!
http://divas...n-mummy-dogs/
-Strawberry ghosts:
*These healthy, and super easy treats will be a huge hit with both, kids and adults! You could also dip them in green-colored chocolate and make them into zombies!
http://www.l...berry-ghosts/
More, easy, Halloween party food:
https://ourb...n-party-food/
DRINKS----
Drinks for the grownups:
- Polyjuice Potion: A vodka Cocktail
*This limey, green drink looks the part of a signature, spooky party drink. It can be made with or without the vodka, too, depending on your guest list.
https://www....dka-cocktail/
-Bloody, Bitter Rum Punch:
*Try this amazingly delightful, red, fresh, cold punch! The blood oranges and red wine, assist in the red color and delicious flavor!
http://wishf...dy-rum-punch/
27 "to die for" Halloween drinks:
http://www.h...ails-pictures
_________________________________________________________________________________________________
Games:
-Kids games/entertainment:
1-Witch hat ring toss:
*This is one of the best game ideas we've seen! It can be made and treasured for years to come! Play it with adults or the kids!
http://somet...arty.html?m=1
2-Donut Chomp:
*This game is delicious for the contestants but the real winners, here, are the observers! Watch your friends try with all their might to eat a donut, suspended in the air by just a string....
http://www.m...toddlers.html
30 awesome Halloween games for kids:
http://mylif...mes-for-kids/
-Adult games/entertainment:
Our favorite or the 'Murder Mystery Game'. The classic, and very beloved game, can be the entire theme for your party! Your guests can base their costumes on their character, making it the ultimate, interactive game!
For more of a low-key event, we love the 'Horror Movie Trivia' idea! Playing the guessing game with facts from famous horror flicks, old and new, is a fun way to spend time and see which of your friends is the biggest horror movie buff!
https://www....games-1357639
Party games for adults:
https://www....games-1357657
____________________________________________________________________________________________________
Pinots Palette is a GREAT place to spend some spooky nights this month!
We have so many fun Halloween-themed painting classes coming up! Check out our calendar to see which one you want to do! Don't be sad if you love them ALL... you can come to as many of the classes as you'd like, and create all of your favorites! Bring friends and family in to join in the fun with you!
Come in and drink some wine, listen to music, and paint some great, new artwork to display alongside all of your Halloween decorations at home! We think you'll have a great time and can't wait to see you there!
Cheers!
Share 55 Amazing Halloween Party Ideas | Sign up for a painting class!
Enter your contact info and request details below, and we will contact you with details about your private party!