Dr. Merle Lowe's Orders
Always wonder whether or not it's true having a glass of red wine is as good for your heart as it is for your soul? We're here to tell you exactly what the doctor has ordered! (Dr. Merle Lowe that is... )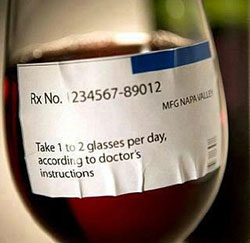 Drinking a glass of wine is good for the heart in the sense that the main mechanism by which alcohol protects the heart is increasing good cholesterol. The grape skin provides flavonoids and other antioxidant substances that protect the heart and vessels from the damaging effects of free oxygen radicals produced by our body. This is particularly true for diabetics because they have been shown to have a high production of free oxygen radicals. But we don't have any evidence specifically related to diabetes patients.
A glass of wine can also help individuals relax. The strongest evidence is in favor of wine, but some evidence recently showed beer and other types of alcohol may provide the same benefits related to increasing good cholesterol (HDL).
In general, alcohol does not seem to have an adverse effect, unless an excessive amount is used — and it increases calories, among other things. For example, excessive amounts of alcoholic consumption could be harmful by increasing the risk of high blood pressure, for which diabetic patients are already at high risk. For all people, alcohol can also lower blood sugar in moderation. Information provided by American Heart Association (Link Below)
So just in case you needed another reason to spend a night relaxing and getting creative with us at Pinot's Palette, we're here to help. Don't worry, we'll have a nice glass of red waiting for you!
Call the studio today at 331-457-5440 for more information, or you can email us at Naperville@PinotsPalette.com
And don't forget to follow us for the latest updates and pictures!
Facebook: Pinot's Palette Naperville
Instagram: PinotsPaletteNaperville
Twitter: NapervillePinot
Snapchat: NapervillePinot
Share Have Your Glass of Wine With Us | Read More From the American Heart Association