Dare to Pair: Summer wine pairings for hot ladies.
No need to tune in to the yammering of the weatherman, you can tell by the color of the lipstick smudge on your wine glass that it. Is. HOT. Gone are the flirty, flowery shades of springtime lip color; here come the sexy, deep nudes of a long, hot summer. It's time to reach for the key to the wine cellar, or call in a reservation at the tastefully chilled Pinot's Palette of Naperville. Air conditioning and ice come free of charge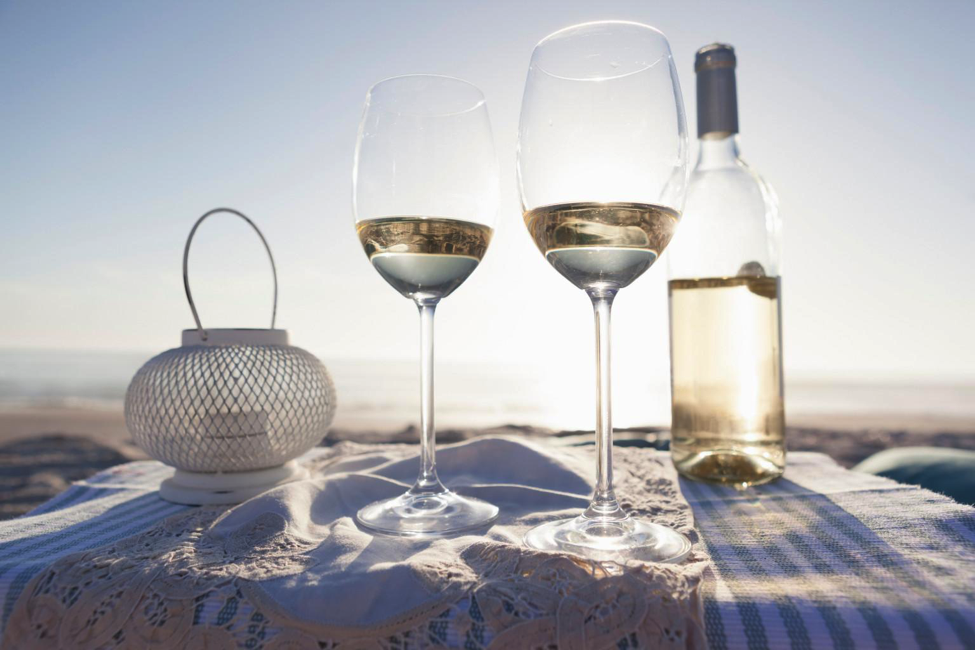 Ever dedicated to your needs, Pinot's Palette is writing to you this week about how to keep cool in spite of the summer heat. Don't worry, this isn't a PSA about the dangers of heat stroke. We are not your AARP representative. No, we're going to let you in on how to keep cool, as in, avoiding the social suicide of ordering a rich Zinfandel when the meal totally calls for a succulent Pinot Gris. Let us educate you on the etiquette of summer wine pairings, and maybe you can avoid the summertime rosé rut altogether.
Let's start with the basics, shall we? A gal is only as good as her roots...or the hairstylist who dyes them. Either way, we should start at the beginning. As recommended by Food & Wine magazine, here are your classic, basic summer wine pairings*:
http://www.f...ssic-pairings
On the Grill: Barbecued ribs, leg of lamb, steaks
In the Bottle: Powerful, tannic red: Cabernet Sauvignon, French Syrah
On the Grill: Grilled tofu, pork chops, steak salad
In the Bottle: Medium-bodied, tangy red: Sangiovese, Grenache
On the Grill: Shrimp, scallops, lobster
In the Bottle: Succulent, minerally white: Pinot Gris
On the Grill: Halibut or other light fish, vegetables, citrus marinades
In the Bottle: Aromatic, zesty white: Sauvignon Blanc, Albariño
On the Grill: Hamburgers, sausages
In the Bottle: Rich, fruity red: Zinfandel, Australian Shiraz
Why, would you look at that! With the click of a button, you could have your very own wine pairing cheat sheet to reference all summer long. Go ahead, tape it to the back of your cupboard door, where it's nice and discreet. We're not telling.
If you're ready to graduate from classic pairings, the next step is to inject some Lambrusco into your summer menu. Don't worry, at $14-30 per bottle, it's less expensive than the last round of injections you paid for.
http://blues...relaxers.html
This fun, sparkling red
http://www.s...sco-wine.html
is surprisingly subtle and classy, unlike your husband's college buddies. Hailing from Italy's Emilia-Romagna region, it's fruity acidity makes it pair well with almost anything.
http://www.s...-parties.html
Try to find room for at least one bottle of Lambrusco among all those bottles of rosé on your wine rack. You're a lady, for God's sake. You need some variety.
For the experts out there, here's some advice from a master sommelier:
http://www.e...he-summerkeep
the big five thin-skinned varietals on hand throughout the summer. Yeah, we had a glass of wine after reading that, too. We told you this was the expert level! What monsieur master sommelier means is, you can't go wrong if you've got Pinot Noir, Grenache (Garnacha), Sangiovese, Nebbiolo or Tempranillo chilling in your wine cellar. Maybe check your bank account balance first, though. These puppies can get expensive, as in, pull-from-the-joint-checking-account expensive.
And that, ladies, is as advanced as we'll get in this article. Want more advice? Come visit us at Pinot's Palette in Naperville! We'll help you find just what you're looking for this season, even if you're just interested in riding the rosé train - again. View the Pinot's Palette wine list here:
https://www....-mind/barmenu
*Check out Food & Wine's 5 Essential Summer Wine Pairings
http://www.f...irings-summer
for more specific recommendations on classic pairings.
Blog by Jacquelyn Olson
Don't let the vertical ID fool you. She's 21 and can swirl, sniff and sip like a pro. Not that she had any practice before this year. That would be illegal.
Communications Intern - UM System
Ambassador - MU Honors College
President - MU Rowing Club