Bar Menu
Come and meet our friendly artists and bartenders, enjoy one of our awesome beverages and paint the night away! We have Wine, Beer and Spirits.
Paint. Drink. Have Fun at Pinot's Palette, the best paint and sip studio in Naperville and the Western Suburbs. Cheers!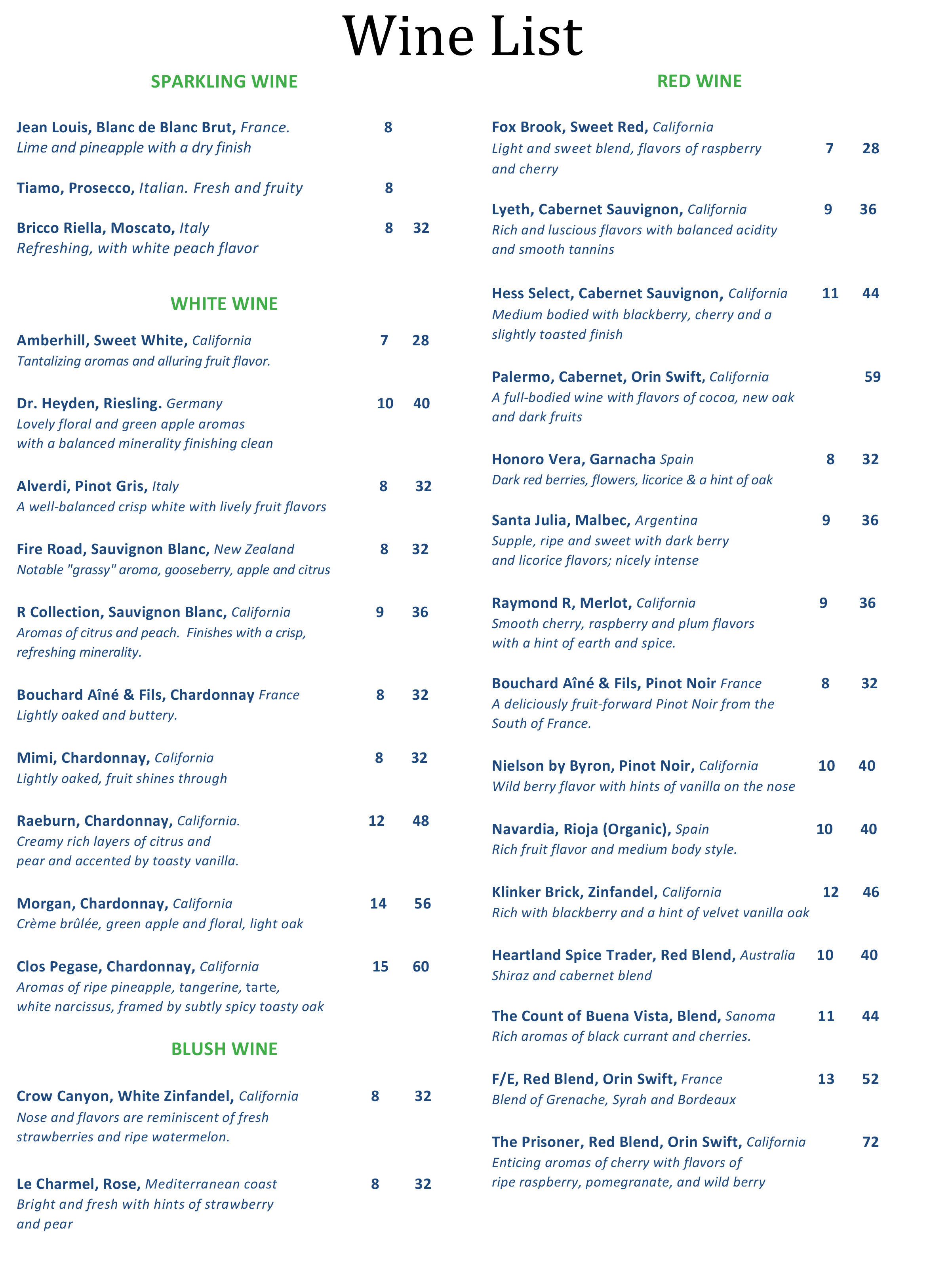 Additional Drinks
BEER $5
Angry Orchard, Original Hard Cider (GF), Rosé
Crispin Cider, Blackberry Pear
Bell's, Two Hearted Ale (IPA)
Blue Moon, Belgian White
Dos Equis, Lager, Amber
Guinness, Stout
Leinenkugel, Seasonal Selections
Revolution, Anti-Hero IPA, Fist City Pale Ale,
Eugene Porter, Bottom Up Wit
Sam Adams, Boston Lager
Sierra Nevada, Pale Ale
Stella Artois, Belgium Lager
White Claw, Hard Seltzer
Coors Light - $4
Miller Light - $4
SPIRITS $7
Tanqueray, Gin
Bombay Sapphire, Gin
Bacardi, Rum
Captain Morgan, Spiced Rum
RumChata, Caribbean Rum & Cream
Azuñia, Tequila
Breckenridge, Vodka
Tito's, Vodka
Crown Royal, Canadian Whiskey
Jack Daniels, Tennessee Whiskey
Fireball, Cinnamon Whiskey
Southern Comfort, Whiskey
Jameson, Irish Whiskey
Maker's Mark, Kentucky Bourbon Whiskey
Johnnie Walker Black, Scotch Whiskey
Disaronno, Liqueur
Baileys, Irish Cream
SPIRITS $8
Don Julio, Tequila
Grey Goose, Vodka
Grand Mariner, Orange and Cognac Liqueur
LIQUID CREATIVITY
Sangria, 8
White and Red
Cocoa di Vine, Chocolate Wine, California 8 32
Blend of velvety chocolate and luscious grape wine
Soleil, Mimosa, Orange, Mango and Pineapple 8 32
A blend of champagne and fruit juice.
Seasonal Mimosa 9
A blend of champagne and seasonal ingredients.
Amaretto Stone Sour 10
Amaretto, Lemon Sour Mix and Orange Juice
Call Me a Cab 10
Vodka, Lemonade and Cabernet
Cranberry Gin Spritz 10
Koval Cranberry Gin Liqueur, Prosecco, Club Soda
Martinis (Vitani) 10
Cosmo, Citrus Ginger, Cucumber
Bloody Mary 9
Margarita 9
Moscow Mule (Vitani) 10
Tequila Sunrise 10
SOFT DRINKS
Coke, Diet Coke, Sprite, Lemonade, Assorted Soft Drinks $1
Starbucks, Frappuccino, $3
Red Bull, Sweet Iced Tea, Unsweetened Iced Tea $2
Water, Coffee, Hot Tea (Complimentary)