Book Your Holiday Party With Pinot's Palette, Naperville!
Good Friends & Family, Good Food & Music, and A Heck Of A Good Time!!!
Let's Make Art This Season!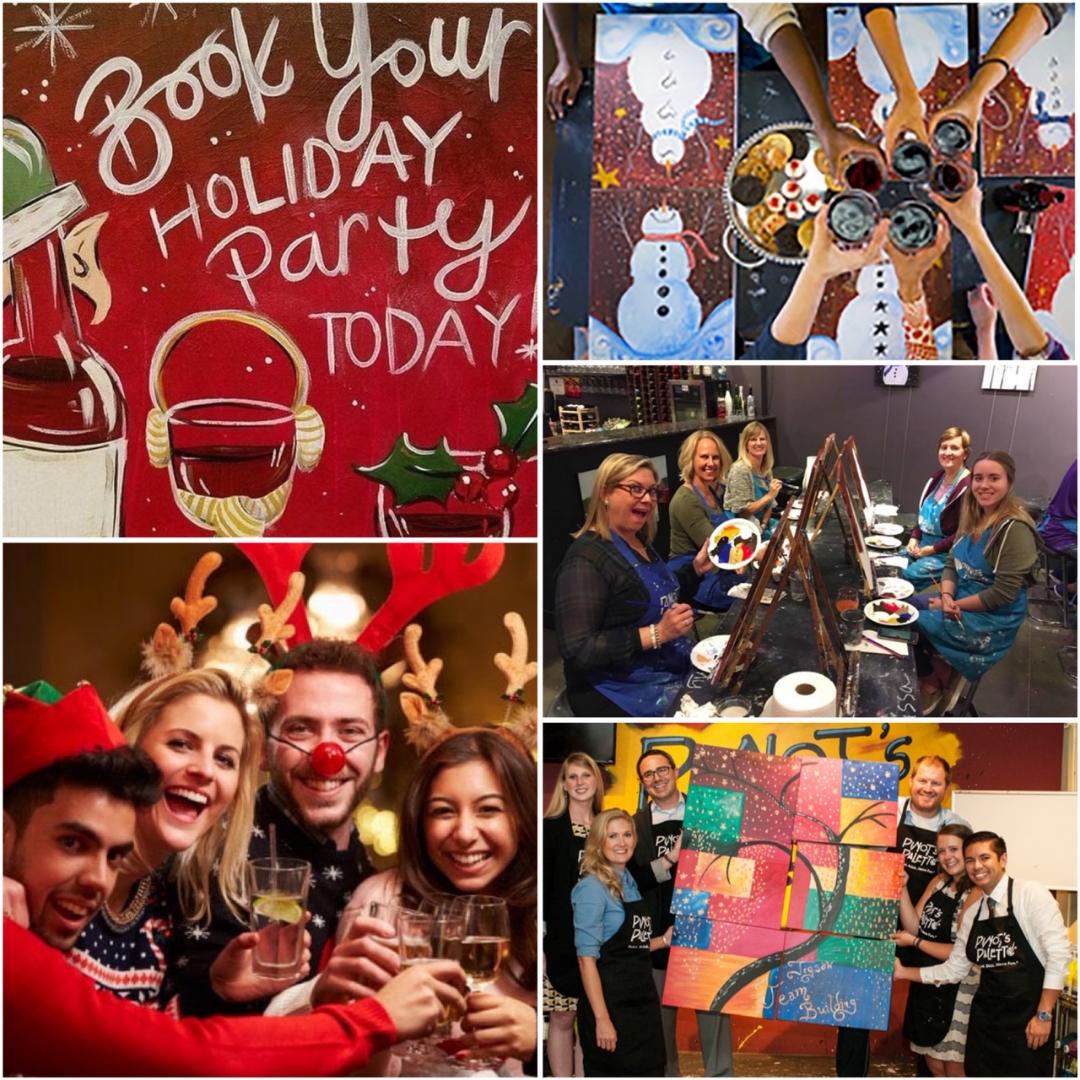 'Tis the season to be jolly… and to plan A LOT!
Let us help you relieve some of that seasonal stress and book a painting and wine party for your holiday event this year!
HURRY HURRY — Spots are filling up fast for our private parties. This time of year we book up fats, and not just for our popular holiday and seasonally-themed paintings but for Christmas parties too!
If you have never attended (or even heard about) our private parties, you've been missing out! It's all the fun of one of our regular public classes but for JUST the people on YOUR guest list! That's right.. you get the studio to yourselves for a whole class and all of the extra details are yours to decide as well!
From the date and time of the class to the painting, music, wine, food, and more, Pinot's Palette, Naperville, is here for you this season!
The fabulous employees here at Pinto's Palette are here to make your party booking, planning, and execution as seamless and stress-free as possible, so you can enjoy yourself while your guests are singing your praises for planning such a cool event!
Our painting classes are something that will be new and very unique to a lot of people, so not only will this be a fun and exciting event for your guests, but they will be trying something new and the best part… Making a one-of-a-kind work of art to take home as a souvenir and always treasure!
Have your event catered, build in extra time for gifts, games, and more, and choose the music you want to paint to (*as well as many other details like which wine and drinks you want to be served), the painting style and colors, and even the way you want to make the painting (Learn more about the various styles in our 'Corporate Parties').
We hope to see you and your loved ones, employees, or anyone that you choose to celebrate with this season...
And remember to sign up ASAP to ensure that you book your event for the year!
There are so many ways to celebrate This Year:
*** Celebrate In The Studio!
Whether you're celebrating with friends and family or gathering with a club or group of some sort, our 'Celebrations' are just the thing for you! Come into the studio with your crew to paint, drink, and have so much fun! We've been working hard to maintain the highest standards in cleanliness as we disinfect often and make sure our guests feel comfortable, yet normal, in our studio space!
Come in early to decorate; Have your event catered, and choose the music you want to paint to!
Book It:
https://www....ivate-parties
*** Plan A Virtual Party!!
If you and your gang want to paint virtually, we can absolutely accommodate you! Our virtual events have been super popular these past 18+ months and it's not hard to see why. We make everything so easy for you and your guests with the ready-to-go paint supplies that can be picked up at the studio, easy-to-follow instructions, and tons of fun from all over the globe! Whether you're all working together in one space or each person is joining from their own space, we're here to make it an event to remember
Book It:
https://www....ivate-parties
*** Host The Coolest Corporate Party Ever!!!
Put all of the office parties of the past to shame when you book a fun and creative (AND UNIQUE!) event with Pinot's Palette! We have various styles of paintings to choose from that help to promote Team-Building and camaraderie among co-workers. What better time to bond together than the holiday season?— AND the guests will have something in common to talk about and always remember. Give the gift of an experience and some handmade art to your employees this season and they'll have a painting to take home or a collective group masterpiece to display at the office and will always remember the fun they had, creating it!
From painting on individual canvases to group masterpieces like large collaborative art, mystery paintings, musical chairs paintings games, puzzle paintings, and more, we have so much to offer!
Book It:
https://www....porate-events
*** Spread The Cheer
If you've already booked your holiday party with us or somewhere else, there's always a painting class for your loved ones and you, before or after the holidays! Our GUFT CERTIFICATES are the perfect gift for anyone! As mentioned, the gift of an experience is a home run for anyone of any age, so keep those in mind this season as you check names off of your "to buy for" list!
Buy One:
https://www....-certificates