So, How About Them Cubs?
108 years later, and worth every second of the wait! The Cubs are the 2016 World Series Champions! Finally! How are you celebrating the win?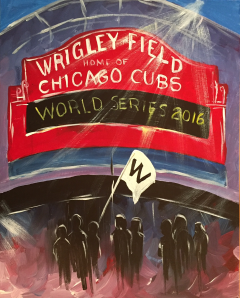 Were you lucky enough to attend Game 7 in Cleveland?
Did you stand outside of Wrigley Field to watch to sign flash 'World Series Champs'?
Were you one of the five million people to attend the Cubs World Series celebration Friday? (FOX News ranked as 7th largest gathering in human history!!!)
Do you have a "W" hanging outside your home?
Have you made your mark and written on the Wrigley Wall?
If you're looking for the next way to keep the Cubs celebration going, Pinot's Palette has just that for you! "Paint The W" with us so you can keep the 'W' flying over Wrigley Field!! (Until they win it again next year!)
Seats are running out fast, so call to reserve your seat today! Or book a private party so you and your favorite Cubs fans can "Paint The W" together!
Call the studio today at 331-457-5440 for more information, or you can email us at Naperville@PinotsPalette.com
And don't forget to follow our Instagram, Twitter, and Facebook for the latest updates and pictures!
Share Click Here to Book Your "Fly The W" Private Party! | Click Here to Reserve Your Seat