Play BINGO during our Summer of Perks Program!
We'd love for you to be a part of our 'Summer of Perks' promotion and have the chance to win some amazing things!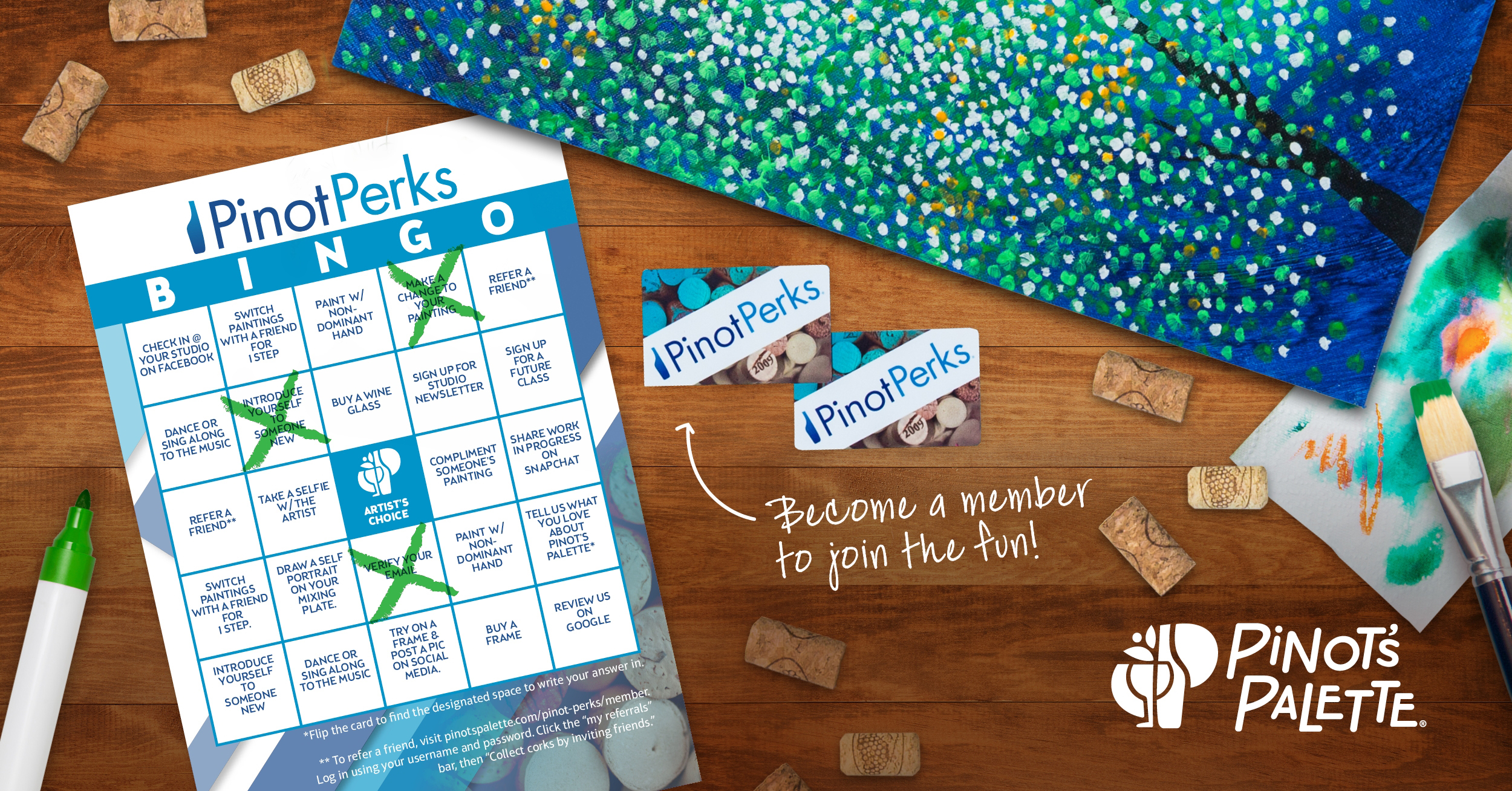 If you've been to our studio within the last year, chances are, you've heard about our Perks Program... if not, we'll fill you in:
Pinot Perks is a rewards program by Pinot's Palette. As a Club member, you'll receive exclusive access to birthday & anniversary deals, personalized Perks in your inbox, and more!! You'll collect virtual Corks when you visit us, shop with us, or invite your friends to join. The more Corks you have, the more you earn! You'll receive free classes and priority seating, among other amazing things!
You can click on the link below to find out more about the program and even sign up! If you're a Pinot's addict like so many of our return customers are, THIS is absolutely something you'll want to do! If you haven't joined us for a class yet, you can sign up below and come in and see what the craze is all about- we're betting you'll become a regular in no time!!
NOW FOR THE GOOD STUFF----
Here's how the 'Summer of Perks' BINGO works:
It's an interactive game where Perks members, new and old, can earn a chance to win more corks, move up a level in the Perks system rankings, and other prizes! You can sign up during the class and play, if you aren't a Perks member upon arrival and you'd like to play!
The BINGO game is made up of 5 tasks you'll be asked to complete, in order to fill out your BINGO card, and in true BINGO fashion, yell. "BINGO!!!" to win! Every guest who is a Perks member, will receive a card. They'll mark off the squares on their cards as they complete each task. Once a BINGO card and the tasks are complete, guests will be entered into a drawing, where the winner's name will be drawn at the end off the class and rewarded with a special prize!
Our team members will be there to assist, should you need help completing one of the tasks, and it a great way to have even more fun than just wine and painting... you may just make some new friends and will definitely have a lot of fun watching others try to complete their tasks
**You can call the studio at 331-457-5440 for more information, or you can email us at Naperville@PinotsPalette.com
And don't forget to follow us for the latest updates and pictures!
Facebook: Pinot's Palette Naperville
Instagram: PinotsPaletteNaperville
Twitter: NapervillePinot
Snapchat: NapervillePinot
Share Sign up for a class at our studio! | Sign up for our perks program!