What Are Our Virtual Classes All About And How Do They Work?
So you've been seeing these posts and advertisements for our virtual classes, but you may be wondering exactly how do they work?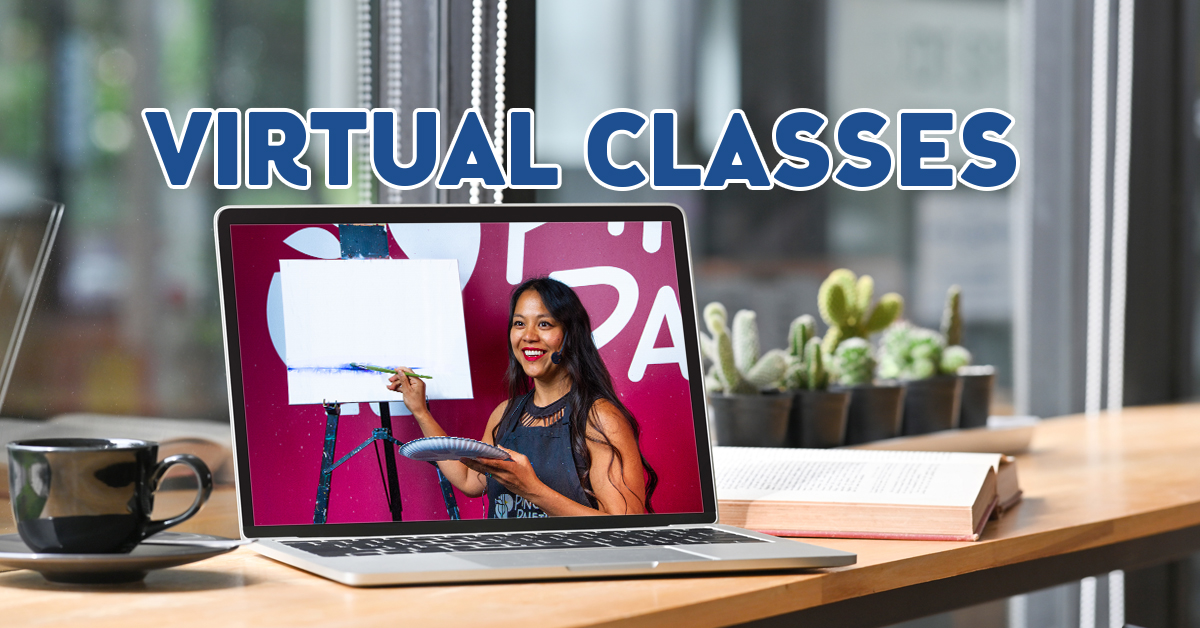 Here, at Pinot's Palette - Naperville, we're still dedicated to giving you the same level of customer service as always! Though our doors may be closed for the time being, we're still here for all of you, helping out in any way we can during this time.
You may know that it's been proven, time and time again, that painting and other creative activities help lower stress, and provide you with positive and relaxing mental space. Right now, who couldn't use more of that?! :)
Though the theaters, restaurants, theme parks, and sporting events are cancelled, people have still been finding a lot of relief in the creative things in life. Everyone has turned to the arts during this time and it's wonderful to see. From painting and drawing, to virtual dance classes, reading, cooking, and watching lots of movies and shows, our time indoors hasn't been too bad!
Thousands of people across the U.S. have been taking advantage of Pinot's Palette's special virtual classes, and you can too!
It's easy and as always, it's fun!
***** Here's what they're all about *****
--- Sign Up For The Class:
Check out our calendar (just like usual), to see what paintings are coming up and what day and time they'll be taught!
Just click on the painting you want to do, click "Register", and you'll be guided through the rest of the process like out usual classes!
--- Getting Your Supplies:
Supplies for the classes can be picked up at 'Egg Harbor' from 10am-2pm the day before the class (*YOu can email the studio and we can prepare it for an earlier pick-up time if you need to)
Note: To provide a safe, no interaction pick up environment, your take-home painting kit is available at Egg Harbor in the hallway with the purchaser's name on the bag. All you have to do is come into the hallway, locate your bag, and take it home! Order some Egg Harbor take out and they will bring it out, curbside, with your take out order.
More:
https://www....erville/v3#!/
--- If You Already Have Supplies:
*Have your own brushes? Enter the promo code "Have Brushes" at check out and it will discount the class by $3.00
*Have your own art supplies? If you only need the live virtual class link - enter the promo code "Class Only" to discount the class to only $15! The link will be emailed the day of the event.
--- If You're Unable To Attend The Class (or Miss It)...
If you aren't able to attend the class of your choice on the day and time that it's live-streaming, that's ok!
The class will be available for you to watch for 4 days, so you can sit down to create whenever is the best time for you.
--- If You're Having Technical Difficulties:
If you experience technical issues during the live class or are unable to attend, a recording of the class will be available for four days following the event.
Thanks for supporting your local studio and joining us for a LIVE VIRTUAL Paint and Sip Party!
Please reference the email sent to you from your studio for any special instructions. This link will direct to the virtual event you registered for 15 minutes before the class starts, and may be used to access the video following processing and upload for 4 days following the #PinotsLive event video processing completion. #PinotsLive Videos may take up to 24 hours to process following the class live broadcast!
______________________________________________________________________________
AND THAT'S NOT ALL!!!
You make also see some classes that are for 'Take-Home Kits' and these are great, too! They're a wonderful way to keep the kids (and yourself) busy right now. All of the materials needed for the painting will be packaged up and available for pick-up at Egg Harbo or can be shipped to your home!
Unlike our guided classes, these take-home paintings will be created using typed up instructions, and not a real (live) instructor walking you through the steps.
*Take-Home Paint Kits Include:
Canvas, Acrylic Paints, Brushes, Paper Plate Palette, Disposable Water Cup, & Printed Step-by-Step Instructions